Advertisement
---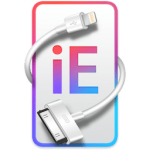 iExplorer is a very useful software for iPhone, iPad and iPod owners. In short we can say that it provides backup for Apple devices. Various files of multiple formats can be stored and accessed through Mac or Windows systems. This software is worth spending money on, but the trial version is the first appropriate choice to go for.
Software details
---
mac / Windows 10 / Windows 7 / Windows 8
Software description
---
iExplorer is a very popular device manager for Apple users. Whether you own an iPhone, iPad or iPod, you can connect and transfer data to your Mac and Windows system with the help of this software. The types of files that can be transferred to PC with it are text messages, voicemails, contact lists, reminders, images and many more. The music files can be transferred easily to Mac and PC and then you can transfer them to iTunes. This is surely a great blessing for users of Apple smart devices.
Installation and Usage:
The developers of this software have kept the downloading and installation of this software very easy. The installation Wizard has simplified the whole procedure. You just need to click a few buttons in the Wizard and it will be installed within a short span of time. All the steps are clearly mentioned in the Wizard. The complete Software is available for low prices and you can select version as per your requirement. Its trial version can be used before purchasing, so anyone can get to know about detailed features before actually buying iExplorer software.
Music Files Transfer:
The sharing of Music and songs can be completed with a single click. All you need to do is to select a track and move it to your computer. The software also enables you to create whole playlist for easy access to your favorite songs. There is an Auto Transfer feature introduced for copying all the data without any hard work.
Compatibility:
iExplorer is compatible with every iPhone, iPad, iPod, Mac computers and latest Windows PCs. In case of any issues you can contact their support immediately and they will help you sort out your problem in the best possible way. You can choose license that you want to buy from basic, retail and ultimate versions. The prices are very much affordable.
Backup:
The files can be stored on your computers and thus provide a backup for your Apple devices. Whether you want to store your text messages and SMS, backup the important voicemails, save voice memos, export Phonebook contacts, keep records of call history or want to remember significant dates and events by saving them, all these things are possible with the amazing tool.
Accessing Saved Files:
iExplorer has made searching and accessing of important files and notes easier and convenient. Storing a lot of data on mobile sets can cause you headache while searching for particular files. Now accessing data files will not be a problem anymore. Another interesting feature is the capability of storing history of web browser search.
Alternate Softwares