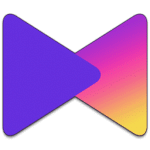 K-Multimedia Player, or KMPlayer for short, is media player software for Microsoft Windows. It supports various file types, such as VCDs, DVDs, AVIs, MKVs, Oggs, OGMs, 3GPs, MPEGs 1/2/4, WMVs, Real Medias, FLVs, and QuickTime.
KMPlayer supports numerous subtitle formats and allows recording audio and video and taking snapshots. The DirectShow Merit System can avoid this. And a regulated environment will pro for internal and external filters to connect to other splitters, decoders, audio/video transform filters, and renderers. To avoid the operating system from mistaking K-Multimedia Player's internal filters for system filters, these filters had not registered in the registry. It has a sizable following and rave reviews at most big independent download portals across the board. The player allows for various audio and video adjustments, including slowing down or speeding up playback and marking video segments.
As favorites, perform several A-B repeats, remap the keys of a remote interface for HTPC, including overlay screen controls, and dynamically alter a skin depending on a media type. With many available skins, color schemes, and settings, KMP can tailor to suit any user's preferences. The KMPlayer was acquired by Pandora TV (a Korean streaming video startup) in August 2007, as reported on the KMPlayer's Forum on March 5, 2008. It has been a free download ever since.
Customization
KMPlayer is no exception to the rule that you may adjust subtitle settings and move them. It offers some of the most sophisticated modifications and control options among media players. If they are not in sync, the subtitle files can readily synchronize from the control box in real-time. The Effects tab also has a few options for enhancing your subfiles with layered effects. Subtitles can be made more noticeable on-screen by using effects such as Transparent, Fade, and Shadow, as well as a subtitle background and outline in addition to the more basic Bold and Italic text styles.
Instant Bookmarking
You can rapidly save the scene from your favorite music videos and movies. You can quickly add a bookmark to any part of the video and then continue watching from that point. Simply pressing the P button on your keyboard will save your bookmark. Bookmarks are unlimited in number. To play media files from a certain bookmark, open the file and, using the right-click context menu, navigate to the Bookmark/Chapters option.