---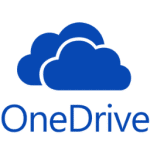 Microsoft OneDrive Download
Microsoft OneDrive is an internet hosting service developed by Microsoft Company used to provide cloud storage and synchronization services.
Software details
---
Android / mac / Windows 10 / Windows 7 / Windows 8
Software description
---
Internet has changed the way things used to work in the world. Well over the time everything changes, and yes even internet had to eventually evolve. The backbone of any digital operation is the collection and analysis of data. For collecting data you need space. Earlier the hard drives would suffice, but now it seems cloud storage is the king. That's where Microsoft OneDrive comes in to picture.
So What is Microsoft OneDrive?
It's a cloud storage service by Microsoft. It's the latest avatar of what was earlier known as SkyDrive. In technical terms, it's a file hosting, sharing and synchronization service provided by Microsoft. It is available to the users both as a standalone cloud storage application and also as a bundled version which has Microsoft Office 365 built-in to Microsoft OneDrive application.
Why would one need Microsoft OneDrive?
As we mentioned earlier that internet has also evolved. Now everything, well almost everything needs the internet to run. This becomes more obvious in the professional work scenarios. Now people have more options to access data and work upon it than ever. Mobile phones, tablets, laptops & Desktops, these are the devices that every person who is seriously considering growing in the professional sphere has to use frequently in order to be productive. People are always working, whether they are in their office or at home or even commuting.
Copying all your work data on each device that you use is impractical, hence there was a need for a service where people could have the same set of files/data which could be accessed and worked upon in real time from multiple devices. That's why one needs access to services like Microsoft OneDrive.
What's on offer?
All the good things in life are free, but you have to pay for the best ones! Same stands true for Microsoft OneDrive. The basic plan with 5GB storage is good for the average guy who needs little storage for his media and work files. However, for the pros and the real hardworking people, there are much better things on the offer. For median range users, 50 GB space is available for a cost of 1.99 USD per month, this plan offers storage only.
Good for backing up your family pics and videos and other things that you can fit into this space. Please note that this one is a storage-only plan, so basically it's like your hard drive which you can access from any device with an internet connection. (Well almost).
What if I am a Power User?
For the power users amongst us, there are some neat things lined up as far as Microsoft OneDrive is concerned. At the price point of USD 69.99 /year (Office 365 Personal Plan), you get a whopping 1 TB space, with Office 365 and OneDrive premium features. The only limitation here is that you can use this service only on one PC/MAC and a mobile device. That seems to be fair enough considering the price point and the services on offer. You really don't need to purchase MS Office and install it on your device after subscribing to this service.
What if I Need More?
If your soul desires more or to speak in a practical sense if you are a group of people looking for a cloud solution then you should seriously have a good look at Office 365 home plan. It's up for a subscription for 99.99 USD/Year. Comes packed with 5 TB of storage space and all the goodies of Office 365, and Yes it allows for simultaneous installation and operation from 5 PC/MAC and 5 mobile devices. Nothing gets better than this!