---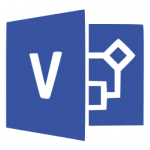 Microsoft Visio is a vector graphics tool that helps you draw diagrams accurately. Formerly known as Microsoft Office Visio, it's one of the most popular applications out there for drawing. You can easily install it on your system and utilize its functionalities. It's a trialware, so you can use it for free for a limited time. However, you'll need to buy its license if you want to continue using it once the trial has expired. Shapeware Corporation launched the application in 1992. But Microsoft acquired it in 2000 and now it's a part of MS Office family.
Software details
---
Windows 10 / Windows 7 / Windows 8
Software description
---
Back in the day, architects and others who wanted to draw diagrams had no other option but to use paper for drawing. But now you can draw images and graphs on a computer with the help of Microsoft Visio 2019.
It's a vector graphics tool that helps you draw images and graphs. You can get it along with MS Office package or download it as a standalone application. You can try its free online demo version out before buying the license.
Create Professional Diagrams
It offers a myriad of options and tools. Therefore, you won't find it difficult to draw professional-looking diagrams. Whether you're an experienced user or trying to learn how to draw digital images, its intuitive user interface will make the task easier for you.
You can make use of templates and choose from a variety of available shapes and drawings. This way, you can draw the desired images within a brief time.
Apply Effects
You can enhance the quality of diagrams by applying effects and visual styles. Graphs, symbols, icons, and colors can also make drawings more appealing.
It's possible that you may make some mistakes in drawings in an attempt to complete the project on time. But Microsoft Visio can save you from making costly mistakes. Its validation tool analyzes drawings and alerts you about common errors.
Suitable for Corporate Environment
This software is suitable for business environments. When working on a large project, multiple employees may need to view or modify a single file. They may think of sharing it with each other via Emails. But this may lead to a mix-up.
If you use Microsoft Visio, you need not worry about these issues. It facilitates multiple users to access a file simultaneously and modify it if they are authorized to do so. You can also add comments to diagrams to streamline the process.
Improve IT Functions
IT department is the backbone of a business. However, IT workers are often overworked. Microsoft Visio comes equipped with various functions to facilitate them.
You can install the software on multiple systems through the internet. You can also enable automatic updates to save time. Microsoft also offers 24/7 support for this desktop application. Whenever you face any problem using it, you can quickly contact them to resolve the issue.
Microsoft Visio is a one-stop solution for drawing with the help of vector graphics tools. You can draw professional-looking images, enhance their quality with visual effects, and easily share them with your colleagues.
Alternate Softwares