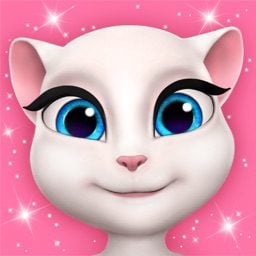 My Talking Angela Download
My Talking Angela is a popular virtual pet style app with plenty of features and a boatload of personality. The app includes mini-games, customization of the character, and more to keep players engaged and entertained. In this article, we'll discuss the features, costs, and more of this app.
My Talking Angela is a fictional character featured in a popular virtual pet game that is similar to Pou or Tamagotchi. In the game, the character starts out as a kitten that needs nurturing and love. Over the course of game play, she grows into an adult cat with goals and aspirations of becoming a singer. She is a pretty pink cat with bright blue eyes and a big smile.
She's essentially the girl version of the popular game character My Talking Tom. Beyond the differences in gender and looks, Angela tends to be cuter and more bubbly than Tom. Fans of Talking Tom will love Angela's well-developed personality and awesome style. Both characters have been featured in multiple games and advertisements.
Features
This app features an interactive, customizable cute cat character, mini games, and tasks to keep the character happy. Players will enjoy doing the main character's makeup, taking care of her and watching her grow.
While this app is not a traditional virtual pet app, it does share some similarities to regular virtual pets. Angela is a pet that users raise from being a kitten to being an adult. Still, the idea that she wants to become a singer and wears makeup might put some players who want realistic pet care off of the game. Users can purchase outfits, items, and more for the character Angela.
Cost
This app is free to download and use the basic functions. For enhanced game play, users will need to make in-app purchases. The cost of these upgrades and add-ons will vary depending on how much you get and how often you make in-app purchases. Users can purchase a subscription in the app to access more features and fun, but it's not required for most of basic play.
Similar Games
Some of the most similar apps to this one include My Talking Tom and My Talking Angela 2. Essentially, any character-based interactive game that immerses you in the character's world and allows for customization has some similarities to this app.
In addition to games created by Outfit7, there are also some games outside of the My Talking Tom universe that strike similar notes to this one. These games include Pou and Tamagotchi. In both Pou and Tamagotchi games, users can watch a virtual character grow from infancy to full maturity. They can also help facilitate the character's development by performing tasks like feeding, bathing, grooming, dressing, and playing with the character. Additionally, users of all of these games can play mini-games and complete side tasks to avoid getting bored with the apps.
The most popular place to download this app is the Google Play Store. With millions of downloads, it's a popular app in the store. Apple device users also should be able to download it from the appropriate platforms for their devices.
As a recent development, the creators of this app have made it compatible with PC play. Users of all systems (including PC) can get the game on Amazon.