---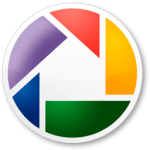 Picasa is a free application that helps you organize, edit, and share images. You can easily import image files from your PC and external storage devices.
Software details
---
mac / Windows 10 / Windows 7 / Windows 8
Software description
---
Picasa is a popular image organizer and editor. Due to its attractive and intuitive user interface, you can easily understand how to carry out different tasks. Its clean and clear menu bar gives you access to a myriad of options.
Appearance
This software is suitable for beginners as well as professional users. It has a clear-cut interface where all options are easily accessible. You can set image views, sort files and contacts, and view folders stored in system memory.
You can apply advanced filters so the software displays starred photos only, shows photos with faces only, shows geotagged images only or displays only the video content.
Import Images
In order to process images, you need to import them first. When you launch the software for the first time, you can specify whether it should be able to access the entire hard disk or particular folders only.
It facilitates you to import images from Google Photos by logging in to your account. It's also capable of capturing images and videos from a webcam or other external devices. While importing content, you can exclude duplicate files to save time.
Edit Images
Picasa doesn't offer extensive options for image editing, but there are basic options that can get the work done. You can perform the following editing functions:
Crop images
Remove the red-eye effect
Adjust color
Add text
Fill light
Adjust color temperature
Sharpen or fade
Add effects
Tools
It contains a variety of tools that make your work easier. You can manage folders present on hard disk, manage online contacts, and sync web albums. Through the menu bar, you can configure Photo Viewer and Screensaver tools.
It allows you to backup pictures or albums on Google Photos. Geotag option makes it easier for you to remember where the picture was captured, whereas the Options menu helps you customize its functionalities.
Email Your Photos
With Picasa, you can now email your photos via the software interface. You just need to log in to your Google Mail or Microsoft Outlook account to avail this benefit. You can choose a size for pictures and specify whether it should send full-length movies or first frame of video content only.
Overall, Picasa is a useful application that assists you in managing images on your PC. However, Google discontinued the support for this software in 2016 and now puts the entire focus on an advanced utility, Google Photos.
Alternate Softwares