---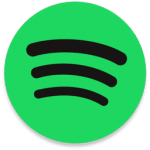 Spotify is a music streaming service that's gained recognition through its deep catalog of audio-based entertainment and innovative algorithms. It's available through its website and desktop and mobile apps, and features free and subscription-based options.
Software details
---
Android / mac / Windows 10 / Windows 7 / Windows 8
Software description
---
Spotify is easy to use and works as a music player for personal files. Users have access to more than 80 million songs, can listen to more than 4 million podcasts, and there are 4 billion playlists created by users for anyone to listen to.
Listening to Spotify
Spotify is available as a webpage, a standalone desktop app for Apple and Windows, and a mobile app for Android and Apple users. All of these options make it easy to listen to Spotify, but you'll need to either use it in a browser or download the app for your device. To download the app for your computer, go to the Download page that's found at the upper right-hand side of the browser window, or search for Spotify in your device's app store.
There's little variation in the interface regardless of the platform you're using it on. You'll be able to easily learn the interface and know where to find the actions you're seeking, regardless of which platform you use it on.
Once you've downloaded the app or accessed the webpage, create an account so you can save your favorite songs and train the algorithm to deliver music that's to your taste. Over time, the algorithm learns more about you and becomes more tailored to your choices.
What to Expect From Spotify
As previously mentioned, Spotify's algorithm is one of the best when it comes to delivering new music to your ears. It pays close attention to your selections and finds similar music to help you expand your playlists.
Spotify has licenses from the major music labels, which means you'll find everything from Top 40 hits to classic rock from the 60s and everything inbetween. Independent labels and artists also license their music to the platform, enabling you to find obscure artists that are worth listening to.
Podcasts are another area where Spotify shines through. It owns a podcasting publishing platform known as Anchor.fm, which provides a steady stream of content to Spotify. Celebrity podcaster Joe Rogan has an exclusive contract with Spotify and has his entire back catalog available on the app.
Users can make their own playlists and add or subtract music as they please. The playlists are saved in the user's account until they're deleted or the user deletes their account.
Making an account on Spotify is free, but ads are played on free accounts. Getting a subscription of $9.99 a month results in ad-free listening for as long as the subscription is active. An account can be used on both a desktop or mobile without restrictions. Make sure you log into your account on each device you use for listening to Spotify.
Finding Music on Spotify
Finding your favorite songs on Spotify is easy. Click on the search button on the left-hand side of the screen and enter your search. The search engine will return as many relevant hits as it has on hand. Select the song of your choice and hit play. You'll have to listen to ads if you have a free account, or go right to the song if you have a subscription.
You can click on the heart button to like a song and have it presented to you for playing later. Or you can create a playlist to have your own personal soundtrack.
Creating Spotify Playlists
Creating a playlist on Spotify is easy and straightforward. Click on "create playlist" on the left side of the screen, which is preceded by a plus sign. You'll be taken to another screen that allows you to edit the name of the playlist, add a picture, add more songs, and arrange them in the order of play that's pleasing.
Save your playlist once you're finished. You'll be able to access the list on all of your devices with the app.
Uploading Audio Files to Spotify
You can use Spotify as a music player for your own mp3 files. However, this option is only available for paid members. Go to your profile, then click on it to get the pull-down menu. Look for settings and click on the option to get to the upload menu.
Spotify accesses your hard drive to look for audio files. Click on "show local files" to find your music files and select which ones you want to upload to Spotify. The menu options will differ slightly from device to device, but the end result is the same in terms of using the app as a music player.
In Conclusion
Spotify is easy to use, intuitive, and is capable of delivering seemingly endless music selections to your computer or mobile device. It also works well as a personal music player using your own files. You can make playlists and share them with friends or make them open for anyone to access. It works well for audiophiles and casual listeners alike, and keeps your music selections fresh.
Alternate Softwares