---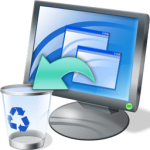 Total Uninstall is an uninstall program with tools that are required to clean off your hard disk. This program works fine and is an ideal one when it comes to removing junk files and creating a backup of each and everything before beginning the process of un-installation. This application covers each and every basic of program removal. So, in case you are looking for an efficient uninstall program, then trying out Total Uninstall may come into play.
Software details
---
Windows 10 / Windows 7 / Windows 8
Software description
---
Total Uninstall is the ultimate tool for removing and monitoring installed applications on your computer. Every application data and files will be deleted entirely from your directory. If you want a cleaner computer, you should consider getting Total Uninstall today!
Key Features
COMPLETELY UNINSTALL AND DELETE PROGRAM DATA AND FILES
MONITOR NEWLY INSTALLED APPLICATIONS
AUTORUN MANAGER INTEGRATION
IMPORT INSTALLED APPLICATIONS TO YOUR NEW PC
SUPPORTS LATEST AND PREVIOUS WINDOWS OS VERSIONS
Do I need an uninstaller program?
Contrary to what most PC users know, it's not entirely removed from the system when you uninstall a program. Even though the app shortcut is no longer visible to the launcher or list of apps from the settings, there are still bits and residues lying around in some folders.
Some programs leave excess files on your computer's disk. Also, much Windows-based software uses what's called "registry keys" to store configurations. Files and registry keys are sometimes tough to remove or look for as to where they are located. Lastly, most users will not always remember or even know that these things exist and need to be wiped.
Over time, your computer might be filled with these excess files and will, in turn, slow down. In some cases, users can't create or add new files anymore because their computer's storage is already filled with application data. This only shows how necessary it is to use a dedicated application uninstaller tool.
Now that you've learned the importance of cleaning program data, you should get a tool to do it. Total Uninstall, as its name suggest, is a very flexible and powerful uninstaller program. It scans the designated folders for applications and other directories to ensure that nothing is hiding in plain sight.
Major Features
Complete Uninstall
Every time you uninstall a program, its data and files will not be entirely removed from your computer. There will be no residue that you can find or might cause issues on your system. If you have many installed applications, you can quickly find something by searching using keywords.
Analyze and Logs Installation Changes
Total Uninstall generates a log displaying information about installation changes and removed programs. You can group programs into categories for easier identification and monitoring. Also, records can be exported into a list file. Lastly, users can configure the display view of logs.
Backup and Restore Program Data
Backup program data and restore it after formatting your computer. It will save time and processing power the next time you install the same app again. It is also useful when you have multiple computers and you don't want to download the same data individually.
Transfer Applications to a new PC
You can transfer applications and data to your new PC. Save yourself time and internet plan charges by avoiding to download application data again. It is also useful when sharing programs with other people around you.
Multiple Uninstall Solutions
You can force uninstall a program. It means that even an application is intended to be kept on your system or that a particular application forbids you to do so, Total Uninstall will forcibly remove it.
Moreover, you can do a safe uninstall when you wanted to be safe and sure. It will backup all application data, including registry keys, so that when something goes wrong, or you wish to revert changes, you can still use the application without reinstalling it.