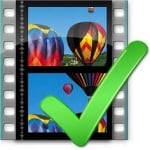 VideoInspector is a reliable tool for Windows OS that helps in dealing with AVI, MPEG, QuickTime, MOV and MKV formats. It is a flexible solution for gathering information related to video files.
VideoInspector is the product offered by KC Softwares that helps users to retrieve detailed information about video files stored in hard disk. This information can be used for detecting issues with files and then you can take necessary steps for rectifying those problems. It is a free tool that can be downloaded in no time and can be installed easily via Setup Wizard. It is highly efficient software that generates accurate results and is capable of helping you with almost all types of multimedia video content. Due to its compact interface and easy to use functions, it is the right choice for everyone.
Information Viewer:
VideoInspector can rightly get useful information about video files. First of all you need to select the file by browsing through system memory. The software will then extract its format, total duration, resolution in pixels, frame rate, bitrate, quality factor and codec used. The audio present in file is also analyzed for retrieving information about number of channels, sample rate, bitrate and audio codec. It informs you whether the movie is complete or not and also verifies its validity. The software confirms if the codecs used in file are installed on your PC and allows you to download them via internet.
Codecs:
Media codecs are programs that encode and decode digital signals in order to make them compatible with different devices. VideoInspector makes use of these audio and video codecs for enabling computer to play required movies and songs. The software comes equipped with various codecs. However you can download new ones from internet for increasing compatibility. If certain multimedia files are not running properly on system then it either means that file is broken or a codec is missing. With the help of this application, you can resolve such issues and enjoy music and videos whenever you want.
Settings:
A prominent feature of software is that it is multi-lingual that makes it usable in a large number of countries all around the globe. The support for common international languages such as English, French, German, Italian, Japanese, Chinese, Arabic, Portuguese and Spanish is playing a vital role in making it popular. Through its Settings menu you can add the software to context menu of video files so they can be opened directly. The update availability can be automatically checked on startup for saving time. You can also enable submission of anonymous results to codecs usage statistics database for improving its validity.
Other Tools:
There are multiple additional tools with which you can perform extra functions. You can burn videos to CD and DVD or simply convert them to DVD format. Batch mode enables you to process multiple files at a time. Captured information of files can be exported as text file. You can also extract audio from video file, view Bitrate statistics and split file into smaller sections.