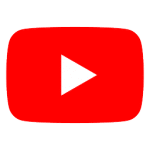 What seems like many years ago, the world was first introduced to a popular and easily accessible community of video sharing, and it would shake the world at its very core. There are very few people alive that haven't heard of YouTube, and the YouTube app that can be accessed on your mobile device.
The YouTube app gives you all the features and benefits of the site itself at the comfort of your fingertips, anytime and anywhere. Create and browse playlists, watch full-length user-created movies, watch hilarious comedy skits, or indulge yourself on some dramas. For those that like to listen to music on the go, there is a premium service that the app offers called YouTube Red, where you can listen to music, even when locking your phone screen.
All major app stores will have this app. If you need to pass the time away during your commute or want to view through some material in any location, the app is sure to please. Consider it today!