---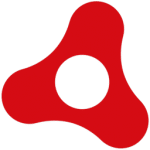 Adobe Air is an application creating and generating software. it can create apps for both computers and mobile systems. Adobe Inc. has built it simple to navigate with a nice looking interface. User can create different forms of applications that are compatible with Windows, iOS, blackberry, android, tablet OS and many more.
Software details
---
mac / Windows 10 / Windows 7 / Windows 8
Software description
---
Adobe AIR is a run time system used for building mobile and desktop applications. It allows users to construct video games and apps that can run as stand-alone platforms. AIR applications are often more powerful, easier, fun to use, and are free. Plus, they can run on a desktop without a need for a web browser.
AIR supports building apps using Adobe Flash, HTML, and JavaScript. Using AIR, web developers can access functions such as vector graphics, audio, text, video, microphone capability, camera, and raster graphics. Additional features include native client extensions, file system integration, access to all connected devices, and desktop integration.
Furthermore, AIR apps are quite safe because for each installation, digital signatures are required to identify the app and its developer before a user installs it. Plus, the program can run on all popular operating systems including Mac, Android, Windows, and iOS. Adobe AIR is free to use.