Advertisement
---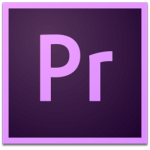 Adobe Premiere Pro

Download
Adobe Premiere Pro is a video editing software developed by Adobe Inc and published as part of the Creative Cloud licensing program. It is a Timeline based editing tool geared towards providing users with a professional video editor. Premiere Pro has gained its fame for being used in the production of famous movies such as Deadpool, Captain Abu Raed, Monsters, and Gone Girl. Launched in the year 2003, it became the successor of Adobe Premiere video editor. Adobe Premiere Pro enjoys the fame of having unique features such as support for high screen resolutions of up to 10,240 × 8,192 megapixels, support for both RGB and YUV colors in 32-bits per channel, Audio editing, ability to import and export a variety of video formats, and the ability to use templates. Another key feature is that Premiere Pro supports 3-D video editing.
Software details
---
Windows 10 / Windows 7 / Windows 8
Software description
---
When it comes to editing videos, you ought to download an application that contains a wide variety of options. Adobe Premiere Pro 2019 is such a program that simplifies this process for you. Its intuitive user interface helps you access its options and process multimedia content with ease.
Create High-Quality Content
Whether you're working on a professional project or intend to edit your personal videos, Adobe Premiere is your go-to option. This software is used by industry professionals to create and edit high-quality multimedia content.
You can process videos you want to upload on your vlog or YouTube channel. You can also finalize movies or video clips. It contains various options such as trim video, insert audio, adjust colors, and much more.
Here's a list of some top Hollywood movies edited with Adobe Premiere:
Deadpool
Gone Girl
Avatar
TimeScapes
Compatibility
You may need to use other Adobe applications such as Adobe Illustrator, After Effects or Photoshop to work on motion graphics. This software is compatible with all these programs. You can import content and apply advanced functions without any errors.
Fast Processing
A major problem experienced with many video editing tools is that they slow down the speed of your PC. Adobe Premiere, however, saves you from trouble. Despite having a rich user interface with a vast range of options, it doesn't negatively influence your system's performance.
It comes equipped with GPU acceleration technology. It speeds up the workflow and effectively boosts the speed of the application.
Camera Support
It can work with every common image format and offers support for various camera brands. You can import video content from Sony, Canon, Nikon, Panasonic, and other video cameras and also process videos you had recorded via your smartphone.
Unlike many other multimedia editors, it can also edit videos originally stored in SWF format. Once you're done with editing video, you can export it to Blu-Ray format.
Tutorials
It's a complex suite which is why beginners may need some time to fully understand its functionalities. However, Adobe Premiere tutorials can help you learn how to make the most of its options. Its help section can also guide you on its basic tools.
Adobe Premiere is the ultimate solution for your video processing needs. It can efficiently process raw videos imported from various resources. It helps you enhance their quality by applying various effects. Its GPU technology significantly improves the speed of the application.