---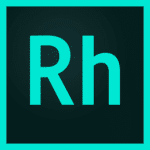 Adobe RoboHelp is a software by Adobe acquired from the original publisher in 2005. The software allows users to create HTML5 with personalized help experiences for any device. It gives you the power to customized layouts and templates, publish content in different forms and many other great tools.
Software details
---
mac / Windows 10 / Windows 7 / Windows 8
Software description
---
Adobe RoboHelp has so many great features that make the software important to use. The Adobe RoboHelp software uses great templates such as color, fonts, icons and more giving you quality content. Adopt the scalable vector graphics technology that gives your content a high-quality sharp look across all devices. The workspace is clear and has a nice easy to use interface. The skin editor also gives you the ability to transform the help system to look more appering before publishing.
The software gives you a 30 days trial time after you register. Reward your customers with a better experience by making searching easier from whichever device they use.
Alternate Softwares