---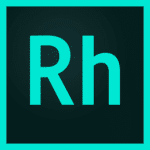 Adobe RoboHelp is a software by Adobe acquired from the original publisher in 2005. The software allows users to create HTML5 with personalized help experiences for any device. It gives you the power to customized layouts and templates, publish content in different forms and many other great tools.
Software details
---
mac / Windows 10 / Windows 7 / Windows 8
Software description
---
What is Adobe RoboHelp?
Adobe RoboHelp software helps you create and use automated tasks. RoboHelp can use for everyday tasks such as surveys, filling out forms, or making reports on a desktop or in an app.
RoboHelp makes it easy for users to interact with computers naturally by providing prompts and dialog boxes similar to the ones people would encounter in real life.
This cloud-based software system uses Adobe Technical Communication Suite to make it easier for web admins and independent publishers to add help desks and knowledgeable  base content to their websites and captivate their audience.
Built-in user assistance features make generating self-service content a breeze for customized help systems.
Omnichannel publishing features and an intuitive user interface allow users to publish to the following channels.
Adobe Experience Manager – (AEM)
is a suite of products created by Adobe Systems that help you manage your content and experiences across all channels and smartphones.
HTML5
This new version of HTML language enables you to create more dynamic graphics and user-friendly websites. It includes video, canvas, and AR/VR support. HTML5 makes it easier for users to navigate your website and helps make your site faster and more responsive.
PDF
is a file format developed by Adobe in the early 1990s. It's a portable document format that Developers can use to create searchable and printable documents. PDF files are perfect for sharing documents with others and are also often used to distribute software documentation or technical papers.
When creating tasks in RoboHelp, it includes an embedded JavaScript snippet that lets you interact with the task using your web browser.
Embedded JavaScript support means you can easily add buttons, menus, and other controls to your tasks so that users can easily navigate and interact with them.
Robohelp also supports Web Workers, so you can use background processing to keep your website responsive while tasks are being executed.
RoboHelp developers can generate media-rich content to disseminate crucial information to website visitors and e-commerce shoppers.
Adobe RoboHelp is available as a monthly or annual subscription. In addition, users interested in trying out this platform can take advantage of the free trial option on the Adobe website.
Adobe RoboHelp Features and Benefits
RoboHelp is a cloud-based tool that provides users easy access to AI-assisted support.
RoboHelp offers several features that make it ideal for use by businesses. First, it is a tool that automates the creation of help files for software applications.
It offers great flexibility and accessibility, making it an excellent choice if you are looking to create user manuals or instructional videos.
RoboHelp efficiently generates titles and subheads and provides other information such as task lists, screenshots, and Nebo results.
It also offers powerful search capabilities that make finding what you're looking for easy. This integrative tool can be used on desktop computers or mobile devices and has been tested with over 350 different programs.
Some of the most popular features include:
RoboTask
allows business users to automate repetitive tasks using natural language commands. For example, you can ask Adobe Robohelp to create an invoice or send emails automatically.
Intelligent Assistance:
Robohelp employs artificial intelligence (AI) to answer user questions based on Chatbot interactions.
JavaScript Support
Adobe RoboHelp users can complete complex JavaScript tasks and workflows built into the artificially intelligent software designed to create help documents and knowledge base portals.
Benefits of Adobe Robohelp 
RoboHelp saves software developers time and hassle. For example, rather than writing help files from scratch, you can use Robohelp to create templates tailored specifically for your software.
Another benefit is that Adobe Robohelp is accessible from anywhere in the world. So whether you're at home or working away from the office, you can access it online via a computer or mobile device.
RoboHelp software provides insight into how users use your system so that developers can resolve maintenance issues more quickly and effectively.
How to use Adobe Robohelp
To get started, visit the Adobe RoboHelp website to download and install the version that works with your software. There are many different RoboHelp interfaces available. Its important for users to choose the version of RoboHelp that is compatible with your software.
Windows users should download the version of Adobe RoboHelp designed for Windows OS. Mac users can install the correct version of Adobe RoboHelp compatible with the OSX software.
After accessing the interface, create a new help file by clicking on 'File' and 'New.' Creating this file will open up the New Help File dialog box where the user can edit existing help files.
To test the help file, click on 'Preview' and view it in a web browser or use the 'View Help Files In Browser' option to open it in a compatible software application.
When you're happy with your help file, save it by clicking on 'File' and 'Save As.
Adobe Robohelp is ideal for software users who need help creating or editing help files. It is also helpful for anyone who needs to produce documentation on their computer or mobile device, regardless of their experience level.
Adobe Robohelp is currently available on Windows, macOS, and Linux systems and it currently supports English, Spanish, and French. This technology can also help customize computer systems or configure applications.
Alternate Softwares