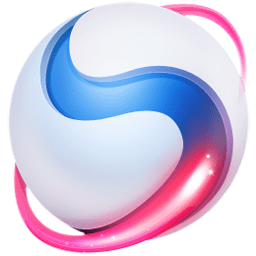 This is another easy, free, and visually attractive browser that users have come to enjoy. Some familiar with this browser may remember it by the former name, Spark. This powerful software offers seamless integration with social media, fast downloads, and changeable skins. The Baidu Browser and Google Chrome use the same engine. Additionally, the browser comes with a solid interface which makes it customizable and easy to navigate. Users will also enjoy the new and improved special tools that are part of the standard features. So, if you need a browser with quick and immediate access and tons of options, choose Baidu. 
What Are The Best Features Of Baidu Browser?
Baidu comes with a lot of really great features for the user to experience full customization.
Pop-up Video Player – With just one click, you can access the player tabs and choose what you want to watch.
Media Downloader – This built-in tool allows the user to transfer audio and video directly to the phone or iPad.
Drag and Drop – If you are trying to open something specific, you can use this feature to do so.
Full-Page Screenshots – Easily share images with friends and family with this app. Crop the picture with the photo editor.
Browser Doctor – Quickly diagnose or fix any problems associated with the browser.
Mouse Gesture Support – Gives you control over the mouse when needed.
Account Synchronization – The accounts can all be synched together with one click.
What Is The Browser's New Interface?
While the interface is similar to Chrome's, it has received a more youthful upgrade. Baidu allows users to change the color and skins right from the taskbar. The new sidebar feature allows the user to move around without interfering with the browser. Users say the screenshot capture and video download is superior to Windows. The upgraded fast speed and better quality makes a better browsing experience.
What Are The Pros And Cons ?
Pros:
The User Interface is attractive and simple to use.
Interchangeable skins
Easy to download screenshots
Cons:
Additional programs can be installed. They could possibly interfere with the taskbar.
Some privacy concerns have come up regarding usage.
What Are The Latest Security Features?
Users are very concerned about browser security for good reason. Because of browser concerns, Baidu has introduced new features to provide a security buffer:
Built-in Virus Scanner – This prevents harmful files from uploading to your computer. It also blocks information from malicious websites.
Adware Block – This gives the computer an extra layer of security against intrusions. It also prevents your information from being changed by third-party software.
The best part about Baidu's security features is that it is free. Some paid browsers offer less.
How Do I Download The Baidu Browser?
It can be downloaded straight from the website. Supporting operating systems include all Windows platforms.
The Baidu browser is a fully functional, high quality browser. It has a wide variety of features that will make the user's experience a great one. This browser is blazing fast and includes a number of apps for full customization. So, if you need a browser with good stability and a strong social media focus, you may want to look into Baidu.