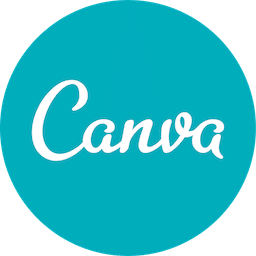 The Canva lets everyone become a logo creator, video maker, and photo editor. With Canva's editing tools, you can create Insta stories that will catch everyone's eye, amazing photo collages, and flyers too. Canva is an all-in-one solution for many of your business graphic design needs. Since exploding onto the scene, many similar services have popped up. However, Canva continues to lead the way in functionality, options, versatility, and other important categories.
Canva is up-and-coming graphic design software for users. Its feature-rich interface brings you solutions to design graphics for social media or design projects. With a wide range of free or premium templates, you won't struggle to find suitable images or presentations for projects. Then with its Pro mode, you have the option to manage a content planner sheet and build brand voice.
Canva made waves with its launch in 2013. Now, it's helping users create high-quality and captivating images for social media even if you aren't a graphic designer.
The software recently reached the milestone of helping users with 15 billion designs which is plausible. You can browse through its collection of design templates to find designs that best fit your needs. Then edit the available templates to suit your brand voice.
Use Canva in Offline Mode
You may have used the Canva website. But it's beyond time you access the unique features of this website in offline mode. Download the software on your system and access it on the go. So, you need not worry even if you can't access the internet. Make the most of this desktop app and work on your projects.
Get Access to a Variety of Designs
The software gives you access to several templates in each category. Thus, browse them as per your topics of interest and use designs in your projects.
Some projects you may want to work on can include presentations or images for social media platforms. Or create video clips and whiteboard animations for branding. How about designing flyers for promoting your business venture? This, and so much more is possible with this software.
Collaborate with Your Team
Take your productivity to next level with its Team option. It's now possible to create projects and invite your team members to collaborate with you.
The feature was designed by keeping in mind the importance of privacy on such projects. So, only authorized users can access design projects. After creating a project, you can invite selected team members by sharing an invite link. Further, another option can be manually adding their email addresses so they can receive an invitation for collaboration.
Get Design Inspirations
You don't necessarily need to reuse available templates. Rather, you can treat it as a source of inspiration. Before designing graphics, every designer conducts thorough research and might do so as well. The process entails exploring how other designers create content for different brands and platforms.
Check out how Canva designers create eye-catching designs and use it as a starting point. Then use this information to get ideas for your upcoming project.
Software Interface
The offline Canva is quite similar to the website in terms of functions and display. You can access your content to manage settings, invite friends, or view the help section. Or browse its menu to adjust its appearance or manage documents.
The app has a Help section for user help. So, visit it to get information when something isn't working or you need information about the software itself.
Canva Free vs. Pro Versions
The free version of the software has a wide range of options. But still, you may need some extra features to work as a true professional. So, Canva Pro can be of help.
The paid version brings you many more templates. Look for Pro template designs in all categories and download them – business, marketing, education, cards, etc. These high-quality designs can make your business or personal brand stand out.
Additionally, Pro users get access to specific brand kits or templates. Or maintain a Content Calendar within the app to manage tasks.