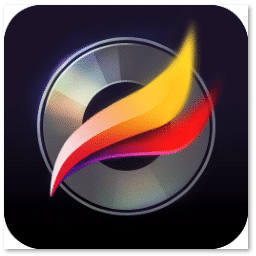 CyberLink Power2Go Download
CyberLink Power2Go is a simple, comprehensive solution for all your movie disc authoring, disc burning, media conversion, and back up needs.
CyberLink Power2Go is an easy to use optical disc burning application developed by CyberLink Corp. It possesses a colorful tabbed interface so users can conveniently access required options. It helps them copy all types of data such as video, music and pictures from CD, DVD or Blu-Ray discs. Furthermore, they can burn the discs with media that is stored on their online storage accounts. It can be used by purchasing license; however the valid duration of free trial period is 15 days. Its high performance capability makes it a great choice for taking backup and burning discs with media files in no time.
Data Discs:
The Data disc tab in CyberLink Power2Go allows you to choose the type of disc that you want to burn. After choosing the disc, the tool will direct you to browsing window where drag & drop function can be used for adding required files to queue. You can view disc information and select settings to modulate burning process. Modification of disc name, writing speed, number of copies and tags can be performed easily. You can also enable disc auto-run, change disc icon, split content on the basis of disc capacity, simulate writing, enable buffer underrun protection, manage defects and verify recorded data.
Video Discs:
Creating videos out of clips and burning them to discs is simplified by this tool. It lets you create high quality videos in DVD, BDMV, AVCHD and VCD formats. The video files can be added to the list and then many effects can be applied such as InstaFill, background music, text inclusion and playback mode. Built-in Preview window helps you verify the content before burning it on targeted disc. With the help of this tool, you can also burn existing DVD and Blu-Ray folders to respective discs. The task can be achieved by browsing folder as well as choosing disc, writing speed and number of copies required.
Music and Photos:
CyberLink Power2Go facilitates you with separate tools for dealing with Audio discs and Photo Gallery discs. Either you can add audio files from system hard disk or extract audio from video clips. These files can be later burned to CDs and DVDs in WMA or MP3 formats. Burning audio discs with imported CUE metadata files is another useful option. Furthermore, users can create image slideshows and copy them to CD, DVD or Blu-ray as portfolio.
Functions:
Power2Go allows you to empty discs by erasing specified content. You can also create virtual discs using ISO images. It can merge different type of data on a single disc and maintains records of all processing in libraries. It efficiently assists in avoiding data loss by creating reliable backup of operating system files and data on USB drive or disc.
CyberLink Power2Go is a great source of creating backup of disc content on your computer, burning discs with folders and converting videos for suitable devices. The support for multiple types of discs has increased its credibility. You can burn CD, DVD or Blu-ray with files or online content and can save your online content in PC.