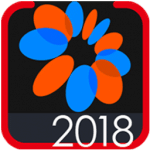 DVD-Cloner is an advance tool through which copies of DVD can be made and content can be burned to supported discs. It is an efficient product by Open Cloner that is capable of transferring data between DVD-5 and DVD-9 discs.
DVD is an optical disc that can store large amount of video and audio content. The format was developed for facilitating users such that they can save high quality movies, music and other digital data without being restricted by limited memory space. DVDs increase the portability of data as it is easier to share disc with friends. These can only work with dedicated DVD-ROMS that can efficiently read data from a valid disc. The Digital Versatile Discs were preceded by Compact Discs or CDs that contained relatively lesser storage capacity. With the help of DVD-Cloner 2019 , you can now burn any file to DVD.
DVD Copy:
DVD-Cloner is a smart tool that can copy required content from specified disc. Not only you can copy DVDs, but it also offers support for Blu-ray discs. It also allows you to copy menu, sub menu items, subtitles and other special features that are embedded in the disc. However, you can omit any of these special items when copying DVD and customize the content as per your requirement. When copying a DVD-9 to blank DVD, you can either keep it a single disc or divide the content into two DVD-5 types without affecting original video quality.
I/O Functions:
You can specify particular settings for Reading and Burning I/O processes. Reading from disc can be performed in LIBC, SPTI or ASPI mode depending on the type of DVD. Reading speed can be chosen as High, Mid or Low, while bad sector skipping value can be entered for increasing the speed. When burning files on DVD, you can select mode of data, burning speed and DVD writing method. You can enter number of copies to be created and modify other settings. Its advanced setup allows you to verify data after burn is finished, eject disc when process is completed and erase content when process in ongoing.
Modes:
The Expert Mode of DVD-Cloner enables you to perform various functions. You can use its functionalities for copying songs from music disc to system hard disk or another DVD+R disc. It also enables users to combine content from multiple DVD or Blu-ray and merge them as a single unit. If you want to burn a disc with files present in memory, then this purpose can be fulfilled as well. The other mode of software is Express Mode that provides specialized facilities in the standard way for beginners.
Features:
The application efficiently copies DVD and thus lets you avoid data loss with the creation of secure backup. Its processing speed is very fast and resource consumption rate is quite low. It can deal with all types of DVDs even if they are encrypted. It compares the data after burn process to ensure that no file is left and deletes temporary files for releasing unnecessarily occupied memory space.