Advertisement
---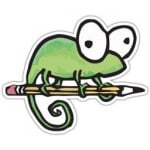 Notepad++ is an advanced alternative for Notepad software. It's a user-friendly application that helps you write code in various programming and scripting languages. It facilitates you to easily create and edit text files. The developers launched it in 2003 for Windows users and since then it has been updated regularly to enhance its functionalities. This is a free tool and is available in around 84 languages. The installation process is quite simple and during installation, you can decide which components you need. It requires low system resources to operate, which is why it reduces power consumption.
Software details
---
Windows 10 / Windows 7 / Windows 8
Software description
---
Do you still use Notepad app and are looking for a more advanced editor? Then you should try out Notepad++!
Notepad++ is a text editor as well as an efficient source code editor. You can download this software with the help of its installation wizard. It requires around 2.9 MB of hard disk space. But what makes it the top choice of users is that it doesn't slow down your PC.
Clean Interface
Just like the Notepad app, Notepad++ also comes with a clean and straightforward user interface. It displays a myriad of options. It supports tabbed editing, which is why you can work on multiple documents simultaneously.
Format Support
This software recognizes numerous programming languages. It can accurately identify the language you're working on and format the source code accordingly. It indents and colorizes the code, making it easier for you to create and edit apps.
Here's a list of some common document formats it supports:
Text file
Assembly language source file
Unix script file
C source file
Diff file
MS ini file
JavaScript file
JSON file
Java source file
Python file
PHP hypertext preprocessor file
Auto-Completion Option
When working on the source code, it takes a lot of time to enter instructions. This application contains an auto-completion feature that makes your work easier. It can automatically complete common words, functions, and function parameters so that you can quickly get done with your work.
Macro
Macros help you perform repetitive tasks. You can record input from different peripheral devices and run macros to perform those tasks as many times as you want.
Preferences
With its preference section, you can customize the software as you like. You can choose the tools and tabs that should appear on the screen and choose editing settings. It allows you to customize new documents, define default directory, access the recent files history, add support for different file extensions, and adjust the language menu.
Furthermore, you can easily print documents with custom header and footer in desired colors. It can create an automatic backup of documents so that you don't end up losing important information. You can define cloud location and quickly store files on a secure cloud server for easy access.
Notepad++ is a complex text and source code editing tool. It facilitates you to easily compile and write code and create its backup. Due to its intuitive user interface, you can learn how to benefit from its functions in no time.
Alternate Softwares