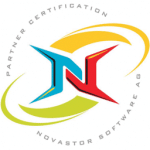 NovaBACKUP, the data protection and recovery software, have been designed for computer users, who want simple, fast and reliable protection for their personal data, E-mails, MP3 files, applications, photos and other critical documents. The software automatically backup your files, photos, music, and email on a remote drive, an external device, or online. The program easily restores the hard disk of your PC, including installed software and operating system with a bootable disk image configuration.
NovaBACKUP Server is a cost-effective, flexible and reliable data recovery software protection to protect sensitive information stored on your Windows Server. With the help of this software it is easy to create and manage easily your backup procedures using automated schedules.
• How it works?
Every day computer users lose important documents, photos, music,etc., due to failure of hard disk, network accidents, disasters, malicious software on the Internet and even theft or vandalism. Data protection can be done simply and cheaply using this software. Computer users can protect their critical information through easy schedules, which backs up all the existing files, new files and updated files on any storage devices. Once the data is backed up and stored, the restoration or recovery of lost data can be made with just a few clicks.