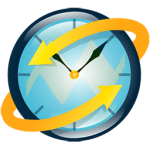 Windows users often have to reinstall the operating system. However, this will erase all the data that are stored in the system. There are software solutions that help your computer to get back to an earlier restore point even after the reformatting. The RollBack Rx is one such program that will help you to restore your computer after a reinstall.
The software enables the creation of so-called snapshots of the operating system. That is, preserves its current settings, system files and the registry, as well as many other options. That is, in fact, makes a copy of the fully functional system, wraps it and saves on your hard drive. In case of accidental deletion of any vital system files or for system failures, RollBack Rx allows you to fully restore its "operating system" from its copy. Thanks to the Manager for keeping such copies, you can easily find the desired system state which is "rolled back". In total, the program will allow you to forget about the problems with the operating system and forget about the need for regular re-installation. The free version of the software is limited to 15 days.
Important highlights of the program:
• RollBack Rx does not affect the performance of the computer
• Can be controlled remotely and deployed (Enterprise version)
• RollBack Rx takes only 0.1% of the total hard disk space.
• Support for unlimited restore points.
• It only takes approximately 3 seconds to create a new restore point.
• Creates a complete snapshot of your system without restarting the computer.
• The software create and save new snapshots automatically, manually or while using the file.