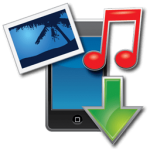 TouchCopy is user friendly software through which videos, images, music, documents, contacts and messages can be stored on computer hard disk. It assists you in remembering events by exporting calendars. Internet browsing history and bookmarked pages can also be synced. Your messages and call logs can be exported to maintain records.
TouchCopy is a professional application through which you can connect your iOS based devices to your computer. It automatically detects the connected devices and lets you transfer different types of data with ease. It offers unlimited features in licensed version, but free mode can also be used with limited functionalities. It is available for both Windows as well as Mac operating system and is compatible with the latest versions of iPod, iPad and iPhone.
File Manager:
Your iOS gadget can be used as an external storage device for PCs. TouchCopy acts as a file manager through which you can access and manage data files. You can add, sort, copy, paste or delete files and folders. It is compatible with images, music, documents, videos, iBooks, contact lists and various data items. It enables the disk mode function on your portable devices that was earlier offered by iTunes. All you need to do is to connect your device to PC and browse through storage without jailbreaking.
Multimedia Backup:
The application enables you to create backup of important data and memories on your PC. It allows you to transfer photos and videos between iOS devices and computers. This features helps you save data in a secure way and recover it if it was deleted by mistake. It offers support for iTunes and lets you backup and retrieve video clips or images synced on multiple devices. You can also transfer content that was captured from the built-in camera of iPad, iPod or iPhone.
Your ringtones, playlists, music, Audiobooks and Podcasts are no exceptions. Either you can upload them to iTunes or save on Windows or Mac system. Songs metadata, play counts, ratings and album art are all included.
Books Compatibility:
TouchCopy is compatible with both PDF and EPUB file formats that are commonly used in eBooks. It lets you copy books to a computer's hard disk that were downloaded using iBooks app. This function helps you keep your data secure when you intend to purchase a new device. The transferred content is safely stored on iTunes or system memory. After replacing the device, you can connect the new one to your PC and sync required books. It also helps you decrease the load from memory of iOS Devices.