---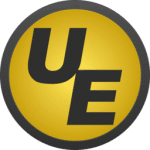 UltraEdit is a handy tool for editing your text, hex code and programming language codes easily.
Software details
---
mac / Windows 10 / Windows 8
Software description
---
UltraEdit is a powerful yet easy-to-use text editor. It is able to handle large files, multi-person project teams, and much more. The trialware is often referred to as the "go-to editor" for professionals. It is used by a variety of different industries, including IT for web development, text/code editing, system administration, power and performance, programming, and file comparison.
Features
Editing tool designed for professionals
Able to easily handle huge files and data
Highly configurable
Offers programming and project management
Themed code editor
HTML editing features
Data sorting
Live preview
Completely customizable
Text/code editing
Bookmarking
Simple text editor
Multi-point cursor
Easily find and replace text
Available for Windows, Mac, and Linux systems
File encryption and decryption
Text data reformatting
Support available for almost every syntax and language
Feature Highlights
Create Themes and Layouts that Work Best for You
The UltraEdit software lets you create an environment that works with you. The entire program is customizable and allows you to use a unique menu system to create exactly what you need and want without distractions. Users can switch from a full ribbon to compact ribbon within the menu/toolbar system, which means you only have to deal with the buttons you like.
Find/Replace Across all Files
Whether you need a few quick inline finds or replacements across the entire project, UltraEdit's find/replace features are unparalleled. The tool offers Perl regular expressions, line filters, column-based searching, and much more.
Integrated FTP Browser
An integrated FTP browser is built into the software. With this tool, the program is able to support syntax for hundreds of languages. The program also features integrated SSH/telnet technology, including custom tools, Smart Templates, and scripting, which leaves users prepared for any coding session.
Simple Text Editor and Multi-Cursor Power Editor in One
UltraEdit encompasses everything you need to edit lists and columns. Multi-caret editing, multi-select, and column/block editing can be done quickly and correctly. The interface can be used as a simple text editor when needed and transforms into a multi-cursor power editor when needed.
Live Preview of HTML Markdowns
Sometimes, coders need to see a live preview of what they have already completed, and this software allows that to happen. The Live Preview button offers a pop-up window with HTML markdowns recently completed and in progress.
Alternate Softwares