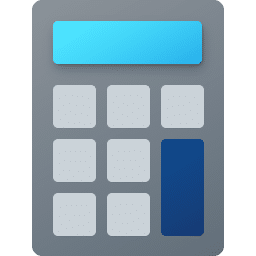 Windows Calculator Download
The Windows Calculator, or simply Calculator due to its placement in the title bar of all Windows editions, is a built-in calculator.
Microsoft's Windows includes a built-in software calculator called Windows Calculator. Standard, Scientific, Programmer, and Graphing modes can include in the Windows 10 version. You'll find a numeric keypad and calculation buttons in the default setting. In the scientific mode, exponents and trigonometric functions are also available. In programmer mode, the user can execute tasks typically associated with writing computer code.
The Calculator gained the capability to plot equations on a coordinate plane in the year 2020 with the introduction of the graphing mode. Starting with Windows 1.0, the Windows Calculator has always been one of the few preinstalled programs. Many new features had added to the Calculator since then.
Windows Vista
Suppose you're using an older version of Windows (before Windows 7). In that situation, the Calculator app has all the capabilities of a regular four-function or scientific Calculator, and more, in a convenient and easy-to-use format.
Make Use Of The Calculator History
If careless, you could easily make a mistake using a calculator. You can review recent calculations with the History function to help you remember specifics or spot mistakes. To view past calculations, expand the Calculator's window horizontally until the History panel appears on the right. If the window is too small, you can expand it by clicking the History button in the upper right corner, albeit less efficiently. When you open this page, you can view a history of all actions taken. Select it, and it can bring it back into the functional calculation. Alternatively, you can right-click and select "Copy" to take the value and use it elsewhere.
Using the right-click menu, you may also select Delete to remove an item from the history. To delete everything in this section, click the trash can icon in its lower-right corner. The history does not persist across program restarts, so any changes you make before quitting can lose.