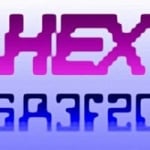 WinHex is disk editing and hex editing tool that is most beneficial for data recovery, low level data processing, forensic and for providing IT security. It is suitable for both professionals as well as the beginners. It is an active tool that performs all the tasks quickly and offers various features to users. It may be felt similar to text editors but the major difference is that it can edit binary data. It is mostly used by professionals or students who are working in the field of computer systems.
WinHex is a freeware. You can download it from the published link on this webpage. Its setup will be downloaded in the form of a compressed folder. Extract the files present in it via WinRAR or any other similar tool. A bunch of files will be extracted with this process. You will find the setup file within this folder as an application with the name similar to that of the software. On opening it the software will be ready to start and you can use it for free.
System Specifications:
WinHex is developed for Windows Operating System users. It can run and perform all the required operations on Windows 2000, XP, Vista, 2003, 2008, Server, 7, 8 and 10 versions. You also need to have the hardware with at least 3 MB of free space in the main system hard disk. The size of the software is only 2.4 MB so it needs low resources to work properly.
Features:
WinHex is a simple tool for performing exact cloning of the existing disks and drives for the installation of a single software or operating system at multiple PCs. It is also very helpful for forensic scientists who need to produce multiple copies of evidences for their cases. It helps the programmers to debug their programming codes. It also helps the users to examine or analyze different program files. It lets you protect your data by deleting unused Master file records and private data files.
It can efficiently deal with and manipulate different types of data such as binary and ASCII codes and can perform transfer of data between PCs and mainframe systems. Different templates are also available to guide you through the process of data structure modification.
Options:
With its menus and options, you can create or restore disk images, use backup manager, manipulate hex, floating point and integer values, manage disk tools and reconstruct RAID system. It has many more options but if you face any problem then you can visit its Help menu.
Conclusion:
WinHex has a unique graphical user interface. All the options are clearly present in the drop down menus so you can find them easily. It is a fast and secure tool for manipulation of binary data and different types of files that are created in games and other applications. It protects your system privacy and lets you perform data recovery, data encryption and repairing of system files. It lets you meddle with system files so you need to be careful while using it.