Xbox Game Bar is an integrated Windows tool designed to offer quick access to various screen capture and audio recording features, framerate statistics and GPU usage data. Game Bar makes recording videos easy! Simply launch any compatible game and press the square button to begin recording a video.
Performance
Game Bar is an overlay tool designed to enhance users' gaming experiences. It provides them with instantaneous access to a range of screen capture and sharing widgets, LFG finding new teammates for matches, resource heavy applications monitoring/closing services as well as Xbox friends on all consoles/mobile/PC platforms without leaving their current game!
Although not very well known among gamers – only having 76 reviews in Microsoft Store with an average rating of two and a half stars – the program seems to be making progress towards becoming a PC favourite. Microsoft has quietly updated the application with various tweaks and features which could make it more useful, including performance monitoring widgets and FPS counters.
The new "Resources" widget makes it easy to keep an eye on CPU, GPU and RAM usage while playing video games, providing both percentage values and graphs of these metrics. Furthermore, it displays the top applications using these resources with their associated impact so you can track and close them without tab out or closing out of any video game session.
Widgets
Microsoft recently unveiled an Xbox Game Bar App Store within its overlay that will allow developers to create widgets specifically tailored for Xbox Game Bar users. Furthermore, there's an intuitive menu which makes navigating between widgets simple – you can hide or display certain ones, pin them at the top of your screen or make favorites permanent so they're always visible when needed.
The Capture widget enables you to take screenshots or videos of your gameplay, while audio widget allows you to adjust volume levels for different media players and apps while gaming, and even start recording directly from here. Meanwhile, Performance monitors CPU, GPU and RAM usage to detect whether other programs are using too many system resources, which could impede with framerate issues in games.
There's also a Gamecaster widget, enabling PC gamers to manage live YouTube or Twitch streams and communicate with viewers while showing off their prowess on video game scene. And finally, there's the calculator widget which makes quick calculations on scores, points or progress while playing a game a breeze – seven widgets come standard in Xbox Game Bar; for additional ones visit Widget Store from menu.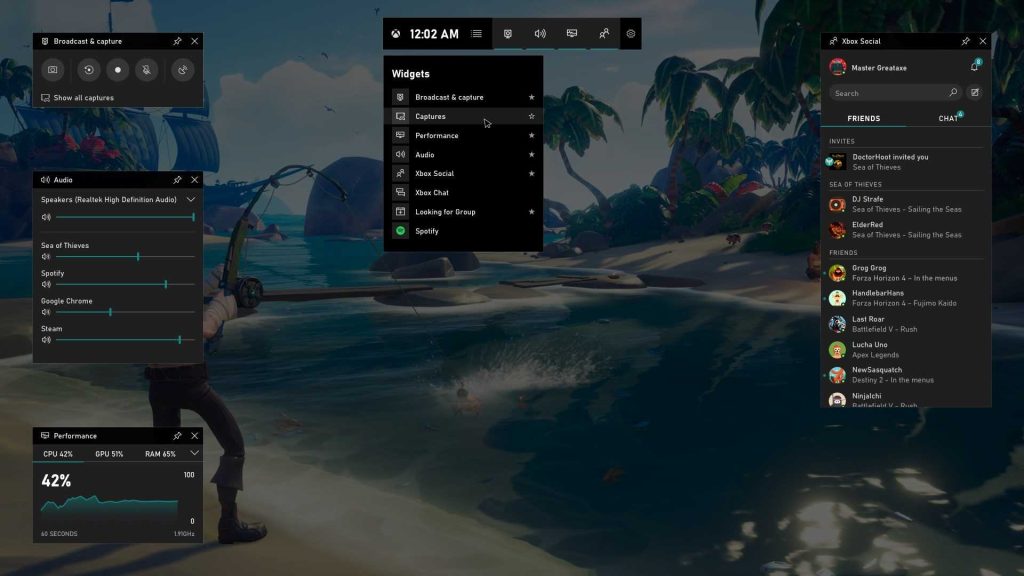 Screenshots
Game Bar makes screenshots simple with its fast hotkey combination and toolbar overlay, and once saved a notification immediately appears in the Game Bar overlay or Gallery for you to review your captures.
Microsoft integrated Game Bar into Windows so gamers could access and manage it from any game on any screen – as well as customize keyboard shortcuts and more granular settings via its Settings page.
Game Bar provides more than gaming-related features; its Spotify integration enables gamers to directly control music playback within their game without having to open separate applications which might interfere with performance or disrupt their gameplay. The Achievements widget displays digital rewards earned during gaming sessions while grouping functionality helps gamers locate others playing similar titles.
Recording
Xbox Game Bar allows gamers to record gameplay footage and add voiceovers. Furthermore, this utility helps customize keyboard shortcuts and manage recording settings.
To record with this tool, gamers need only press Windows + G or press Xbox button on their controller simultaneously and a Game Bar overlay appears with timer and two recording controls; pressing microphone icon starts free recording while square icon stops it.
If audio while recording is giving you trouble, the best way to solve the issue is to restart your computer and check for updates that may help solve it. For setting recording options, visit Game Bar Settings menu or Xbox app depending on your recording preferences – such as maximum recording length or where they will be saved to folder; plus choose whether or not capture the Game Bar overlay.
Accessing your friends list
The Xbox Game Bar is an integrated feature in Windows 10 that enables users to quickly access various screen capture and sharing widgets, chat via text and voice while gaming, an audio mixer, PC performance statistics, as well as PC performance graphs. It is more efficient than tabbing through desktop applications when gaming!
This application is intuitively designed for ease of use and access is made even simpler via keyboard shortcuts. Pressing Windows + G simultaneously will open the Game Bar; pressing that same combination again closes it again. Moreover, new keyboard shortcuts may be added for certain commands for even greater convenience and enhanced user experience.
Use of Xbox Game Bar allows you to quickly access your friends list by searching for someone's Gamertag. Once found, press A to add them as friends; or search using Lookup with their name entered for more specific profiles – if accepted they'll become part of your friends list while otherwise they appear as followers.
Xbox Game Bar provides an excellent opportunity for gamers to meet and network while they're gaming, with its social features helping you find players with similar interests and playstyle. This feature can especially come in handy if you're seeking an online game guild to join.