---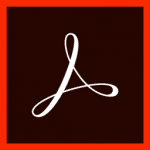 Adobe Reader is a software application used to view and share pdf files. It offers tools for commenting, text selection, printing, and zooming in and out.
Software details
---
mac / Windows 10 / Windows 8
Software description
---
Adobe Acrobat Reader is a cross-platform PDF viewing and editing program. Using any version of this program, you can access and convert files into a PDF, sign your name on important contracts – which are typically formatted using a PDF, print documents, and place comments. Adobe Reader is broken up into free and paid versions: Acrobat Reader and Acrobat Pro DC.
The Portable Document Format (PDF) was developed in the late 1990s by Adobe. It has been open-standard since 2008, which means businesses are free to use the format without a license. Since then, the growth of usage of PDFs has grown drastically, especially because of the further development of the internet. There are many competitors that offer PDF services similar to Adobe online, however, Adobe stands above the rest in terms of popularity and variety of functions.
The Adobe Reader was originally released along with the PDF file format with limited features. However, many features have been added since then, along with a free version.
Acrobat Reader is Adobe's free PDF viewer. Like the paid version, you can send, download, and access files from both home and digital devices. The base features of Acrobat Reader are that you can view, comment, and print PDFs. Compared to the paid version, you have limited usage of signing, tracking, and sending documents.
Adobe Acrobat Pro DC is the paid alternative to Adobe Acrobat Reader. Acrobat Pro DC has additional features. With this version, you can edit PDFs, change the format of images into PDFs, re-arrange documents and pages within a PDF, create your own PDF, have further abilities to share, collaborate on and sign files, and are able to scan documents. If you have this version of Adobe Reader, you can use your Adobe ID and password to login into acrobat.com and access files online through the Adobe Creative Cloud. Adobe Acrobat Pro DC comes with all purchases of the Adobe Creative Suite.
Adobe Reader is available in 24 languages on macOS and 29 languages on Windows. Computers need a minimum of 2 gigabytes of RAM to run this program.
Alternate Softwares