Advertisement
---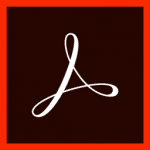 Adobe Reader is the ultimate solution for viewing PDF documents. Adobe Systems developed the software in 1993 to facilitate users. You can now easily open PDF documents regardless of their size and content. It's a lightweight application. So, there's no need to worry about resource consumption. You can install it on all versions of Windows OS and also get it for your smartphone. It's a free tool for home users. But you'll have to purchase the license if you intend to use it for commercial applications. You can translate the software in more than 25 languages.
Software details
---
mac / Windows 10 / Windows 8
Software description
---
PDF files or portable document format files are widely used by computer users. By converting documents into this format, you can ensure that no formatting errors arise when you share it with your friends or colleagues.
However, you'll need a specialized application to view this document on your PC. Adobe Reader for pc is one of the most popular free solutions that supports PDF format.
What is Adobe Reader?
Adobe Reader is an unrestricted software that is reliable in viewing, commenting, and printing documents in PDF format. Adobe handles digital media, printing and publishing, and digital marketing. It has over 14,000 employees and has a revenue that is worth $4.4 billion.
Now that the Adobe Reader is linked to the Adobe Document Cloud, it is now easier for anyone to work across multiple mobile devices and computers. This is the only PDF viewer that can access and interact with any kind of PDF content, which also includes multimedia and forms.
What is its purpose?
The primary purpose of the Adobe Reader is to create, view, and edit any PDF files. You may also import prominent documents and images, and save them all as PDFs.
Devices it is compatible with
The Adobe Reader software is compatible with various devices and operating systems, such as macOS, iOS, Android, Windows, PCs, Linux, and many more.
Features:
Users can store up and open documents using the Adobe Document Cloud which comes with a 2 gigabyte of free space.
Instantly obtain recent documents from any device, like mobile devices or PCs.
Syncing Fill and Sign autofill selections from any device like iPads, PCs, or mobile devices.
Users can also send and trace their documents or file using real-time alerts.
Can Adobe Reader be used in PCs?
There are tons of alternatives nowadays that claim to be better than Adobe Reader for PCs, like Nitro PDF Reader, SlimPDF Reader, and many.more. These alternatives claim to have better features, tools, and have a smaller file size. However, it is very difficult to find a way better PDF reader than Adobe Reader for PCs.
Just like other programs that are related to Adobe, this software is free to download and install on any PC. System updates are done on a regular basis and these updates are also free of charge.
Download and Install Adobe Reader on PC
*Note: before downloading and installing the Adobe Reader onto your PC, be sure that your operating system has all the needed minimum system requirements.
All of the versions of Adobe Reader must be closed and also, any browser that is showing PDF files must be closed as well.
Now, go to the download page of the Adobe Acrobat Reader and click on the button that says "Install now".
Next is to click on the " Save" button in order to download the Reader installer.
Once the downloaded file at the bottom of the browser screen, click on the Reader file entitled ".exe".
Finally, a notification will appear that will display the confirmation message signaling that the installation is finished, and then click on the " Finish" button.
Review
Overall, the Adobe Reader for PC is a great software since it allows users to view, edit, and print documents in an easier way. The software is very instinctive and what makes it better is that it is free to download from their page. Adobe Reader makes it easier for users to view documents when they are at work, at home, or on the go. Additionally, what makes Adobe Reader flexible is that it can be installed on smartphones, PCs, or tablets, nevertheless, it does not matter what operating system users may have or what device they own.