---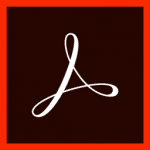 Adobe Reader is a software application used to view and share pdf files. It offers tools for commenting, text selection, printing, and zooming in and out.
Software details
---
mac / Windows 10 / Windows 8
Software description
---
When it comes to things made by Adobe, many people think of Photoshop – it's one of the main go-tos for all kinds of graphic work. There are a lot of other products, too, like Premiere, InDesign, and After Effects, just to name a few. They can be accessed through a subscription service. But they also offer an important program that people can use for free: Adobe Reader. It may also be known as Adobe Acrobat Reader.
What Is It?
Adobe Reader is one part of the Adobe Acrobat program. When you download it from Adobe's website, you can then open and read Portable Document Format (PDF) files. A lot of businesses like to use PDFs – it's right up there with Microsoft Word files.
You can use it on a lot of different operating systems, including Windows, Mac, Linux, Android, and even Solaris.
What Can You Do With It?
There are quite a few things you can do with it. You can view PDFs and print them, along with commenting on the documents, form completion, convert your PDF to Word, and sign or certify forms. You can use this for a lot of your work tasks.
Another benefit is that you can use this on either a Windows machine or a Mac – whatever document you open on one will look the same on the other. This is what is known as a cross-platform piece of software. There are times that one program will look different on a Windows machine than on a Mac. That is not the case here.
It also boasts something called Liquid Mode. That means that you can read the PDFs much more easily by setting up certain readability options when you first start up. The intent behind it is to not make you have to pinch or zoom to read whatever document you have.
Companies like using Adobe Reader because it can also make collaborations much easier by allowing people to send them to each other with those notations on them.
There is even an Abode Reader Lite version that has a lot of the functions taken out but it does not take up much hard drive space on your computer.
Adobe Acrobat, on the other hand, is a more robust version. It requires payment, and you can even get a Cloud version of it. You can do a lot more things with it and use it to collaborate with other co-workers. Its functions include:
Being able to create and edit your own PDFs
Being able to add multimedia to your PDFs
Being able to securely encrypt your PDFs
The first feature is one of the more important ones when it comes to comparing Adobe Reader vs. Adobe Acrobat. You cannot edit text or media that is there already.
There are also two versions of Adobe Acrobat: Standard and Pro. You can get either of them through a subscription … the days of getting a piece of software for a one-time price is largely a thing of the past. Instead, you pay a certain amount per month to be able to access the features of the software.
A plus is that you might be able to get one central subscription for all of Adobe's products – that could save you a lot of money in the long run. That's roughly $55 a month, but you can get your hands on products which, if you had bought them all in the past, would have run you thousands of dollars.
That sounds like a great deal, doesn't it?  But sometimes you just want a certain bit of software and are willing to pay just a fixed monthly fee. As of the time of this writing, it was $23/month for Acrobat Standard and $30/month for Acrobat Pro, though it can go as low as $20 a month for the Pro depending on your choices. It's always a good idea to check the Adobe website.
What Tools Are Available For You With Adobe Acrobat Reader?
You can do these things with Adobe Reader, though some things may require you to pay for a premium subscription:
If you have Adobe Reader on your desktop or your smartphone, you can open a PDF and annotate on it by adding sticky notes or you can just type text right there on whatever page you are on. Also, you can strike through text, underline or highlight anything.
When you open a PDF, Adobe Reader will check to see if there are any form fields in it that can be filled out.
Sometimes it bundles with another Adobe product – Adobe Scan, which is also free and lets you import scanner documents into the program.
You can create links to make sharing files with co-workers easier. No more having to hunt around the documents or download folders for your file.
There may be times where you have several files and you need to combine them all into one file. You can do that.
Do you have a lot of pages that need to be organized?  Acrobat can do that for you.
Adobe Reader can help a lot of people. The main question is whether it is worth it to upgrade to the paid version of Acrobat or to just stick with the free one. There are also a lot of apps and websites that purport to be able to fulfill the functions of Acrobat, but it can be hard to trust that they will do it without corrupting any files or worse…
Ultimately, what it comes down to is whether or not you want to use something from a company that has been the industry leader for a long time … and even though there have been many challengers to their supremacy over the years, they continue to stand ahead of the pack. While there are some upstarts in terms of their graphic design supremacy with services like Canva or Procreate, the market for viewing PDFs is still very much theirs. That is why they are able to offer something like Adobe Reader for free.
Alternate Softwares