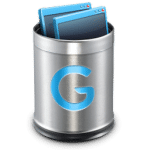 GeekUninstaller is a free Windows software that will help you to uninstall programs that are installed on your PC. This is an alternative for Windows uninstaller and will help you to get rid of useless software like toolbar, "Babylon" and more with ease. Since it is a portable utility, you should not run any installation to start using the software. Another advantage of using this software is that it will not leave any trace of the deleted application.
GeekUninstaller does not require installation. It is a single executable file that opens instantly and displays all the programs installed in your computer. You just need to choose the programs you want to uninstall and then double click, the program will do the rest of the job. The software automatically generates a report in HTML format with the list of programs that are installed on your computer. This list will help you choose the programs that are required to be uninstalled from your system.
• Features
Force Removal is a great tool to uninstall stubborn applications. There are utilities that do not have any uninstall options. The "Force Removal" option makes it possible to eliminate those utilities. In short, if you need a free tool to uninstall programs in Windows 7 or any other version of Microsoft OS, we recommend download Geek Uninstaller.
Pros
• Portable software (no installation required)
• Very easy to manage
• Includes a forced uninstall feature
The company does not provide any kind of customer support. However, an average computer user can manage the program without any help or support.