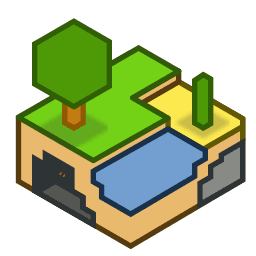 Minetest can best be described as an infinite word block game that is on par with others like Minecraft and InfiniMiner. The game is compatible with Android, Windows, OS X, and Linux. While the game is played from the first person point of view, users can change it to a third person option. The game is filled with different 3D objects, cubes, and a variety of earthly materials like stones, lava, water, and such. Players can move through the games exploring and avoiding environmental hazards. So mine and shape your own little world till your heart's content. 
Minetest is a fairly simple game where you can build, mine, smelt and craft within a 3D world. You can drop and stack inventory and even exchange or throw away items. The system is set up as one player or multiple players. Use the controllers to move up, down, sideways. Users will also encounter a number of terrains and avoid other players and environmental hazards. The game is fun but can be a bit tedious. You can implement changes to make the game more exciting.
What Are The Best Features Of Minetest?
With Minetest, you have a multitude of games you can choose from. Spend your time fighting, building, and surviving harsh environments. Check out other features:
Large maps with over 60, 000 blocks. Mine up or down. The choice is yours.
Play by yourself or challenge yourself by joining friends online
You have the ability to change textures if you don't like the current one.
Map generators are plentiful. You can install them at any time.
Find over 1,000 mods, which are user ready
There is a very friendly community that can help you with any problems you may encounter. You can also interact with other players and friends.
What Are The Pros And Cons Of Minetest?
Reviewers of the game listed the following likes and dislikes about Minetest:
Pros –
The game is free
It can be used across many platforms
Community is friendly
Thousands of usable mods
You can access a survival or multi-player mode
Cons –
Very bad textures and animation
Performance needs to be upgraded
Some of the text is too small to read
More built-in mods are needed
Better farming abilities are needed
Player movement needs to be changed
Needs better tools and texturing
What Type Of Customizations Does Minetest Have?
In addition to the default textures and sounds, Minetest has a Default texture Pack, RPG 16 Texture Pack, and a Hand Painted High Resolution Texture Pack
When Was Minetest Developed?
The game was developed about 12 years ago. Both Pertu Ahola and Ciaran Gultnieks made significant contributions to the game. The game has morphed over the years to include different content. Incidentally, the program is used to treat calculus and trigonometry in France.
Minetest is a really fun game that is easy to master. If you love to build things, you will definitely love this. In 2016, it was rated one of the best games on the market. The game is user-friendly, and it also has a lot of educational value in that it can teach math. Remember that the online forum is a great place to go to meet friends, play online and seek out help if you need it.