Advertisement
---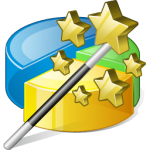 MiniTool Partition Wizard

Download
MiniTool Partition Wizard Free is an efficient application that makes it possible for users to perform advance partition and disk related tasks in a simple way. You can manage existing partitions to ensure data safety and create new ones for classification of files.
Software details
---
Windows 10 / Windows 7 / Windows 8
Software description
---
MiniTool Partition Wizard 2017 is a Windows utility that enables you to easily manage partitions on hard disk. The product was developed by MiniTool Solution Ltd. in 2009 and is available in different editions to meet expectations of users. It is a freeware that can perform advanced operations in a simple manner. Its user interface is attractive and easy to use due to which both experienced and new users can benefit from its features. It is also capable of resolving certain issues present in partitions. It protects your data to avoid losing important information and optimizes disk usage for enhanced performance.
Checking Disk:
For high performance of computer, it is recommended that hard disk should be in good condition. You can use different techniques through MiniTool Partition Wizard to keep check. Partition alignment ensures that all partitions are aligned so that disk performance can improve. Surface Test can be performed to detect bad sectors and then steps can be taken to settle discovered issues. If any partition is deleted by mistake, then it can be recovered by scanning specified disk. You can also view disk properties to get details of disk size, physical sectors, sectors per track, bytes per track and number of heads.
Partition Functions:
The software allows you to perform many functions on partitions with the help of wizards. Copy Partition function is used for copying all data of a partition to another reserved space. But if you want to copy whole disk then Copy Disk is the suitable choice. Moreover, you can also use distinct partition options including create, move, resize, extend, merge, split, format, label, rename and modify. It offers wizards for all functions that simplify the complexity of tool for users.
Disk Cleaning:
Disk cleaning operations can be performed in MiniTool Partition Wizard if you wish to remove existing data. Wipe Disk function can efficiently remove all data present in memory and releases disk space that can be used for writing new data. However, Delete all Partitions option differs from it in such a way that it removes all partitions too along with its data. It is necessary to be extremely careful while using both options as the lost data is quite hard to recover.
Disk Management:
Through its advanced functions you can transfer operating system from one hard disk to another whenever you intend to replace system primary disk. Dynamic disks can also be created and managed on the basis of volume. Major disk operations include rebuilding of MBR, initializing to MBR or GPT disks, conversion of dynamic disk to basic one, interconversion of disk between MBR and GPT types and checking of file system for any possible errors. Its user interface can be customized too by enabling or disabling option panels and choosing fonts.
Alternate Softwares