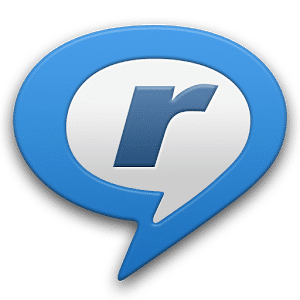 Launched first in 1995 RealPlayer is a high-quality multimedia player for both videos and audios. It was one of the few software that could play stream videos online directly from the internet back then.
RealPlayer is still a popular choice for viewing videos on the PC. Now it is much more than just a media player RealPlayer will turn your videos and pictures into stories that can be shared and viewed on any device. Still a fantastic choice to manage all your videos on your PC you can now also download videos from sites such as YouTube and save them to your hard disk. RealPlayer also acts as a burner and a video format converter.
Key Features
Download Online Videos
One-click downloading through many popular web browsers
Save video from popular sites such as YouTube with RealDownloader and save it to your PC for offline viewing.
Play Any Video Format
Can play any file format your PC is capable of playing
Convert Videos to Different Formats
Easily convert any video into many popular formats
It can save videos to the cloud with RealPlayer Plus or RealTimes to automatically convert to several mobile formats.
Convert Video to MP3
Take video files and convert the audio track into an MP3 file
Great for listening to TED talks or lectures
Edit Videos
Trim videos into clips
Do basic editing to remove unwanted content or reorder clips
Burn CD's
Burn audio files to a CD in order to listen to them in any CD player
Burn DVD's
Create your own DVD's from videos on your computer
Great for sharing home movies offline
Not available in the free version
Watch Videos from the Web
Has a web video feature for searching for and viewing videos online
Has a featured and popular video lists
Stream video to your TV
Use Roku or Chromecast to play videos from your PC to your TV
Keep videos and music private
Require the use of a PIN to access your media library.
A good option to keep prying eyes out of your files.
Price and Subscription Plans
Free Version
Can only make stories of 30 seconds or less
SD Playback and streaming only
No cloud Storage
Can not Burn DVD's
RealPlayer Plus (PC Only) $39.99
1 GB cloud storage
All features unlocked
One time price to download
RealTimes Premium $4.99/mo or $49.99yr
25 GB cloud storage
Good for people who need to share videos easily and quickly over many different devices via the cloud
RealTimes 100Gb $9.99/mo or $99.99/yr
100 GB cloud storage
Good for people with extensive video and music collections
Compatible Devices
RealPlayer
RealTimes (Available through the website)
PC
Mac
Andriod
iOS
Roku
Chromecast
Unfortunately, the desktop version is only available for PCs running Windows but RealTimes is available in the Apple and Google App Stores. This allows easy sharing between devices using the cloud that RealTimes provides. There is also a feature to password protect any videos or music that you want to control who sees them. This is an especially good feature for shared computers where you may want to restrict access to your media library.
RealPlayer has been producing video players for many years and with over 1,000,000,000 downloads it has proven itself as being a front runner in the PC video player/editor game.