---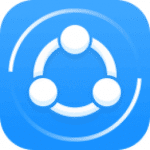 SHAREit is the perfect way for those who often face the need of sharing important files and images with their friends.
Software details
---
Software description
---
SHAREit makes it easy to share, transfer, and manage your files, games, and more. But that's not the only thing it can do!
Phone Cleaner
Over time, your phone's app storage space will become cluttered with junk and cache files. The phone cleaner will help you clean it up to run your apps efficiently.
Battery Saver
This app will help you prolong the battery life of your phone.
Phone Booster
You will receive a smoother gaming experience because SHAREit will optimize your phone's background app usage with its speed booster. It also frees up more space.
Transfer Large Game Apps
Downloading game cache files are a thing of the past with SHAREit. Thanks to apps like this, you can transfer large game apps to a fellow gamer's mobile device within seconds without experiencing any quality loss.
All you have to do is select the file, enter the recipient's mobile number, and click Share. Thanks to the app's cutting-edge technology, everything will transmit to their device quickly and securely.
Data File Transfers
We've all had to replace our phones at some point. The downside is transferring your data content, which is both time-consuming and risky. SHAREit makes that process fast and easy, without sacrificing the quality of your files. It doesn't matter if you're switching from an Android to an iOS phone. This app can transfer to either platform. Transfer:
Games
Apps
Movies
Photos
Music
Videos
GIFs
Wallpapers
File Manager
Use the file manager to keep your files organized and easy to find. Remove the files you no longer need to keep your phone clutter-free and clean. Use File Cleaner and Speed Booster to clean your app cache and remove junk files that can accumulate over time. You won't have to worry about deleting the wrong files.
HD & Selective Online Videos
Enjoy continuously updated, high-quality videos during your commute, work break, or relaxing at home.
Audio Player
Easily find the song you want to listen to on your phone. The player also features an equalizer that you can adjust for your ideal listening experience.
SHAREit offers many features in one simple to use app that will improve the way your phone works. Whether you use it for work or play (or both), it offers cutting-edge technology to ensure high privacy and data security.
Alternate Softwares