Advertisement
---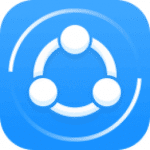 SHAREit is the perfect choice for those who often face the need of sharing important files and images with their friends. Instead of doing so by difficult methods they can use this software. The software sends files at a very fast speed without any errors. The files are sent to the correct device in a very short time. All you need to do is to connect your system with other devices, select the files that you want to share with them and click send button. This free tool is worth giving a try.
Software details
---
mac / Windows 10 / Windows 7 / Windows 8
Software description
---
Computer users very often feel the need of sharing documents and files with their friends and colleagues. It takes long procedure and more time to do so through USB, Bluetooth, Wireless connection or any other ways. SHAREit software has made this work easier and faster for you. With this app you can send multiple files, documents, images, videos, audios, apps, movies, music and a lot more stuff within a very short span of time through internet. With the availability of software version in 39 different languages, it can be used in many parts of the world.
Compatibility:
SHAREit software is developed by Lenovo and is compatible with Windows, Windows Phones, Android, iOS and Mac Operating Systems. It can be used easily on those PCs, Mobile phones and tablets that are compatible with Wi-Fi. It uses Wi-Fi ad hoc technology for sharing the data files between multiple devices. The devices should also be present within the searchable area.
Working Procedure:
It can be used for sharing files between devices that have SHAREit installed. Before sending, the software should be started on both of the devices. Browse and select the files that you want to share from the sender device. Clicking the Next button will start the process of searching for your friends' devices. The list of available devices with the software installed will be displayed. Select the desired device with which you want to share files. In this way the files will be sent to the receiver.
Options:
Through the Home page you can directly send or receive files with a single click. At the top of the software screen there is a menu which has many options. Here you can connect your system to any other Android device, can select your most trusted devices for safety, check the history of file sharing, visit the help section and can also read about the details of software version. You can also customize software settings such as choosing an avatar and selecting the folder location where all the received files should be stored.
You can invite your friends to SHAREit in simple ways. At the Home page screen there is an option named Invite Friends. You can let your friends know about it by sharing the link at Social Networking sites and by sending Email. For downloading its app on your mobile device, either scan QR code through its sub option or visit the Play Store.