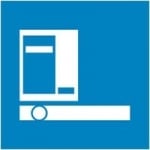 StartIsBack is a Windows 8 tool that adds the old Windows 7 model Start Menu to the desktop of the new Windows 8. With it, you can use exactly the same Start Menu which was used until then. The Windows libraries, shortcuts to the control panel and other most used programs will again be on your desktop. After installing the software on your computer, you can immediately start using the Start Menu or configure the tool, the way you want.
Most users who got used to Windows 7 start style will get the opportunity to bring that style to Windows 8, thanks to StartIsBack. It will completely improve the usability of your desktop and will get rid of the clutter in Start screen. StartIsBack is a cheap, no previleges, secure, stable, and fast smart software. You can fine tune the settings on how you can get to the Start screen and Start menu to look.
Desktop Boot
You will always directly go to desktop all the time with no need to flash the Start screen.
Original Windows 7 Start Menu Features
It will bring back all the nostalgic feel of the Windows 7 attributes, including the Start menu and button exactly just like Windows 7.
Recognizable Modern and Desktop Interfaces
StartIsBack is the one tool in the market that provides consistency with Windows 8, that is, by distinguishing modern and desktop programs. Desktop is where you work the real stuff, and the Start screen will the launcher for the modern apps.
Clutter Free Start Screen
With a function in Windows 8 that automatically organizes apps, it becomes quite a mess with a list of pinned programs. With StartIsBack, you will never have to worry about it.
Completely Native
The software does not run on any additional programs or services. StartIsBack consolidates easily to your computer. It does not need any frameworks or tools to install. Installing StartIsBack does not require any previleges at all. Everything will work just like Windows 7 functionalities.
Configuration and Customization
Modern immersive context menus, drop shadow, and blur for menu in Start
Right hand pane shows fashionable glyphs in Start menu
Start and Taskbar have live badges that are for modern apps
Capacity to lessen usage of resources by disbabling the Cortana processes and Start menu in prelaunch
New round picture for user and moder stylistic approach
Capability to use appropriate-sized icons
Many new additions and tweaks
What Is New
Windows 10 compatibility in version 2004
Colorful icons on Start Menu and Taskbar
Restores the support for UseWin32TrayClockExperience registry key
Incorporates Win+Shift+Alt+Esc shortcut to end foreground applications
Issues on dark and light issues are fixed
Supports Light Mode
Plain10 Style in Light Mode
Web links are switched to HTTPS
Option to increase Taskbar icons
Taskbar Perks
Can center the Taskbar icons
Taskbar segmented
Clear Taskbar
Bringing back Windows 7 Start menu "feel" to your desktop is now possible with StartIsBack. Well, it's really a matter of preference by the users. But if you truly miss and want to have that Windows 7 functionality back, it is highly recommended to have StartIsBack. You will have the "old" Windows 7 usability along with the modern apps of the current operating system. Not only that StartIsBack makes your Start menu like Windows 7, it also allows easy adjustments of some features of the Windows 8. You can now have the best of both ends, having Windows 7 Start application and the modern apps in the current system. What more can you ask for?