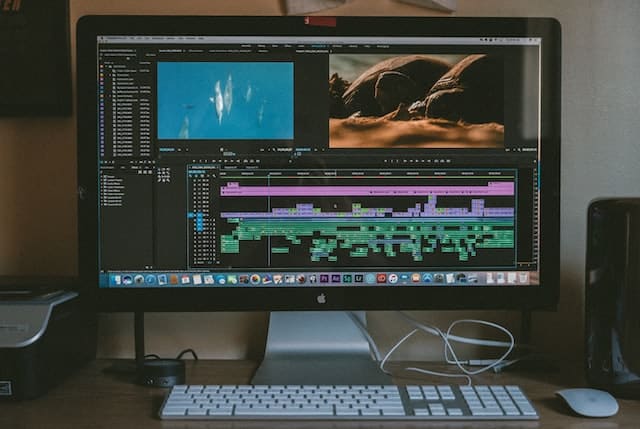 Best Video Editing Software 2023
Once upon a time, the process of editing films was a manual process. Movies were assembled by hand, in order, from beginning to end, by literally cutting pieces of film on a machine and physically splicing them together with glue and tape until there was eventually a cohesive, finished product at the end. But starting in the early 1970s, a new non-destructive process of editing, known as non-linear editing (NLE), began to be used for some productions.
In the NLE process, the original source material for the editing gets copied and is left intact, while what gets used for editing is a list of all the time code points for each cut. Once this editing decision list (EDL) is established, copied clips of the original source material that correspond to the EDL are made and assembled in the proper sequence.
Of course, back in the 1970s, there were challenges to compile, store copies of, and manipulate all the necessary scenes of a production in an analog medium. By the mid-1980s, however, technology began to appear that would enable the conversion of film and video to a digital realm. Once video was digital, NLE began to be much more within the reach of companies that didn't have the financial resources of a Hollywood studio.
In 1989, a firm called AVID released an early version of an NLE system that could run on Macintosh personal computers, although the first iterations of AVID's systems cost in the range of $50,000.
One of the first companies that realized that there could be a consumer version of the AVID system was Adobe, which released its first NLE product, Premiere, in 1991. Shortly afterward, Apple released its own video editing package, Final Cut Pro. Final Cut Pro was aimed at video professionals, but Apple followed it up shortly thereafter with a product focused on consumers, called iMovie.
In 1994, the IEEE 1394 standard, also known as FireWire, was used in electronics for the first time, creating an easy way to transfer digital video to and from computers, bringing down the costs of NLE systems to a more affordable level. Around this time, consumer electronics makers began to devise digital video formats, which were utilized with new video standards like HDTV.
Since the 1990s, the costs of NLE systems and software have fallen even further as digital video resolution has increased. Newer compression/decompression (codec) file formats have allowed much more video to be saved in increasingly more compact file sizes. This has continued to the point where there are now NLE apps available for tablets and smartphones (which can capture professional-quality video with their built-in 4K or 8K cameras).
At their core, all video editing packages are designed to help users assemble scenes, audio tracks, titles, and transitions into a polished, finished product. But some packages take things a step further and allow you to add effects, control color grading, and output your work in many different formats. The feature sets of the best pc video editing software help determine their prices, and some packages are sold on a subscription basis instead of for a one-time cost. If you look hard enough, there are even free packages on the market, but invariably, with most of these, you need to pay to make finished movies in high resolution, with no ads or watermarks.
Below, we'll take a look at some of today's most popular video editing software applications, which are used daily by professionals and consumers alike.
Adobe Premiere
With more than three decades of life, Adobe's Premiere is the granddaddy of all self-contained digital video editing applications on personal computers. Once upon a time, Adobe Premiere "maxed out" the computers it ran on in terms of memory, disk space, and input/output (I/O) speed requirements. But over the years, these requirements have lessened, and hardware has become cheaper, so Premiere's minimum configuration needs are not nearly as onerous as they once were (although they're more significant than some of the other packages listed here).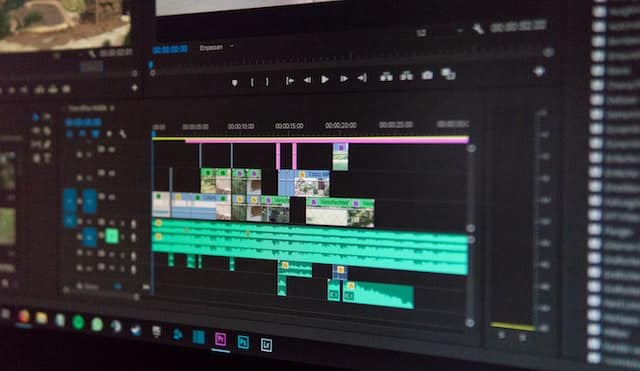 The original concept for Premiere essentially copied the AVID paradigm of allowing the user to drag video sequences into the order they wished to assemble them. Users can grab and set the start and end points of each sequence to the exact frames they prefer. They can then overlay transitions (such as fades or dissolves), titles, effects, etc., in a timeline with multiple tracks that, in many ways, resembles a symphony score.
A preview window allows the user to see what the spliced and merged product will look like. If it's satisfactory, the user can render a finished digital file in the exact format and at the video and audio resolution they desire. This file can be sent to colleagues for use in a presentation, given to a television network for broadcast, or uploaded to a website like YouTube, Facebook, Instagram, or other social media channel. Almost all video editing software works in approximately this same manner.
In the last 30-odd years, the basics of Premiere haven't changed too much, but the program has added plenty of additional capabilities. Users from designers to animators to visual effects artists have, in many cases, integrated Premiere into their regular daily workflows.
Premiere offers excellent intelligent sharing and collaboration features as well as customizable keyboard shortcuts to boost productivity. This is great news for teams of editors who all need to work on the same project from multiple workstations. For users who are just learning the program, Premiere includes dozens of helpful tutorials.
The latest version of Premiere divides tasks into separate customizable workspaces, including spaces for editing, effects, and audio, to minimize distractions.
Premiere supports 4K, 8K, VR, Arri ProRes, and ProRes RAW camera video formats and now offers compatibility with RED V-Raptor devices. Export resolution, frame rate, codec, and audio settings can be saved as presets for future use. When used with Adobe's Media Encoder, Premiere Pro can take advantage of multiple graphic processing units (GPUs) in your hardware to accelerate rendering performance.
Audio tools in Premiere include mixers, meters, and effects functions. You can enhance, filter, or clean up your audio and remove noise and/or other artifacts. There's a feature to directly import royalty-free stock audio directly into the program, and you can sort audio clips by duration, mood, tempo, genre, and even the presence of vocals.
Premiere Pro is used by everyone from individual consumers editing home movies together to professional movie directors making Hollywood films. For users who regularly produce videos for YouTube, Premiere Pro and Final Cut Pro (see below) are particularly recommended.
As part of Adobe's Creative Cloud collection of apps and tools, Premiere Pro is offered on a subscription basis, either individually or as part of a bundle. For those users who want Premiere's capabilities on tablets and smartphones, there's Premiere Rush, which has a more limited feature set and is especially recommended for Android users. For users who don't mind working with limited features and would rather pay a one-time price for the product, Adobe offers Premiere Elements, which comes with additional bundled editing tutorials.
Adobe's support for Premiere (and all of its Creative Cloud products) is robust, and it includes guides, tutorials, user forums with chats, and live web chat support availability.
Apple Final Cut Pro
As opposed to Adobe Premiere, Apple's Final Cut Pro is more commonly used in the film and television professions. Unlike Premiere, Final Cut Pro is available for a one-time cost, but note that it's a Mac-only product; there is no version for Windows.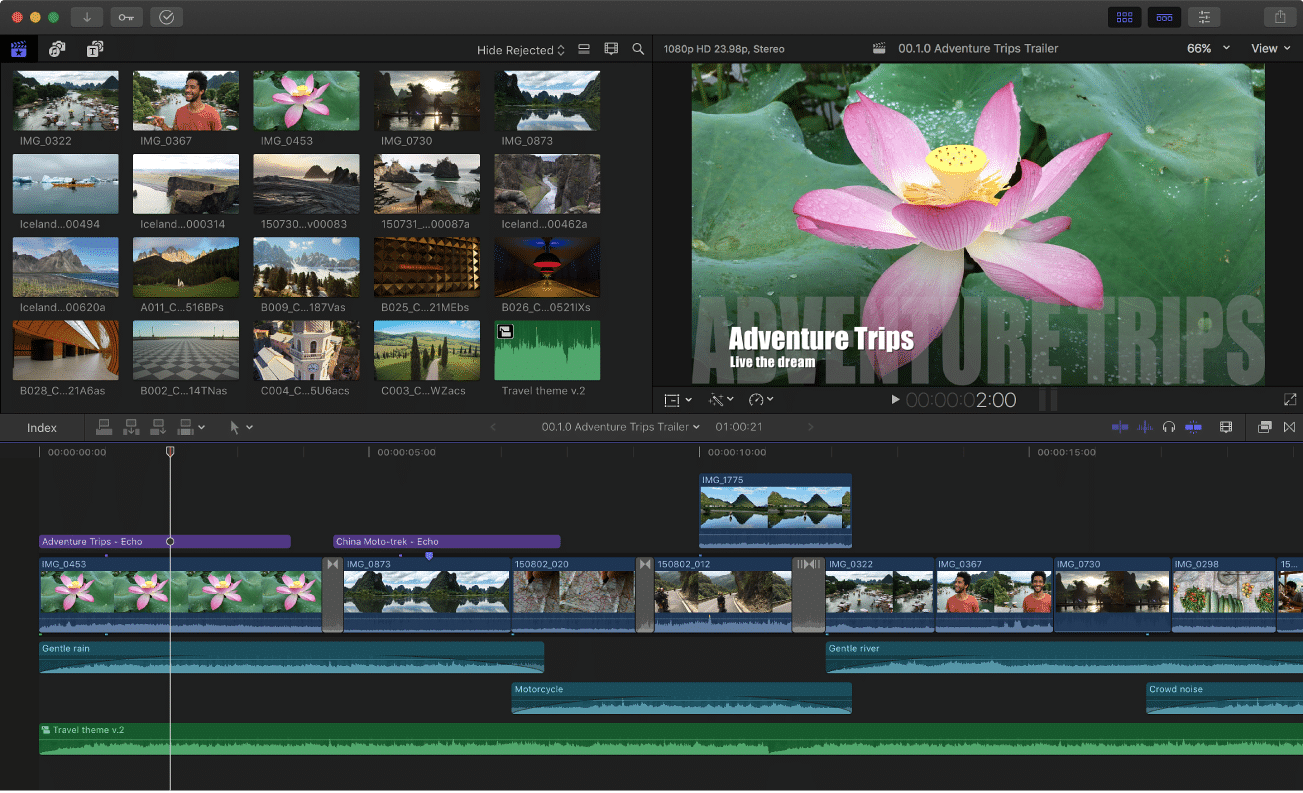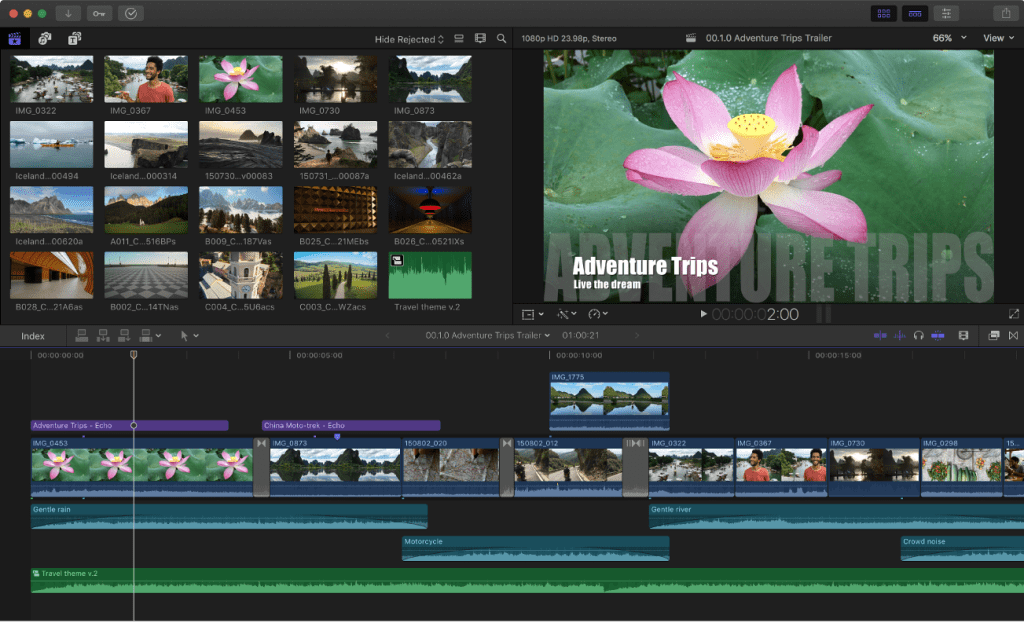 Because it's a pro app made by Apple, it arguably takes advantage of Apple hardware (including multi-core processors and Pro Displays) better than any other video editing package on the market. Rendering of finished movie files can be blazingly fast. It also plays well with other Apple software, including the company's Photos, iTunes, Motion, and Compressor apps.
The organizational features of Final Cut Pro are strong, and the software provides a clean interface, intuitive grouping tools, a wide variety of effects, and sophisticated audio tools. The program is particularly suited to editing material where there's synced footage from multiple cameras. Final Cut Pro lets you handle 360-degree and high dynamic range (HDR) video. There are also more advanced features for color grading, correction, and balancing that Premiere and other packages lack.
Like Premiere, Final Cut Pro has features for teams of users to collaborate on projects via editing servers, but this process is not as smooth as it is in Premiere. Users can integrate 2D and 3D titles from Apple's Motion app, as well as real-time effects and transitions. Via Apple's Compressor app, users can export output from Final Cut Pro into many different file formats and sizes.
Final Cut Pro's Magnetic Timeline may take a bit of getting used to, even for users of Final Cut's previous versions. It's better suited to projects with a not-unreasonable number of video tracks that edit together in more-or-less chronological order. Apple has made ease of use and cleanliness of workflows a priority, so for appreciators of Apple products, Final Cut Pro will likely get high marks. Support for the product is robust but is not necessarily as "real-time" as Adobe's.
Final Cut Pro is recommended for video professionals who need a serious tool to use on a daily basis. (For users who regularly produce video content for YouTube and other channels, Final Cut Pro and Premiere Pro are particularly good choices.) On the other hand, for most casual users, the package can be daunting and is probably overkill; many of the pro-grade tools may go unused. The one-time price of Final Cut Pro can be somewhat steep, and the lack of cross-platform support may dissuade some buyers. Still, every upgrade to the product is downloadable for free, and Apple's support for the software looks assured well into the future.
Apple iMovie
Marketed by Apple as a consumer-friendly alternative to Final Cut Pro, iMovie has a more appreciated distinction from Apple's "pro" video editing package: it's free. Pre-installed on most Apple devices — including iPhones and iPads — iMovie is a great option for users who are inexperienced with or new to video editing and don't require an advanced toolset.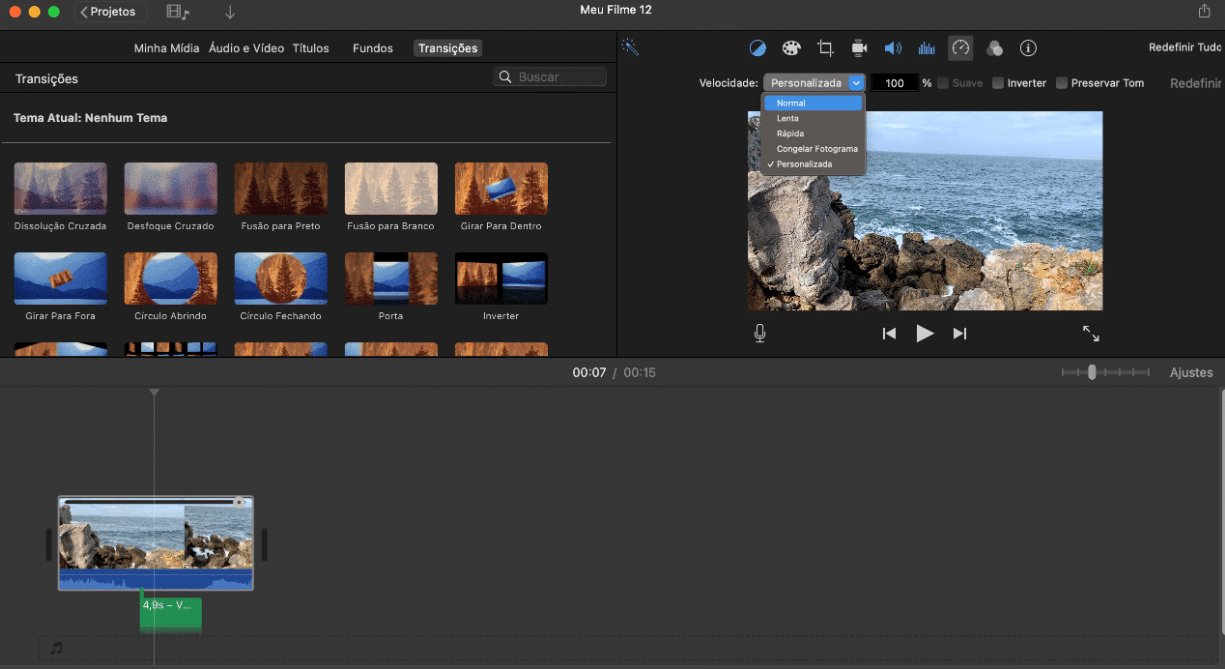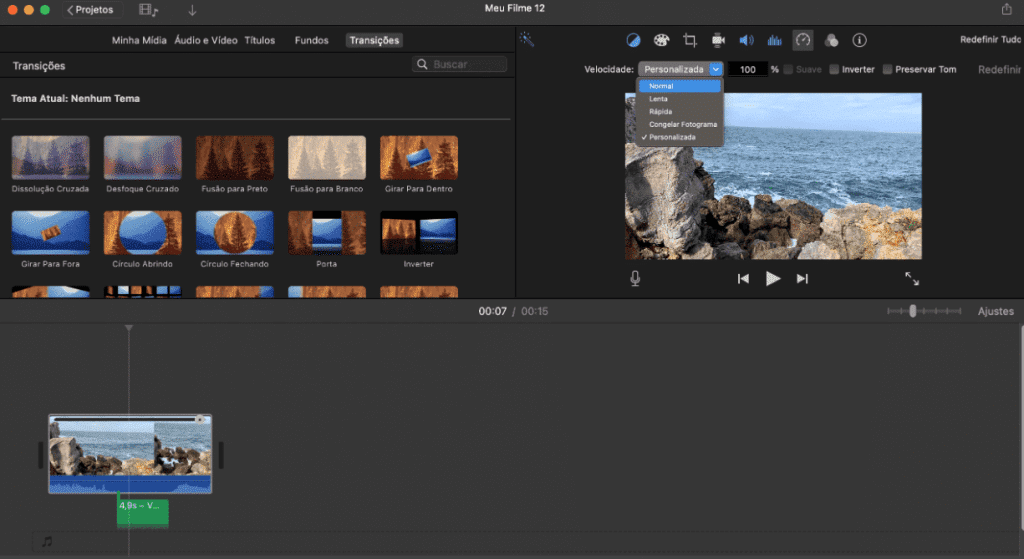 Despite the fact that it's free, iMovie doesn't lack for features. The software's heralded Magic Movie functionality can painlessly assemble sample movies, complete with titles and music, with just a few mouse clicks. You can then edit and customize these, so they flow properly and integrate exactly the material you want. For "quick and dirty" productions, this functionality often lives up to its "magic" name.
Another feature iMovie offers beginners is Storyboards, which provide templates and guides for an array of common video types, from product reviews to cooking lessons. Every template comes with a list of useful suggestions for shots and edits, which will help you to produce better, more polished videos. The package's Outline function lets you add titles and credits to all your movies.
iMovie supports 4K video clips at up to 60 frames per second (fps) and the ability to share, view, and edit clips (including HDR clips) from your Apple Photos library. Inserting visual and audio effects, transitions, and backgrounds is easy in iMovie.
Users can color backgrounds and control the intensity of filters they apply; the saturation, contrast, and color temperature of your clips are adjustable. There's also a Match Color function to make sure the look of all your clips stays consistent.
Other useful tools include the package's Cinematic Mode, which lets users adjust the image depth of field and add soundtracks, filters, and more. Shake and noise reduction help stabilize your images and dampen background noise, respectively.
On the positive side of things, iMovie includes all the essential features you need in a video editing package, including the ability to splice, trim, and arrange clips and apply audio tracks.
On the negative side, iMovie lacks many professional features that can be found in packages that aren't free. Like Final Cut Pro, iMovie is only available on Apple products. And finally, updates to the product are infrequent, meaning that other products on the market are more likely to take advantage of new technologies, add-on products, and video standards.
Blackmagic Design DaVinci Resolve Studio
Initially released in 2004 as a video color-grading tool, DaVinci Resolve comes in two versions, one of which (DaVinci Resolve Light) is free. The free version gives Apple's iMovie a run for its money (and may actually be superior in terms of advanced features). But the paid version (which is summarized here) is actually an evolved video editing package that recently acquired collaborative cloud video editing capabilities. Imagine, for instance, a sound mixer, a visual effects expert, and a color grader all being able to collaborate remotely via the cloud on the same project.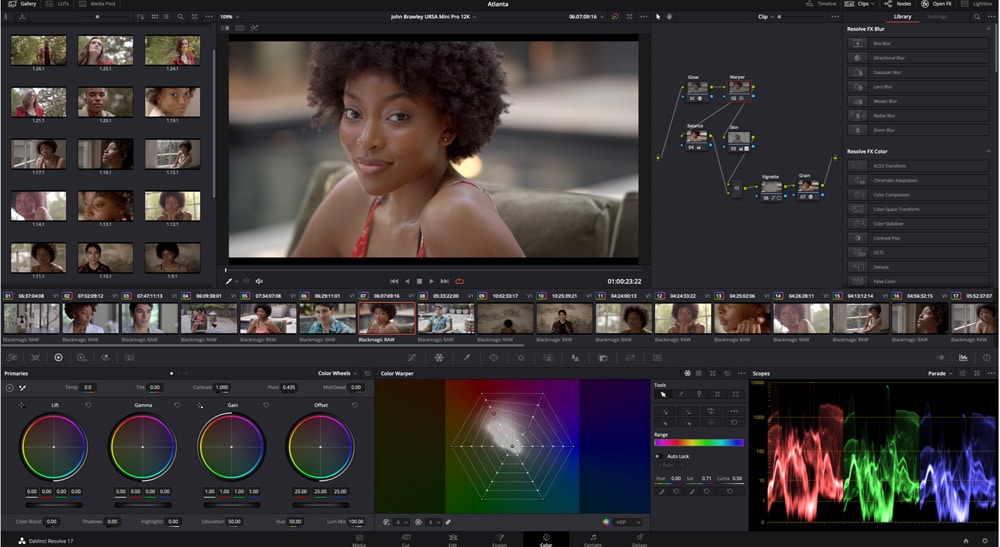 Given DaVinci Resolve's origins as a color-grading tool, this functionality still stands out in the product and is arguably superior to color-grading features in all the other packages listed here. But DaVinci Resolve is more than just a color-grader; it's a full-featured video editing tool that incorporates special effects, motion graphics, intelligent and robust video stabilization, color correction, and audio mixing.
DaVinci Resolve's dedicated workspaces are called pages, each of which handles a specific post-production task. The Cut and Edit pages allow for editing; the Media and Deliver pages manage media organization and output, respectively; the Fusion page permits you to add visual effects and motion graphics; the Color page allows you to perform color correction; and the Fairlight page lets you add and manipulate audio. You can move back and forth between different pages by simply clicking the mouse.
The last of the above-mentioned pages, the Fairlight page, is actually quite sophisticated, with hundreds of advanced audio functions. Users can edit up to 2,000 tracks and apply real-time effects and equalization. There's a Transient detection tool that will automatically locate beats and words in a clip and create markers for them, allowing an editor to discard unused or unwanted sections of the audio. The software supports numerous audio formats and standards, including MPEG-H, Dolby Atmos, and Auro 3D.
The Fusion page offers 2D and 3D tools that allow you to eliminate unwanted objects in your clips, create animated titles, and place 3D models into scenes.
DaVinci Resolve's color-grading features have advanced to a point where you're able to control the color for select parts of an image rather than a whole frame. You're able to track specific objects in the frame, including people, animals, and vehicles, allowing you to selectively apply professional-looking color grading as you desire.
Like Final Cut Pro, DaVinci Resolve is adept at handling simultaneously shot footage from multiple cameras. In fact, handling footage from 16 or more cameras isn't difficult, and you can play back clips from all the cameras at the same time.
One of the handiest features of DaVinci Resolve is a Neural Engine that can analyze clips, detect natural edit points, and automatically chop shots into shorter sections that you can then tweak and reassemble. This is a real timesaver that many editors would argue cuts their work time down significantly.
In summary, DaVinci Resolve has matured into a powerful product that's still sold for a pay-once price. While its learning curve isn't tiny, the free version may be everything a beginner needs to get started with video editing.
CyberLink PowerDirector 365
If Final Cut Pro is the ultimate professional video editing package on this list, and iMovie is the most appropriate package for consumers or beginners, CyberLink's PowerDirector 365 is a great middle ground. Ideal for individuals who have some experience in video editing but who don't do it every day, PowerDirector 365 is fairly straightforward to learn and use.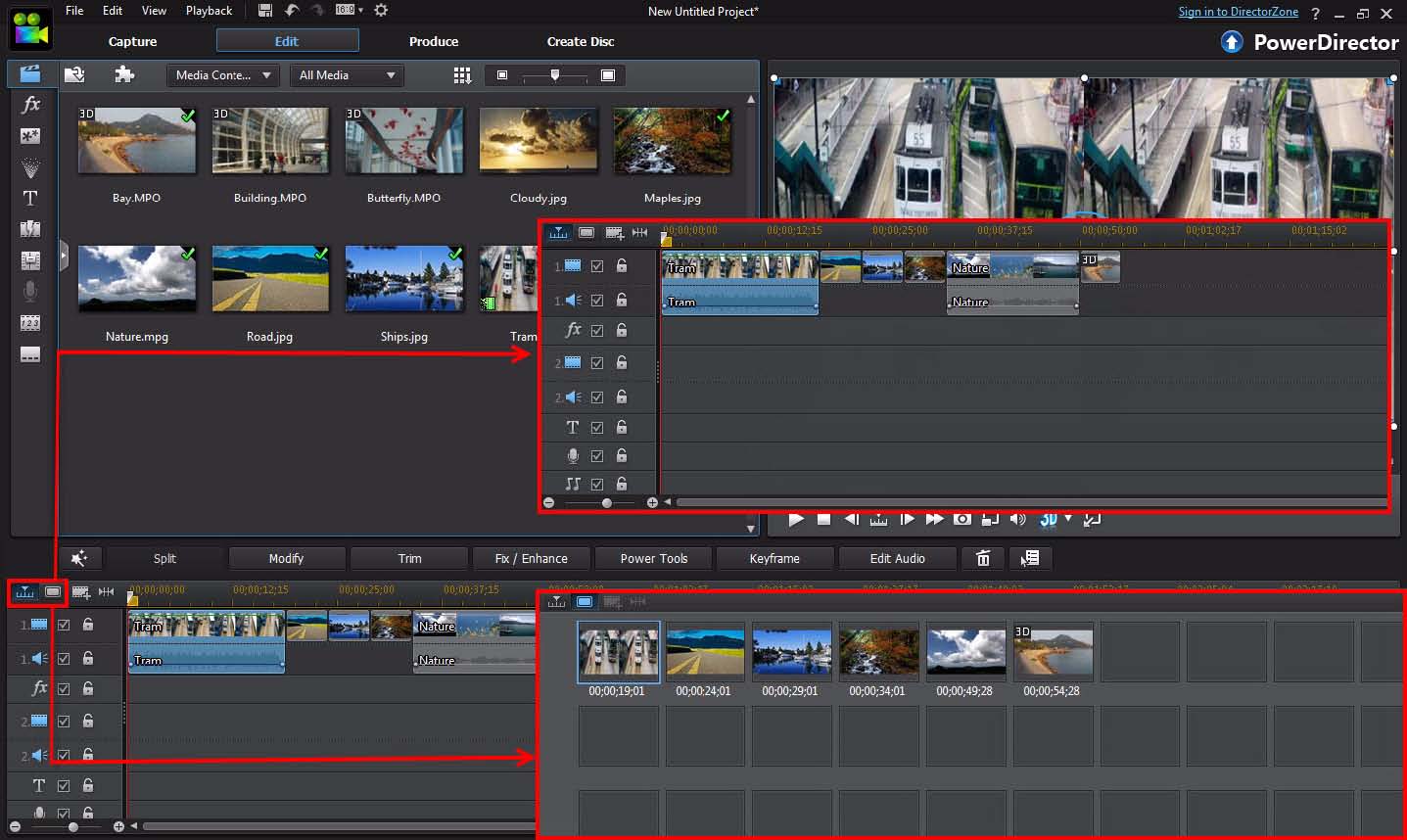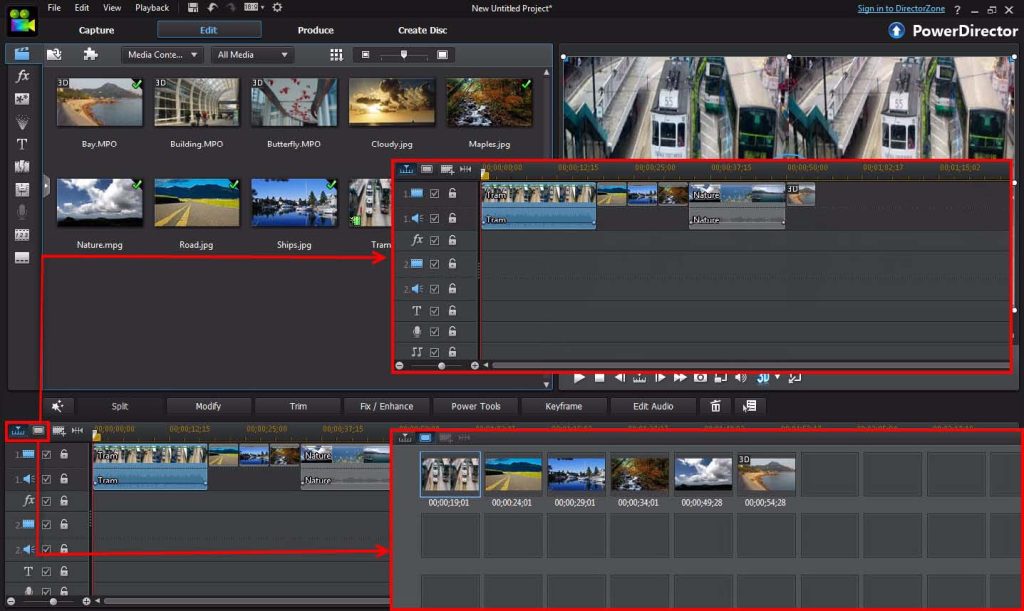 The program has three distinct areas — a Media Room for importing clips, images, and audio; a chronological Timeline; and a large Preview window. With an attractive, well-thought-out, clutter-free interface, the software doesn't lack for helpful and easy-to-use features.
PowerDirector 365's timeline can accommodate up to 100 tracks, with automatic gap-filling functionality and an overlay channel that's located beneath the primary video track. Users can zoom in on their Timeline and easily record voiceover narration for any part of a production. A theme designer helps users establish a consistent hue and saturation style for disparate clips.
A quick-start guide and included tutorials make getting up to speed with the software uncomplicated, and PowerDirector 365 conveniently provides access to a wide-ranging library of royalty-free stock content from Shutterstock. Like DaVinci Resolve and Final Cut Pro, PowerDirector 365 readily accepts synced footage from multiple cameras (including 360-degree cameras). It also offers super-simple clip trimming, motion tracking, and professional visual effects. Processing of video is fairly rapid, and the minimum requirements for hardware aren't too onerous.
In terms of exporting, PowerDirector 365 allows you to publish videos specifically tweaked for YouTube, Vimeo, DailyMotion, and other websites. There's also support for Apple ProRes, 3D, 360-degree, MPEG, MOV, AVI, and other video file types, and there's preset formatting for specific smartphone and game console models. Additionally, besides polished video productions, PowerDirector 365 lets you make slideshows, screen recordings, and DVD menus.
You can either buy PowerDirector 365 for a one-time price or purchase a subscription to it that will be much more affordable than the subscription to Premiere Pro.
Conclusion
In today's world of influencers, podcasters, streamers, and social media, being familiar with best video editing software is highly advantageous. (Note that certain platforms like TikTok now allow users to edit videos using their own apps.)
But even beyond these uses, video editing is a great skill to have for producing product movies, promotional clips, and good old-fashioned entertainment. Once you've completed a few productions, your editing skills will generally stay with you, like those for riding a bicycle.
Just as important as the package you choose to assemble videos may be the hardware you run it on. While tablets and smartphones are capable of editing video, they may not be good long-term solutions unless you're constantly on the go. More ideal is a desktop system with a large screen monitor and plenty of external storage (in case you need to bring your source material to another location). Many people favor iMacs for editing because of their large, high-resolution displays.
While the packages outlined above will satisfy the needs of most users, additional video editing applications that are worth an honorable mention include:
Pinnacle Studio
Vimeo Create