---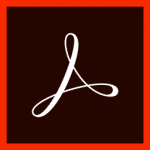 Adobe Acrobat Reader Download
Adobe Acrobat Reader is a program designed for creating and working with PDF documents. The latest version of the program supports versions all versions to format X-5. Adobe Acrobat DC allows to create, merge, modify, and control documents in PDF format.
Software details
---
mac / Windows 10 / Windows 8
Software description
---
Adobe PDF documents retain the exact look and feel of the original content, along with their fonts and graphics and media elements.
• Print to PDF
• Scan to PDF.
• Convert PDF files to Word.
• Create interactive PDF files.
• Convert PDF files to Excel.
• Convert PDF files to PowerPoint.
• Know the software
Adobe Acrobat Reader lets the user to create PDF documents from any application with easy to print facility. Thus, it is possible to generate PDF files from your documents, Office, Microsoft Outlook, Internet Explorer, publisher, Access, AutoCAD, Lotus Notes, etc. through a virtual printer. Its new interface of Adobe Acrobat Reader offers the facilities to make changes in texts, images and other actions avoid the time-consuming repetitive steps.
• Adobe Acrobat Reader How it works?
You also have the possibility of registering a new PDF project in the form of editable and customizable PowerPoint presentation. Finally, Adobe Acrobat Reader offers features specifically dedicated to the creation of Web forms, with customizable templates and "Adobe Forms Central" application. Adobe Acrobat Reader Update offers business groups to create professional quality PDF communications. The application is now moving towards collaborative work. Thus, you can collaborate with your colleagues, customers and partners under electronic revisions, using PDF fillable forms and other amenities online. Acrobat manages the portfolios with layout pages and Visual themes for a wide range of file storage. Accepted formats are JPEG, GIF, BMP, TIF and PDF. The file must be no larger than 3 MB.
• Conclusion
The validity of the trial version of the program is limited for 30 days. Like all Adobe programs, a trial version of Acrobat can be downloaded from the manufacturer website after performing a free registration.
Alternate Softwares