Best PC Cleaner Software
PC cleaners enhance the overall performance of Windows by performing multiple optimization tasks. These cleaners are very reliable utilities that speed up Windows. These system file cleaners offer everything from assisting users in eliminating corrupt registry files, cleaning junk, cache, cookies, duplicates, temporary files, browsing history, and start-up items, and limiting the background processes to help free up RAM space.
So, when do you need a system file cleaner? If your PC suffers from multiple errors, including frequent system crashing and constant slow boot times, then you need a PC optimizing and cleaning software. To enjoy faster performance and speed, you need to pick out the best program that unlocks the full potential of your PC and tunes it up nicely.
Having a powerful PC Cleaning Software will make it easier for you to keep your computer clean while enjoying a steady and smooth performance.
Want to learn more about tools that boost the performance of your Windows PC? Keep reading.
Top 3 Recommendations: Best Windows 10 Optimizers To Use For Your PC
Below are the three best cleaning programs mentioned that make it easy for you to optimize and clutter-free your laptop or PC.
Advanced System Optimizer
The cleaner performs game optimization.
 The system gets cleaned in one click.
Helps in fixing registry entries that are invalid.
Advanced PC Cleanup
Lets the user manage the startup items.
Helps improve boot time.
The cleanup helps free up the occupied memory space.
Empties RAM space.
Extremely effective in removing malware.
Iolo System Mechanic
It helps boost the PC speed by cleaning up the maximum amount of junk.
Boosts GPU performance.
Increases Internet speed.
Reduces the degree of fragmentation in the hard disk.
How Do You Know The Cleaning & Optimization Software Is Best For Your PC?
Nowadays, there's a wide variety of Cleaning and Optimization Software that offer different features in terms of cleaning up the PC and boosting its speed. That is why it becomes difficult to choose the right cleaning program.
However, there are some tools that must be present in an ideal cleaner for your system.
One Click Fix: A one-click fix means that the cleaning program has the capacity to clean the entire system and simultaneously boost the overall performance of the PC.
Memory Optimizer: Not every cleaner comes with a system to manage the background process. It's crucial to choose an optimization software that performs memory optimization, such as eliminating processes that use too much RAM.
System Cleaner: It's important that the optimization software scans the entire system for useless files such as cookies, cache, clutter, and junk files.
Registry Cleaner: An ideal software would have the tool to repair and locate invalid registry entries.  
App Uninstaller: The software should have the capacity to remove a bulk of unwanted and unused apps that are taking up storage space.
Duplicate Cleaner: Similar files such as photos, videos, and other documents clutter the storage space. Software with a duplicate cleaner will remove all these unnecessary files.
Driver Update: An ideal software would find a compatible driver for each device and install it.
Privacy Controls: Security is the most important feature an optimizing software must have to give the PC full protection.  
Game Booster: Cleaning and Optimization Software must include functions to provide a lag-free game performance.
An ideal PC Cleaner and Optimizer would have each of these tools and much more to provide the user with an optimized Windows 10 experience.
Software For Windows 10 & 11: Best Windows Cleaner & Optimizers
Here is a complete list of software to help you pick out the best one for boosting your PC's overall performance and unlocking Windows' full potential.
1 Advanced System Optimizer
This software offered by Systweak Software has a robust set of features that promise a thorough system clean-up and optimization. The software has the best tools to improve drive and CPU performance. It is one of the top PC cleaners of 2023.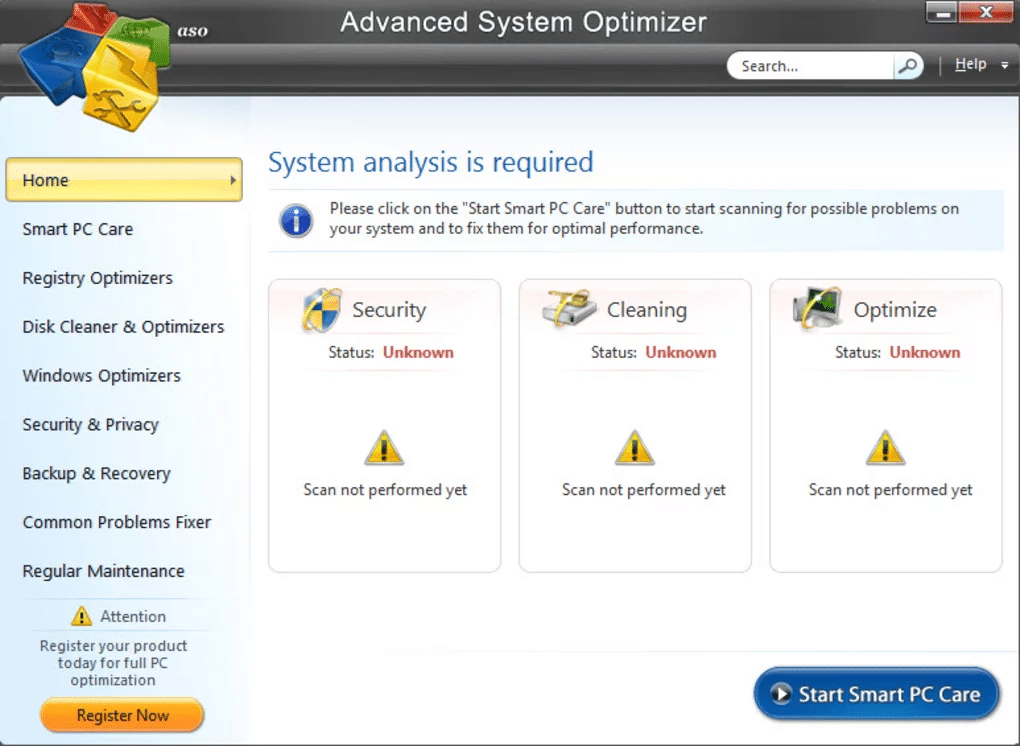 | | |
| --- | --- |
| Pros  | Cons  |
|  Has a smart PC care module that speeds up Windows 10 in one click. |  Is only compatible with the Windows OS. |
|  Reclaims a huge amount of storage space by cleaning up all the junk files in the computer. | |
|  Tunes up the PC by updating faulty drivers. | |
|  It contains a registry optimizer that quickly fixes invalid items. | |
2 Advanced PC Cleanup
This software restores necessary disk space by cleaning all redundant files from the system. The application includes a very proficient start-up manager to schedule the time of launch for multiple apps to ensure the Windows PC doesn't slow down during startup. It has a comprehensive toolkit to remove all unnecessary data from the system and clean up space.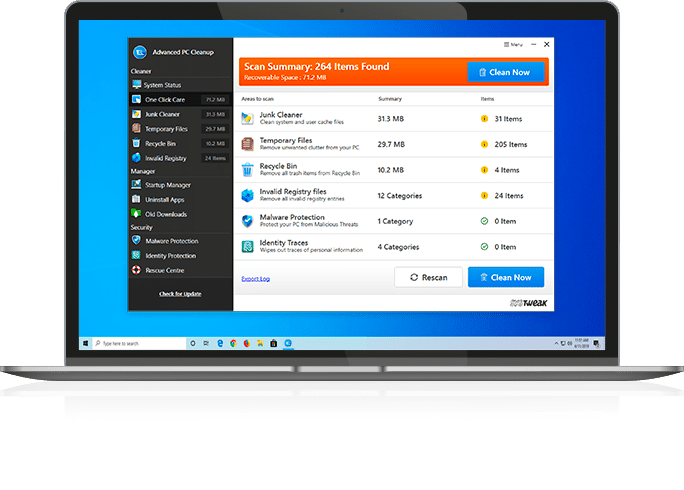 | | |
| --- | --- |
| Pros  | Cons  |
|  Has an excellent malware removal module. |  No Con was identified at the time of testing this optimizer. |
|  Enhances the overall boot time of the PC through its startup program manager. | |
|  Can remove junk files and clean up space effectively. | |
|  It has a 60-day money-back guarantee | |
3 Iolo Systemic Mechanic
This PC optimizer can repair over 30,000 problems in the system that could slow down the PC's performance. During testing, it fixed over 1965 issues in the PC. It also has an Active Care option which you can enable to regularly scan the computer for errors. This application is capable of listing all files and data that cause system instability. On top of that, it can also secure open router ports and is overall the best free cleaner on the market in 2023.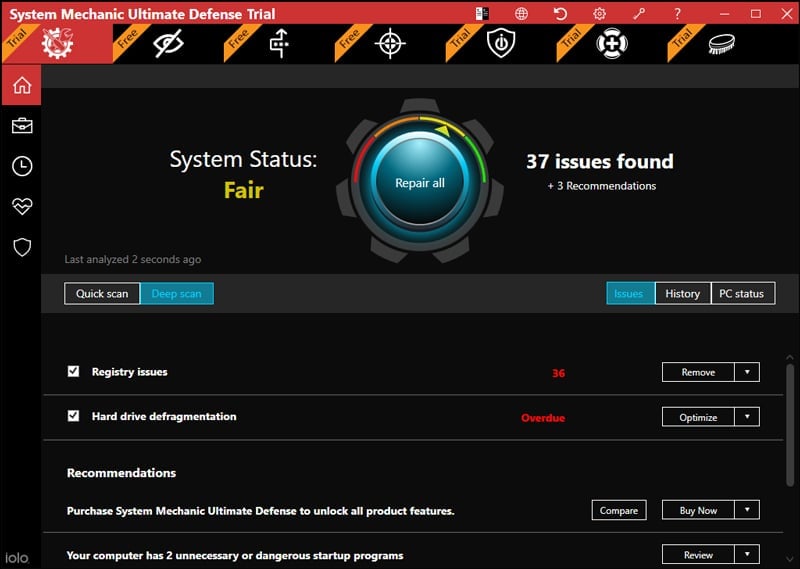 | | |
| --- | --- |
| Pros  | Cons  |
|  The optimizer is very suitable for novice users because it's easier to use as compared to other cleaners and optimizers. |  Add-ons are installed at the time of installation of this optimizer. |
|  Removes useless clutter from the system by cleaning up all the cache. |  Some of the displayed utilities in this application are not required by Windows. |
|  There's a password manager only offered in the Pro version of this optimizer that secures all the sensitive data on the desktop. | |
|  A lot of features regarding performance improvement are offered in the free version of this optimizer. | |
Being the most popular cleaner, it's compatible with all the latest versions of Windows, Android, and macOS. The best part is that the developers of the app constantly upgrade it with improvements. The optimizer offers a very functional and clean UI. Still, there's a potential memory leak risk due to the application's excessive use of CPU resources when the PC is kept idle, and there's no activity performed on the desktop.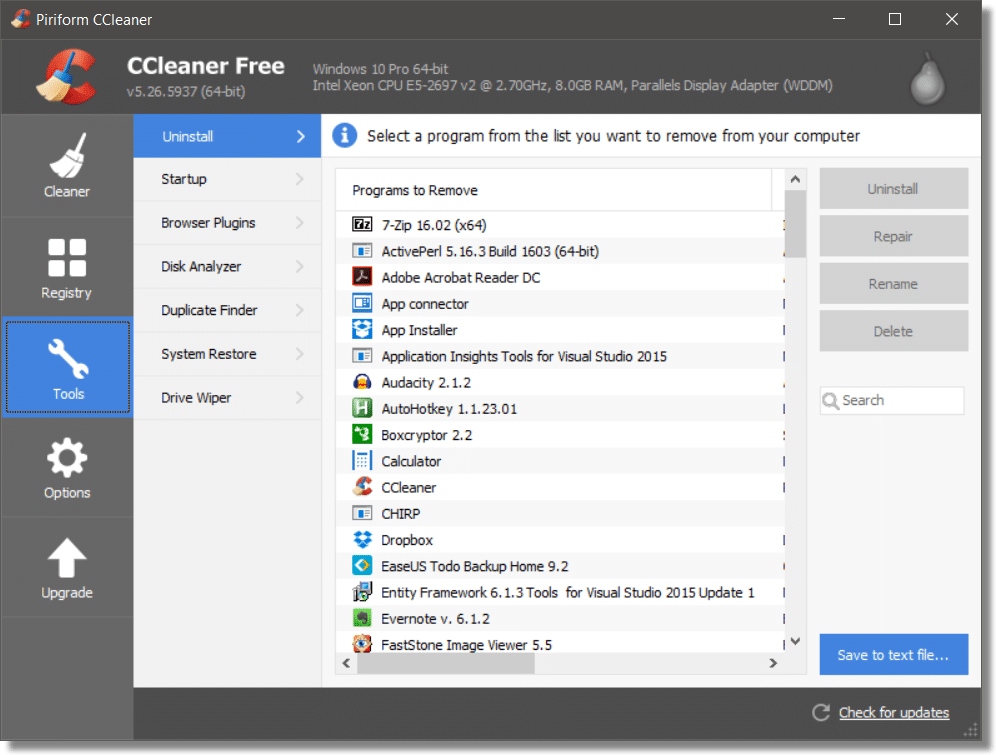 | | |
| --- | --- |
| Pros  | Cons  |
|  Performs a powerful deep scan to remove all the clutter. |  As of now, no limitations are found to this application. |
|  Ensures a lag-free gaming experience due to its powerful game optimizer tool. | |
|  Ensures a very fast and smooth PC performance. | |
|  Offers a very effective free trial version. | |
The Advanced SystemCare by IObit technologies is software that is equipped with all essential performance-enhancing tools that are a requirement for any PC. This application can boost your PC and make it 200% faster by automatically cleaning up the RAM space due to its AL-powered scanning.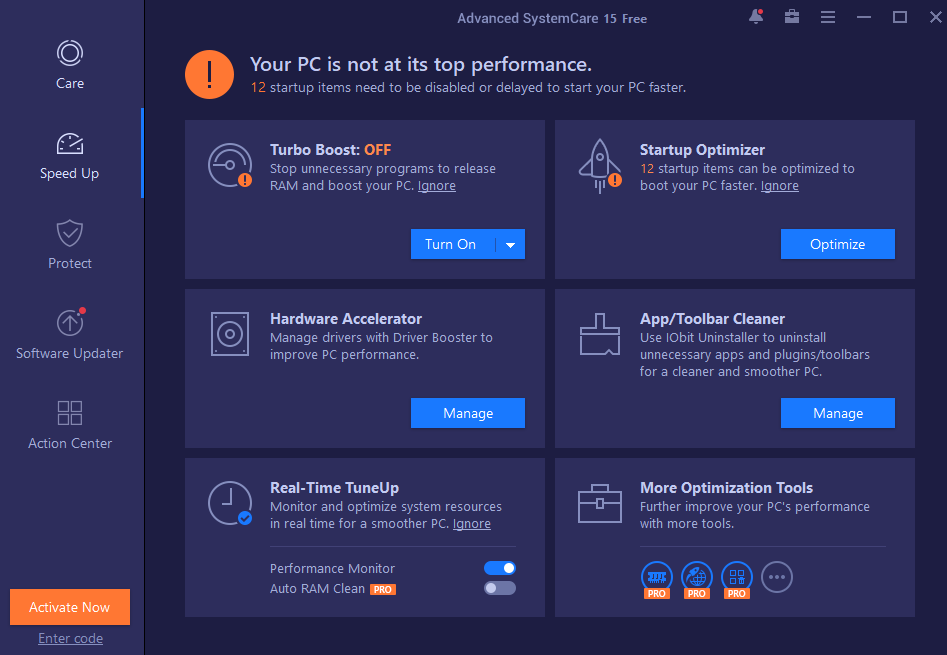 | | |
| --- | --- |
| Pros  | Cons  |
|  Accessible interface design |  Doesn't have any drive exclusion feature. |
|  Prevents any online tracking due to privacy sweeping tools. |  It self-installs promotion software |
|  Cleans and speeds up Windows PC. |  There are multiple ads in the free version of this optimizer. |
|  Contains a malware removal and protection tool. | |
During testing, this optimizer quickly identified which files were taking up so much space on the PC. It comes with a decent set of tools for PC cleaning and optimization. It leaves no traces of unnecessary apps on the computer.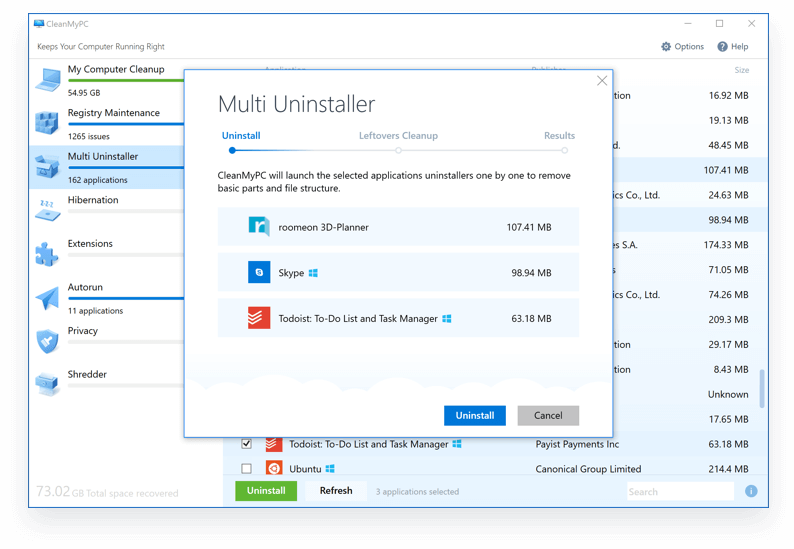 | | |
| --- | --- |
| Pros  | Cons  |
|  Protects online privacy by cleaning login data and cookies. |  The complex interface |
|  Eliminates all hibernation files occupying huge gigabytes. |  The free version contains a lot of notifications and ads. |
|  The free trial version cleans up around 500 MB of junk files. | |
|  Improves PC boot-time | |
Even though the Glary Utilities Pro 5 offer paid versions, they work excellently on maintaining the PC in optimum condition. It contains a total of 20 tools. For sensitive data, it allows you to set files up for self-destruction if a wrong password is added more than twice.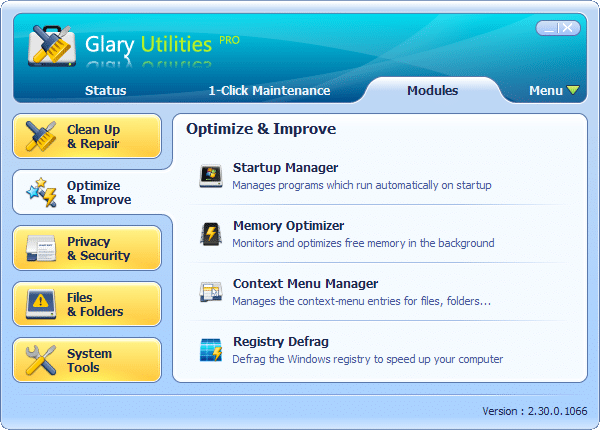 | | |
| --- | --- |
| Pros  | Cons  |
|  Divides all files into smaller ones using its file splitter tool. |  The application requires a .net framework. |
|  Offers a display of complete system information. | |
|  Has an 8X faster scanner that solves common PC errors | |
|  It has a 90-day money-back guarantee | |
This application is equipped with all standard features necessary for maintaining the optimum condition of any PC or laptop. It displays the information in a very classified manner. Ashampoo WinOptimizer determines HDD, system, and processor performance by performing hard disk benchmarks. It also offers an AntiSpy module that covers remote access, telemetry, folder shares, and more.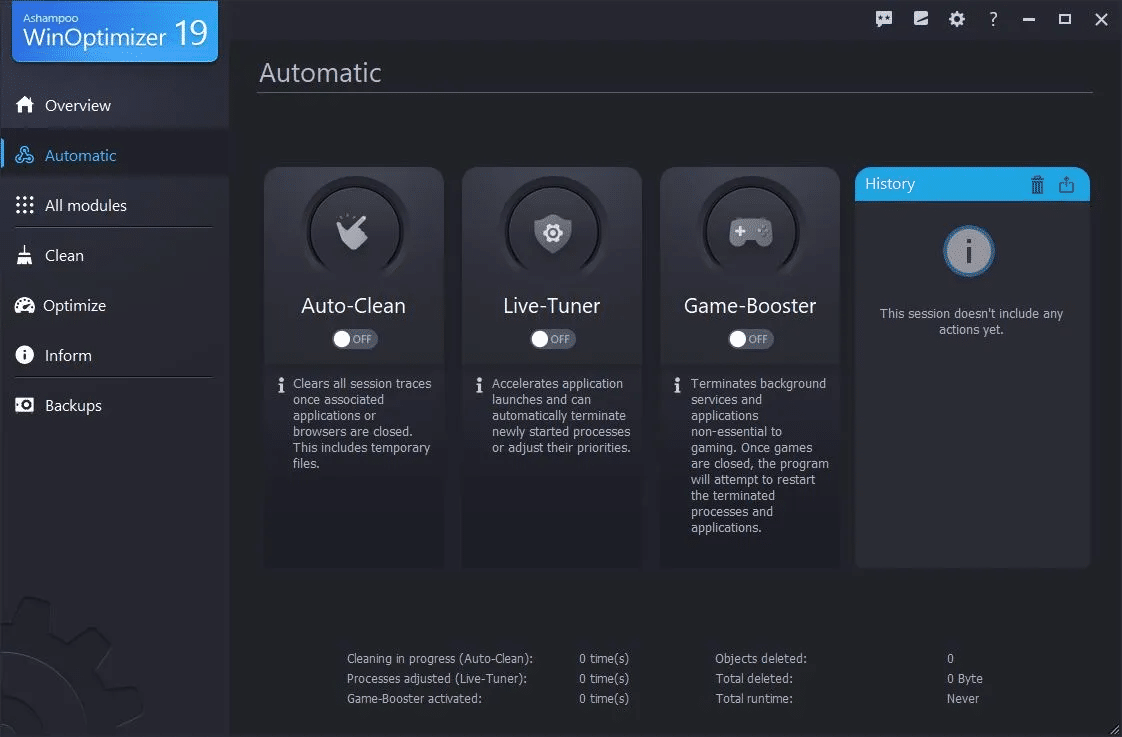 | | |
| --- | --- |
| Pros  | Cons  |
|  The application has multiple frequent updates for improvement. |  The application mostly delivered false alarms during the testing. |
|  Has a scheduling tool for regular optimization of PCs. |  Slower compared to all the applications that were tested. |
|  Has the capacity to encrypt, delete, and recover files. | |
|  It cleans, optimizes, and protects the PC using a very comprehensive toolkit. | |
AVG Tuneup deeply cleans the PC to remove all potential security risks in the system. It also offers functions to boost PC performance when you are not using the system. This application does not have much system power usage because it contains a tool that only consumes a significant amount of CPU resources. It contains all features that are essential for a good optimizer. That's why the AVG Tuneup deserves a place on our list.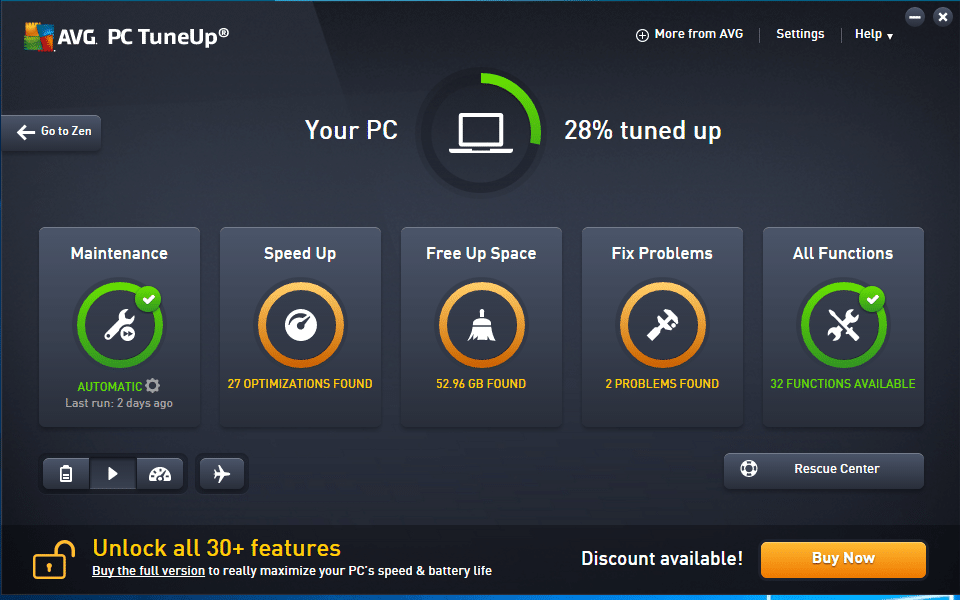 | | |
| --- | --- |
| Pros  | Cons  |
|   Performs hard disk defragmentation. |   Most expensive app on the list, starting at $4.49. |
|   It requires only a few clicks to remove duplicate files. | |
|   Automatically updates programs and avoids security risks. | |
|   Balances power and work through economy mode. | |
In addition to all standard optimization tasks, Restoro has the capacity to rebuild and restore the Windows Operating System. It has a 250,000,000 file database that it uses to automatically replace all damaged files in the system. Restoro is best for computers that freeze and start to crash abruptly. It is a very automated software that detects and removes all malicious forms of content.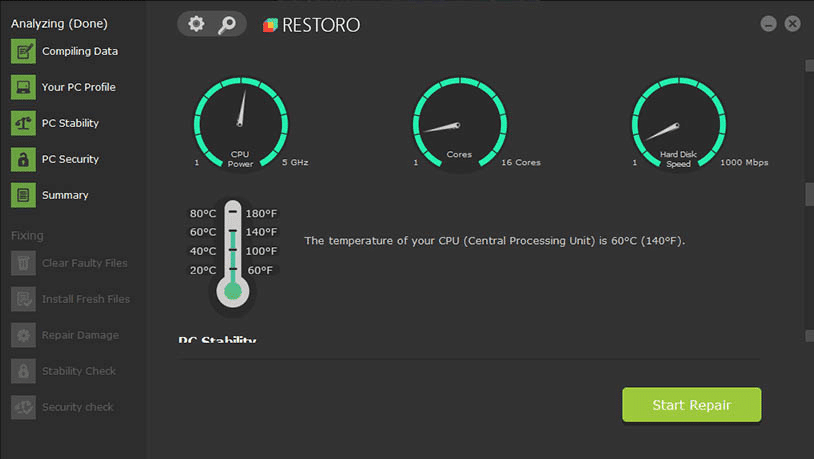 | | |
| --- | --- |
| Pros  | Cons  |
|  Has the capacity to restore valuable disk space. |  The interface requires a complete revamp. |
|  Can identify websites with security threats. |  Does not offer any malware protection. |
|  Can repair all DLL files. | |
| Removes adware, browser hijackers, and spyware using the Avira scanning engine. | |
Avira is a free application that works for all platforms such as Windows, Mac, IOS, and Android. It enhances the computer's speed and protects data. It can get your PC a long-lasting battery. In addition, it makes all devices connected to the PC run smoothly.
| | |
| --- | --- |
| Pros  | Cons  |
|  The application offers a free VPN. |  The VPN offered by the application contains some data restrictions. |
|  Includes a password manager. |  The app is a bit slower to respond as compared to other apps. |
|  Has a regular software updater. | |
|  It has powerful malware removal tools and offers 360-degree PC protection. | |
Frequently Asked Questions
Which Is the Best Cleaner for PC? 
If you want to keep your PC in good shape for a long time, then Advanced PC Cleanup and Iolo System Mechanic are ideal PC cleaners for you. Both offer the best optimization tools for Windows 10 that clean the PC. They offer excellent modules for a thorough system cleaning. In addition, these programs offer memory boosting and 360-degree protection for your PC.
How Can I Clean My PC? 
There are multiple things you can do to clean your PC without using optimization software. For instance, you can close all unused tabs, clear browsing history, keep your hard disk free, remove large and unnecessary files, and clean temporary files. 
Is PC Cleaner Safe? 
As mentioned earlier, a lot of optimizers are present in the market that don't live up to their hype. We researched more than 30 optimizers to take our top 11 picks. All optimizing software mentioned on the list are capable of fulfilling all optimization requirements and needs.
Can I Optimize My Computer Performance Manually? 
You can also manually optimize your PC by uninstalling all unused apps and documents, removing all junk files, and limiting the auto-return items. In addition, you can perform hard disk defragmentation and use a lightweight browser to keep your PC in optimum condition.
Do PC TuneUp Programs Work? 
Yes! They make a huge difference in PC's performance and speed.
What Does a PC Optimizer Consist of? 
An ideal PC optimizer can identify and remove temporary files. It can also uninstall unnecessary PC programs, resolve common computer errors, and fix invalid registry entries. It optimizes your device and boosts performance.
Is There a Better Cleaner Than CCleaner?
Ccleaner by Piriform falls behind Advanced System Optimizer in terms of computer cleaning and optimization. That's because the Advanced System Optimizer covers a variety of modules that are essential for the PC's peak performance as compared to the Ccleaner.
Final Verdict:
All of the above-mentioned programs finalize our list of 2023's best PC cleaners and optimizers for both PCs and laptops. It can be difficult to evaluate which program serves best when all of these software perform almost similar functions.
For Windows 10 optimizing software, our opinion is that you use the Advanced System Optimizer because it includes all the tools necessary for boosting the performance and speed of Windows. The best part is that you can use this software for free. In addition to some of the best optimization aspects, the ASO (Advanced System Optimizer) also includes the best module for malware protection which makes it surpass all the other optimizing programs.