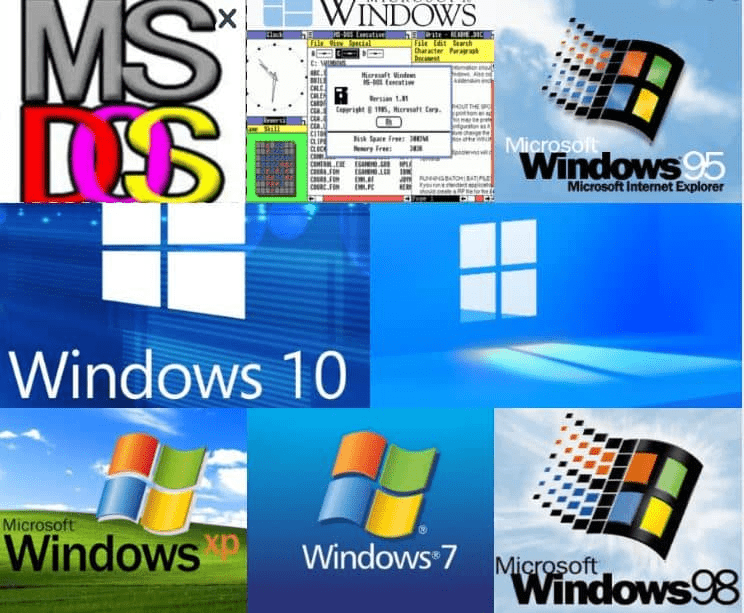 Windows Versions History
Microsoft Windows is a series of proprietary graphical operating system families developed, sold, and marketed by Microsoft for personal computers, portable devices, mobile phones, servers, and server clusters. Each family is tailored for a specific sector of computing industry: desktop PCs run Windows NT; portable devices run Windows Mobile; phones use Windows Phone 7; servers run Windows Server 8.
Early versions of Windows were frequently seen as graphical shells that ran atop MS-DOS but assumed many features typically associated with full operating systems, such as its own executable file format and device drivers for timers, graphics printers, mice keyboards and sound. Even early editions that were generally accepted as full OSes – such as Windows 95 — began incorporating features more typically associated with UNIX such as overlapping windows and multiple applications being executed concurrently using cooperative multitasking.
As handheld and all-in-one PCs that were capable of running apps from touchscreen displays became increasingly popular, Microsoft responded with special versions of Windows known as Tablet PC Editions to meet this market segment. Based on regular Windows code but featuring additional features to accommodate touch input via stylus or finger, these offerings provided consumers with access to programs using touch instead of mouse or keyboard navigation.
Beginning with Windows 10, Microsoft transitioned to what they refer to as "Windows as a Service", where pre-release builds are distributed more frequently to testers for evaluation. Critics of this model argue it keeps users up-to-date artificially while some older systems were left without receiving free upgrades.
Windows 1.0 – The First GUI Operating System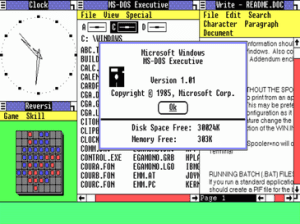 Microsoft first made headlines with the launch of Windows version 1.0 30 years ago, drawing immediate attention with only limited availability on launch systems, however this marked the beginning of an immensely successful product that powers over 70% of PC sales today.
The initial release of Windows, unveiled at COMDEX in November 1983, aimed to simplify computing by offering a graphical user interface capable of running an array of applications and programs. Running on top of MS-DOS, this operating system allowed mouse integration with existing DOS software as well as programs built specifically for Windows; display of IBM CGA video was supported, along with multitasking, tiled windows (inspired by research conducted at Xerox PARC where some original developers for Windows worked) and message bars.
Windows 1.0 was an ambitious undertaking for Microsoft and was initially met with mixed reactions from reviewers and critics alike. While most reviewers believed in its future potential, many critics felt it did not meet expectations due to its demanding system requirements, demand for mouse input at a time when mouse use was still rare and lack of keyboard support.
However, Windows was also one of the first operating systems to have a significant effect on how we interact with computers and promote application interoperability. Early advertisements featured users copying contact details from Windows Address Book into letters or spreadsheets in Microsoft Excel or Word and then creating graphs using programs such as Microsoft Chart or Lotus 1-2-3.
Windows 2.0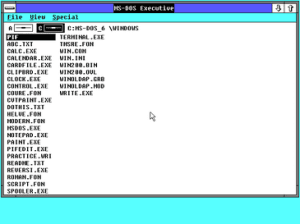 After two years, Microsoft finally unveiled their Windows platform – designed to compete against Apple's Macintosh at a time when Apple had established itself in this new environment. Due to this delay, InfoWorld editor Stewart Alsop presented Bill Gates with a Golden Vaporware award at 1985 Comdex show in Las Vegas as a token gesture in appreciation of all missed release dates during development of Windows platform.
Windows 1.0 differed little from subsequent iterations of its platform; however, it did introduce features and programs which continue to be utilized today. Windows 1.0 was notable as one of the first OSes to allow overlapping application windows and provide improved memory management for running software on its system. Furthermore, it provided users with access to an essential Control Panel tool allowing them to change system settings such as screen resolution, keyboard shortcuts and more.
Windows 2.0 was released to manufacturing on December 9, 1987 for use on i386-based computers, running in protected mode. It differed from its predecessor by permitting application windows to overlap and resize, offering more sophisticated keyboard shortcuts, adding desktop icons, graphical enhancements and desktop icon support into the OS. Furthermore, this version introduced its inaugural Control Panel which allowed users to change system settings such as screen resolution, sound output device configurations, printer options power saving options installed applications etc.
Windows 2.1 was the inaugural commercially successful version of Windows and was developed as a single program with separate windows for each program group displayed on-screen. While previously it supported installation using up to two floppy disks for installation purposes, starting with Windows 2.1 a hard drive was required instead. Furthermore, this version featured VGA graphics supporting 16 color mode at 640×480 resolutions.
Windows 3.0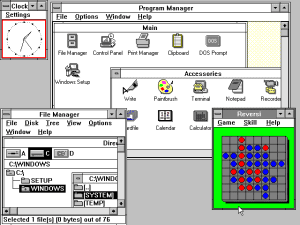 Microsoft launched Windows 3.0, an operating system which revolutionized desktop computing and set a standard for GUIs in later versions of MS-DOS Executive and other MS-DOS releases, in 1990. It marked an incredible leap forward and quickly overshadowed Apple Macintosh and Amiga graphical user interfaces as the industry's go-to desktop environment by 1992. Windows 3.0 proved hugely popular worldwide.
Program Manager was an intuitive graphical shell designed for ease of use that replaced MS-DOS Executive shell, offering colorful menus and icons that were much simpler than command line tools; its file management system made application launches effortless; furthermore, Microsoft Office suite was the top selling product at that time.
This version of OS also introduced drag-and-drop and screensavers that would become hallmark features of PCs over time, enhanced multimedia driver support, Object Linking protocol that allowed programs to communicate more easily, as well as TrueType fonts which provided more realistic text outlines – this technology still lives on in modern Microsoft fonts today.
Windows NT 3.1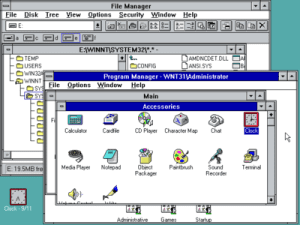 Windows NT 3.1 was Microsoft's initial business-oriented workstation and server operating system released in July 1993 for Intel x86, DEC Alpha, MIPS R4000 processors, designed specifically to provide maximum stability when used for high-demand workstation and server applications requiring high stability levels. 32-bit applications could allocate up to 2 GB protected memory per process to prevent memory corruption during failure and power outage events.
Contrary to earlier Windows releases, 3.1 did not rely on legacy code for functionality and offered many new features. These included NTFS file system which provided improved protection from hardware failures while supporting long file names; additionally the kernel included an advanced virtual memory mapping method supporting segmented addressing as well as flat and paged memory allocation methods.
As with the earlier versions of NT, 3.1 did not support IDE CDROMs or memory above 64Mb, as well as several PCI bus peripherals; an older HAL that only supported ISA/EISA/MCA devices such as video cards was required instead.
This release of NT was less reliable than later ones; in particular, it was very vulnerable to boot loader fragmentation, leading to system freezing upon boot-up unless all fragmented files were kept together on hard disk. Furthermore, an issue in INT 15h/E820h interface used by NTLDR for querying system memory maps prevented accessing memory beyond 64Mb; however by upgrading your version of NTLDR this restriction can be overcome.
Windows 95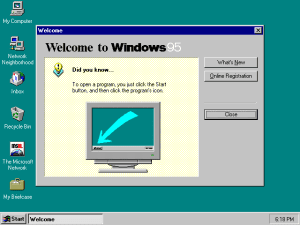 On August 24th 1995, Microsoft unveiled Windows 95 – their breakthrough operating system that drew PC users away from command lines and made the company an international power. Credited with popularizing new PC applications such as Internet Explorer for mass audience use; also made MS-DOS file access more user friendly making document editing simpler as well as mouse click, drag & drop functionality more readily accessible; made MS a household name.
Microsoft made an enormous change with Windows 95 from previous OSs such as networkable Windows for Workgroups and powerful Windows NT, both designed to serve business users. Microsoft relied heavily on celebrities and big budget commercials to increase awareness about this new operating system – Jay Leno of Friends appeared in how-to videos while The Rolling Stones sang their hit "Start Me Up."
Windows 95 introduced numerous innovative features. A built-in network capability provided support for various protocols, and 32-bit application support was introduced. Furthermore, a file manager called Windows Explorer and Briefcase folder were introduced that helped users manage files when moving data between desktop computers.
The most notable transformation was MS-DOS's transformation to a graphical user interface, replacing text screens. Users could now switch tasks easily using task bars to quickly move between applications on Windows. Furthermore, its redesign improved security by providing preemptive multitasking and memory management, while maintaining compatibility with existing MS-DOS applications.
Windows 98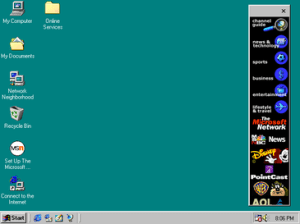 Windows 98 was Microsoft's third major version for PCs and featured an integrated and tightly linked system, bypassing MS-DOS to directly display its graphical user interface, while still offering compatibility with MS-DOS applications.
Introduced a number of new and improved features to enhance overall system functionality, such as an easier and more intuitive desktop environment, increased support for Plug and Play devices and upgraded Internet access options such as ISDN connection wizards and dial-up networking. Additionally, Windows Help was upgraded with Web-based documentation as an additional means of finding answers quickly; providing users with multiple avenues through which they could search for answers both locally and on the Web.
Microsoft introduced several tools for system maintenance in Windows 98, such as Disk Defragmenter which rearranges frequently-accessed program files onto a hard disk region optimized for program start and Fast Shutdown which initiates shutdown without uninitializing device drivers. Additional features included CD-ROM driver to allow use of DVDs as drives; basic OHCI-compliant FireWire 1394a support (MSDV class drivers); Wake-On-LAN for networks of PCs running Windows 98 or later versions and more.
Windows 98 was unveiled to the world with a dramatic demonstration at Comdex in April 1998, where Bill Gates' presentation assistant Chris Capossela connected a USB scanner into the demo machine which caused it to crash displaying the Blue Screen of Death – quickly becoming an internet phenomenon and viral video footage of this event.
Windows ME
When people think of Microsoft products, most think of Windows 95 and its successor, Windows 98; not so many remember Millennium Edition as being one of their products; many computer users and IT support staff would consider ME one of the worst versions ever released by Microsoft.
Windows ME was the final installment in the 9x series and an interim solution until consumer-oriented NT products could be completed, providing key new features to home PC users such as System Restore (a tool which lets them quickly restore to an earlier state in case of errors); Home Networking Wizard (a step-by-step tool used to set up Internet connections and share files and folders across networks); Media Player 7 allowing gamers to communicate while playing multiplayer online games; Digital Image Acquisition which allowed consumers to transfer pictures directly from digital cameras or scanners into Windows;
ME was released at a time when many of its features had already become part of Win2k or Win98SE; also, ME was the last OS to follow *nix's model of using a desktop environment on top of command line-based OS; at an age when scammers were perfecting ways of making Very Silly Things seem serious, it nonetheless managed to provide reliable performance without much difficulty.
Windows 2000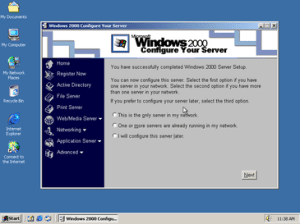 Notable Microsoft operating system features first introduced with Windows 2000 were later considered core elements, such as the Microsoft Installer for more uniform program installation/uninstallation experience, Windows File Protection to prevent programs from overwriting critical system files, and Recovery Console that enabled unbootable systems to boot up again. Furthermore, MMC provided an easy way of managing many essential system functions while Active Directory provided a new way of controlling Windows network domains.
As previously discussed, Microsoft Script Host 2.0 provided improved scripting support, while DNS Client Cache service reduced DNS query times and GUI enhancements added alpha-blended windows, gradient fills and fade-to-top-level window transition effects. Regarding security enhancements, kernel support for disk encryption was improved while Windows 2000 introduced Hardware Profiles that allow administrators to create multiple hardware profiles for different configurations.
MMC provides an intuitive method for controlling system settings called Computer Management, along with standard system utilities like disk defragmentation. Furthermore, the MMC offers a policy-driven method for deploying software across multiple computers with its Sysprep utility – copying over applications and configuration settings from a reference computer onto new ones using one image file; provided all target computers share similar HALs, ACPI support, and mass storage devices.
One major goal of Windows 2000 team was to increase system dependability. While no industry-wide standards exist for measuring dependability (an IFIP special interest group is exploring this subject), Microsoft set specific dependability goals designed to make Windows 2000 more reliable than its NT 4.0 equivalent and applied equally across x86 and Itanium hardware platforms.
Windows XP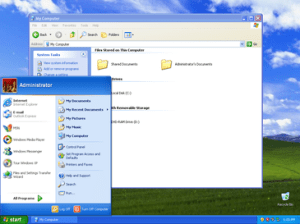 Windows XP was an evolution of both NT and 2000, offering improved stability, efficiency and an updated graphical user interface. Microsoft's focus on prioritising users over their own needs marked a change in attitude towards consumer software releases; and marked an important departure from previous releases. Furthermore, XP introduced meaty updates which became standard across its releases going forward.
When Windows XP encounters an error, a dialogue box will open to collect details on what went wrong and send them directly to Microsoft engineers who can then improve the program. This replaces the blue screen of death that had plagued earlier versions and is one key aspect of this new system. XP also utilizes protected memory conventions similar to what can be found in NT, which prevent unstable programs from taking down running applications alongside it or even entirely shutting down a computer altogether.
If multiple users access one computer at the same time, Windows XP enables each to create their own computer account which tracks their unique settings and documents. Furthermore, switching between user accounts is easily accomplished with just a click of the mouse.
Contrary to Windows NT and 2000, which were sold at different prices for both home and professional computers, Windows XP was sold at one price across both categories; however Dell and other hardware manufacturers decided to stock a version called Edition N that did not contain Microsoft media player software so as to save licensing costs.
Windows Vista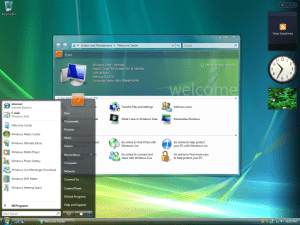 Vista stands out as an example of Windows releases gone awry, often being named one of its worst versions due to its restrictive hardware requirements and antiquated security technologies that weren't well received by gamers at launch time. Still, Vista introduced features now commonplace such as pinning applications onto taskbars and previewing windows via thumbnail previews that proved popular during later releases of Windows.
As well, Windows 10 introduced a revamped Start menu and taskbar icons designed to provide quick access to recently used applications by clicking on their guillemet, full symbolic links that allow one click launching or opening applications or folders, and file browsing capabilities. New high-quality fonts were included specifically designed for screen reading; and Windows Mobility Centre allowed you to centralize settings related to mobile computing such as power management, battery level/screen orientation settings, Bluetooth synchronization controls, presentation controls etc.
Note that when installing Vista on a reformatted or replaced hard drive, activation may take 24-48 hours due to Microsoft's extensive efforts at verifying and cataloguing genuine product keys – this ensures the OS will only work if using an authentic key.
Windows 7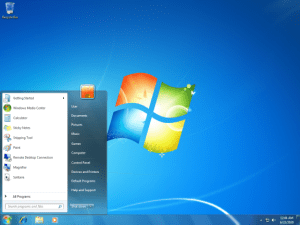 Windows 7 is Microsoft's newest Operating System and builds upon Vista in terms of features to provide an even greater user experience. New additions include fast window maximizing, side by side tiling of windows and Aero Shake which enables a user to clear off their entire desktop simply by shaking their mouse back and forth and all open windows are restored back into active status instantly.
Windows 7 builds upon the multitouch capabilities first introduced with Vista and is intended to work well on touchscreen computers from Dell and HP, which have already begun shipping machines equipped with multitouch support in this version of Windows. Furthermore, this version of Windows will be capable of handling high-definition multimedia content while being optimized for multitasking.
One of the key differences in Windows 7 is its revamp of the classic Start Menu; instead it utilizes an action button on the extreme right-hand side of the task bar that can be configured to show or hide various gadgets if desired. Furthermore, clicking this action button again will return you to classic mode if required.
Other changes to the taskbar include the option to pin applications directly onto it so their icons will always remain visible regardless of whether the application is running. Furthermore, the notification area has been revised; while still showing standard volume, network, power and action center status icons it now can also be configured to show or hide individual application notifications as desired. It also now features a "Preview desktop" button which can be clicked to temporarily replace all open windows with an inactive black rectangle reminiscent of Windows XP show desktop button.
Windows 8/8.1
Windows 8 is Microsoft's newest operating system and introduces an innovative Metro interface designed for touch screens. Furthermore, Metro apps can be downloaded through the Windows Store – among them is Skype which also offers real-time language translation!
Windows 8 also boasts improved task management that enables you to see exactly which resources programs are using and quickly shut them down, while its boot time has also been drastically decreased from previous versions of Windows.
The update also adds support for UEFI SecureBoot, faster Internet Explorer, native USB 3.0 support and an upgraded Windows Defender that can detect and combat more types of malware than before. Furthermore, it includes new Start Screen features, Windows To Go support and more.
Some may find the new interface too confusing and hard to grasp, while others love its potential use on tablets computers and when using online services.
If you want more out of your PC, upgrading to a solid-state drive with fast read/write speeds might be just what's necessary. Simply use AOMEI Partition Assistant Professional's migration tools for Windows 8 migration; all files, applications and settings will remain safe while making the destination disk bootable as well.
Windows 8.1 was Microsoft's flagship desktop OS when it was first released late 2012. Windows 8.1 brought major upgrades to Modern user interface (formerly Metro), as well as features specifically tailored for non-touch devices and improved support for multi monitor configurations.
Windows 8.1 brings back a Start button to the taskbar, while also offering many improvements and new features such as an enhanced Desktop to improve performance, tighter integration with OneDrive online storage, Bing-powered search system with universal results page display capability, ability to select an alternate web browser than Internet Explorer as the default one, etc.
Windows 8.1 not only restores the Start button but also offers the option to boot directly to desktop rather than start screen when logging on, making this feature particularly helpful for older computers that might not support modern interface.
Another new feature is the option to disable "Corners and edges", a feature designed to make Start screen touch-friendly by adding rounded corners around icons. You can find this setting under PC & Devices settings menu in both desktops and start screens.
Windows 8.1 Enterprise, designed for business users, boasts additional features not found in either Windows 8 or plain vanilla Windows 8.1 that aren't accessible through either of them, such as joining corporate domains and participating in Group Policy. However, this functionality requires installing Windows Server 2012 R2 at some point within your organization in order to take full advantage of its benefits.
Windows Server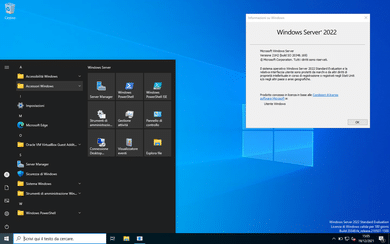 Windows Server is Microsoft's premier network-based operating system, offering a comprehensive selection of business services including Hyper-V, Nano servers, containers and built-in components that grant and administer privileged server access, protect shared platforms against breaches or threats and ensure full compliance to industry regulations. Users also find its familiar user interface easier to use and navigate.
Windows Server features numerous high-end features that administrators should take advantage of to increase overall server security, such as Just Enough Administration policies and Domain Isolation settings, hardening settings against brute force attacks, limiting application installations on a server to prevent unintended privilege elevations and more.
No matter the hardware used for servers in IT, most servers demand ample resources and power. A fast processor, ample memory and solid-state drives are essential, with RAID sets consisting of multiple drives recommended as optimal performance. Finally, to keep disk space utilization to an absolute minimum an administrator should remove apps and utilities rarely used – saving disk space while decreasing risk and improving responsiveness; task manager provides this function; right-click applications using high CPU or memory usage and select "End Task." For additional server speed boosting purposes an administrator could add additional memory if desired.
Windows 10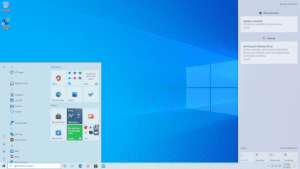 Microsoft's platform-unifying Windows 10 launched with Edge web browser to address Internet Explorer's black hole of exploits and add support for facial and fingerprint authentication, while revamping Start menu, upgrading Cortana digital assistant and offering improved gaming performance via its Game Bar feature.
Microsoft advanced its concept of Windows as a service with Windows 10, increasing data collection to better target software updates and services, but also introduced more natural ways of using computers – like support for Microsoft's rotary Dial and on-screen pens – and created an easier and quicker way of accessing settings with Action Center's quick adjustments of various settings.
Redstone 5 (Released with 1809 release), is the final release in Redstone 5, and brings with it several significant upgrades: dark mode support to user interface elements as well as cloud-hosted clipboard and deeper integration with Android phones via Your Phone app; storage sense tool which automatically clears temporary files to free up space on hard drives; more uniform appearance of Windows core applications via Fluent design style.
Pro edition of Windows 10 provides business customers with additional capabilities that allow IT departments to use mobile device management (MDM) software and connect it to a domain, while providing security tools like Isolated User Mode – helping reduce damage from attacks by isolating applications, files and processes from one another – and supporting Hyper-V virtualization-based security features which protect a PC's OS, hardware, apps, emails and cloud data.
Windows 11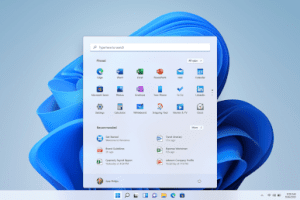 Windows 11 provides the best features of Windows 10, so when it's time to upgrade your PC, Windows 11 offers the latest options from Microsoft's operating system. From faster gaming performance and improved organization of windows on screen real estate optimization to having greater control of how your desktop looks and feels there are countless new options in this version of its OS.
There's also a new option to enable a dark theme, which may help relieve eye strain in some situations. Plus, you can change the colors for your Start menu folders!
The new Desktops feature allows you to set up and manage multiple versions of your desktop, perfect for different aspects of life like work and leisure. A task view button that looks like two overlapping windows offers an overview of all existing Desktops as well as an easy way to add one of your own.
Another new feature designed specifically to address tablet user needs is the ability to move apps between Desktops. This enables better workflow organization while making resizing app windows simpler on touch devices since dragging window edges is no longer necessary.
Windows 11 boasts not only new features, but also enhancements to its operating system itself. Storage Sense automatically deletes junk files and temporary data to free up space; additionally, you can see what's taking up disk space by visiting Settings > System.