Best Animation Software
Do you use animation software to create your own animated videos? Or is it something you want to start doing?
Whether you animate videos either personally or professionally, the software is an important part of the process. Your software can either make your job easier or more difficult, depending on its ease-of-use, features, and other benefits.
Below are ten of the best animation software platforms available right now. Some require paid subscriptions or fees, but others are free. Check these out before choosing your next animation software.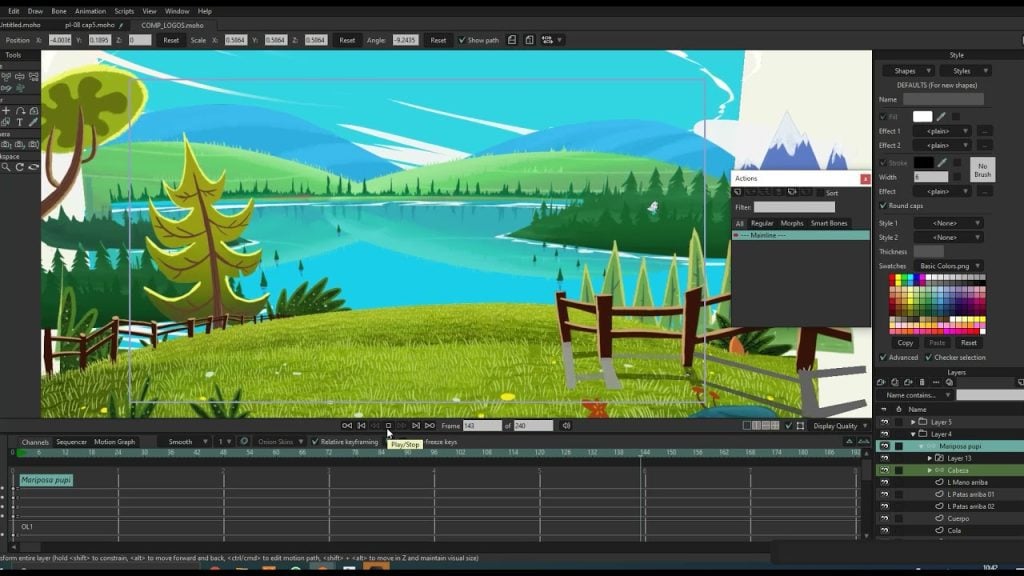 Moho Pro is an award-winning 2D software specifically for Mac users. It is available for Windows, but it is mostly widely used on Mac devices. Moho Pro costs $399 and is considered the industry standard for 2D animation software.
Moho Pro's powerful rigging system lets you create characters with realistic body movements and facial expressions. Its deep content library offers material to build nearly any type of animated world. In fact, the software has been used for a number of Academy Award winning animated films.
One drawback is that Moho Pro is built for professionals, so the interface isn't easy to grasp onto. It has a fairly steeplearning curve.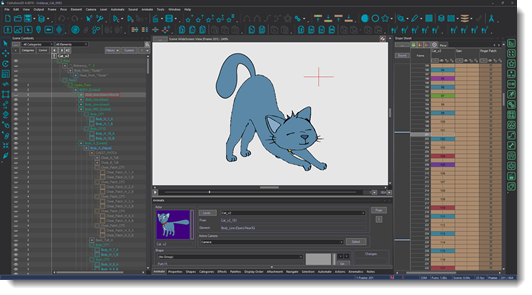 CelAction2D
CelAction2D is for use on Windows, and it offers four different options that start at $71 per month. The Studio is the most robust option with the most advanced rigging and animating tools. It also offers collaboration tools if you're part of a team working online together.
The Professional edition is perfect for small teams and solo animators, and the Animation package is a solid option for hobbyists who are creating simple animations. There's also an Educator package that is similar to the Studio option but at a reduced price. As the name suggests, it's only available for those in the education industry.
CelAction2D is widely used in the animation industry for movies, television shows, commercials, and much more. With four different packages available, you can find the right software bundle for your needs and your budget.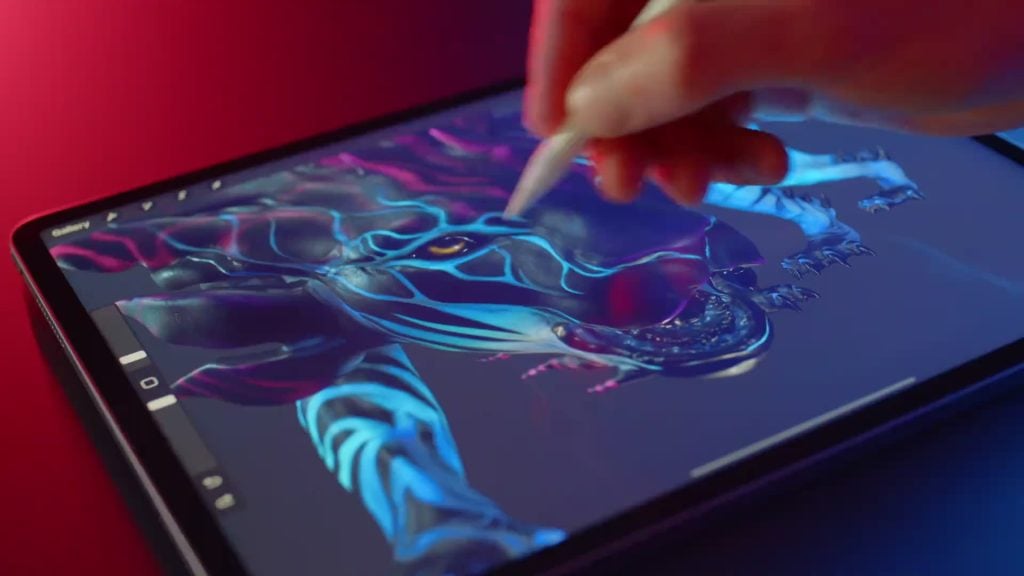 Procreate is a powerful animation tool with a convenient twist. It's built for iPads, so you can animate your video on the go from the palm of your hands. It starts at $9.99 per month, and it's a great choice for beginners and hobbyists, but also for professionals who want the ability to animate on the go.
Procreate offers the ability to sketch characters and animate them. You can create short GIFs or full-length masterpieces. You can also create the beginnings of an idea on your iPad to flesh out later on your laptop. Procreate is a great option for those who want to animate without being tied to their computer.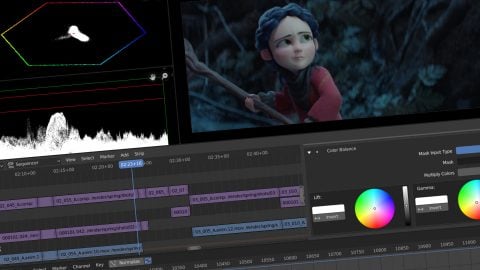 This is the first free option on our list. Blender is a free animation software for Windows, Apple, and mobile devices. You can create and render characters, build robust backgrounds and worlds, and even add noises and music.
The Grease Pencil feature makes it easy to edit, add, and erase characteristics and details. The sound synchronization tool lets you easily insert dialogue and background noises. If you want more robust features, Blender offers a library of extensions, some of which are free and some of which are paid.
Blender is a great option, especially if you're on a budget. However, it's not the simplest platform to navigate and the learning curve is steep. It may take a bit of training before you can use it confidently.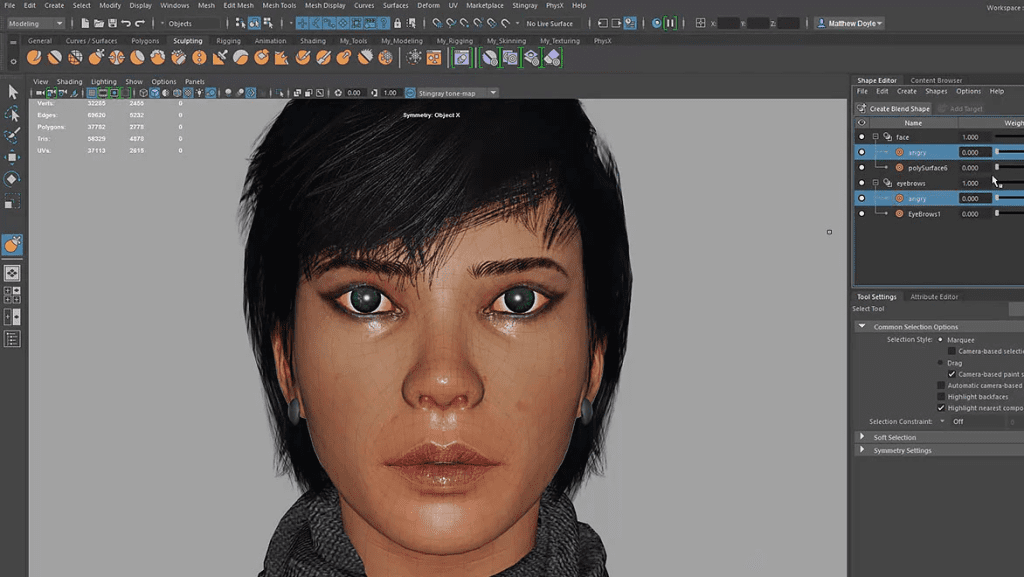 Autodesk Maya
Ready to animate in 3D? Autodesk Maya is the platform for you. It's widely considered the most powerful and robust 3D animation tool on the market. It's available for Windows, Apple, and Linux on a subscription basis for $1,700 per year.
Autodesk Maya offers tools to achieve nearly anything you want from sculpting to modeling and much more. One of the most unique features is the XGen interactive grooming tool. You can use this to add details to your characters like hair, fur, and even textured clothing. Autodesk is pricy, but it's worth it if you want to animate in 3D.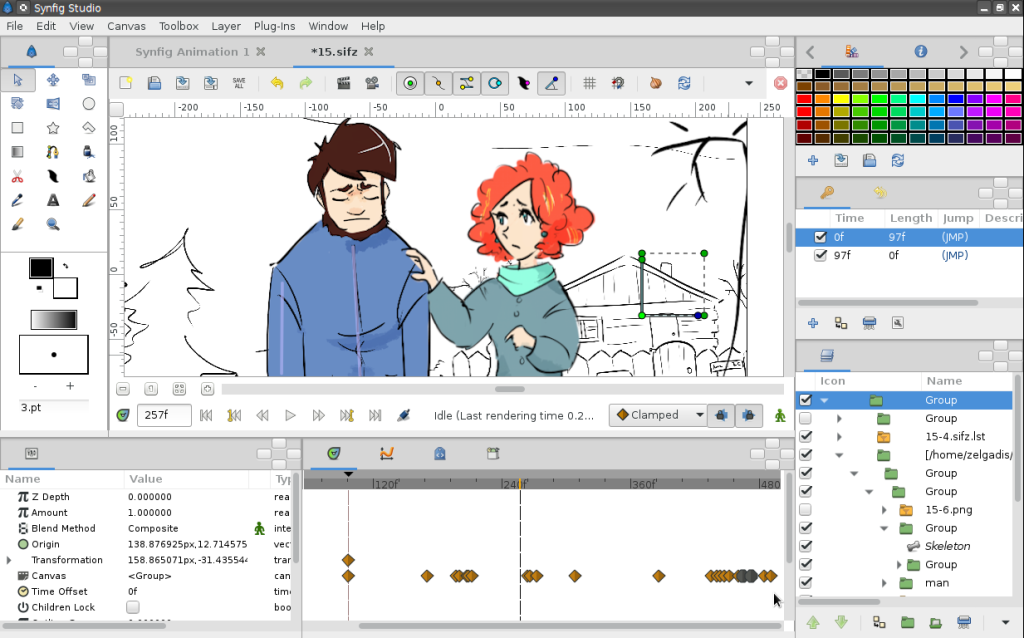 Synfig Studio
Synfig is another free option with a powerful set of features. It's available for Windows, Mac, and Linux devices, and it's a good option for beginners and hobbyists, but may not be fully reliable for professionals.
Synfig has many features and tools to add detail to characters. There's a bone sculpting tool that lets create detailed, finely-shaped characters. There are also over 50 layers of filters, gradients, and more you can add to give your characters and worlds a unique feel and aesthetic.
There are two important things to consider with Synfig. One is that it is not intuitive to use and the learning curve is steep. There is little in the way of documentation and support so you'll have to train yourself. There are also reports of it crashing at times, so you'll want to save your work often.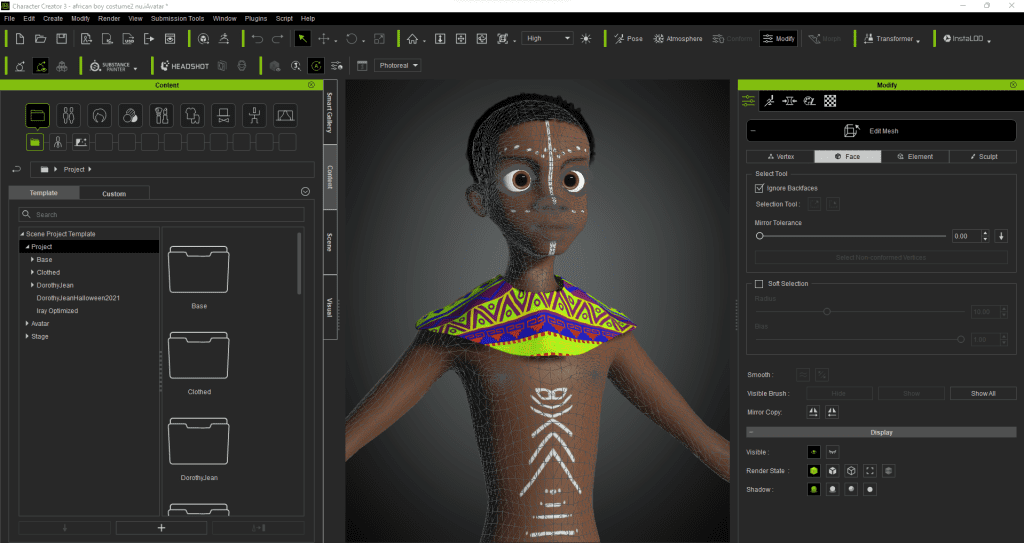 Cartoon Animator 4
Cartoon Animator 4, formerly known as CrazyTalk Animator, is a robust and affordable animation option available for Windows, Mac, and Linux. It's an effective animation tool for beginners, hobbyists, and professionals.
It offers powerful tools like full-body motion capture, smar motion editing, and a rigging and bone tool to create multi-angled characters. There's also a sprite facial feature that allows you to add 3D heads on 2D bodies.
Cartoon Animator isn't easy to learn but its a powerful tool at an affordable price. If you have the time and patience to learn, you can create high-quality animations with this software.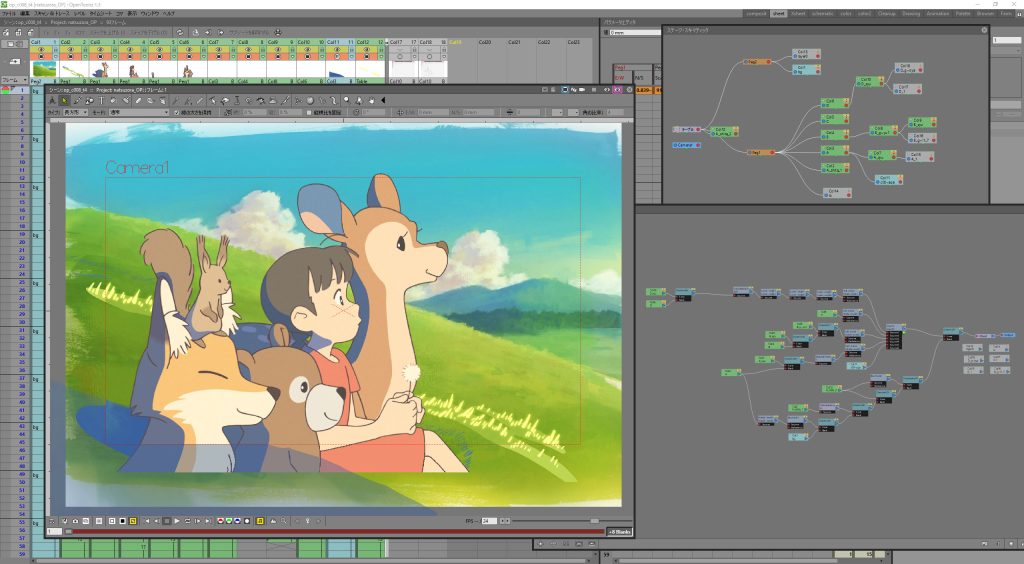 Open Toonz
Open Toonz is another free option with a powerful set of tools. It's available for Windows and Mac devices. It's mostly used by hobbyists and in educational settings, but it's powerful enough for professionals to use.
Open Toonz has a wide range of tools like rigging features, modeling tools, and layers and filters to create highly-detailed characters and worlds. It's been used to create professional, award-winning animated features in Italy.
One of the best aspects of Open Toonz is that it is easy to learn with a significant amount of documentation and training materials. If you're looking for a free option with a fast learning curve, Open Toonz is the right choice.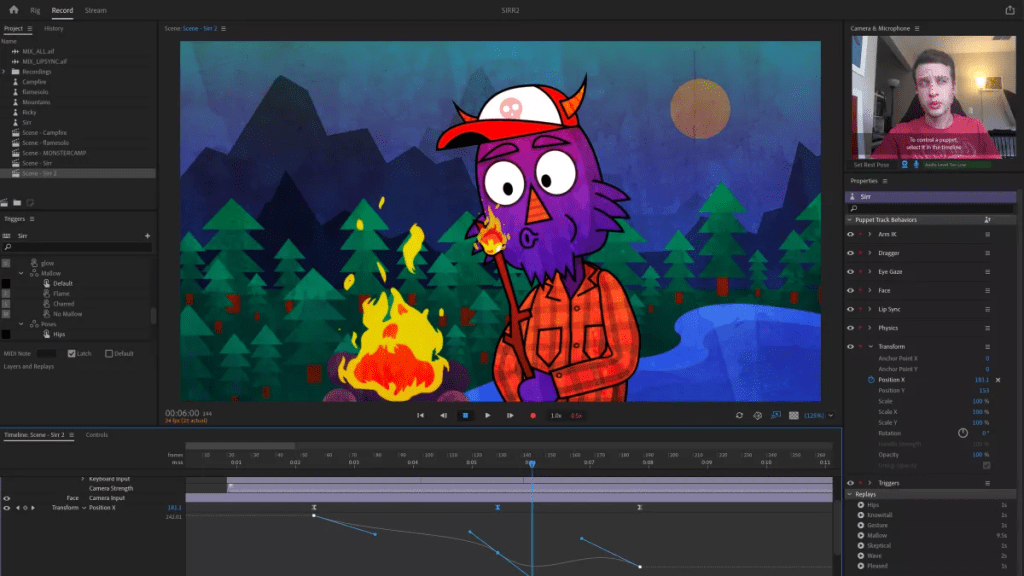 Adobe Character Animator is part of the Adobe Design Suite and is available on Windows, Mac, and Linux devices. It's available on a subscription basis for $52.99 per month.
You can use other Adobe tools like Photoshop and Illustrator to create characters and details, and then import them into Animator to bring them to life. You can even use Character Animator to live stream your animations, which is a pretty cool and unique feature.
If you're familiar with Adobe tools, Character Animator should be easy to learn. Even if you're not, it has a quick learning curve. While this software is popular with professionals, it's also a great choice for beginners who want to learn.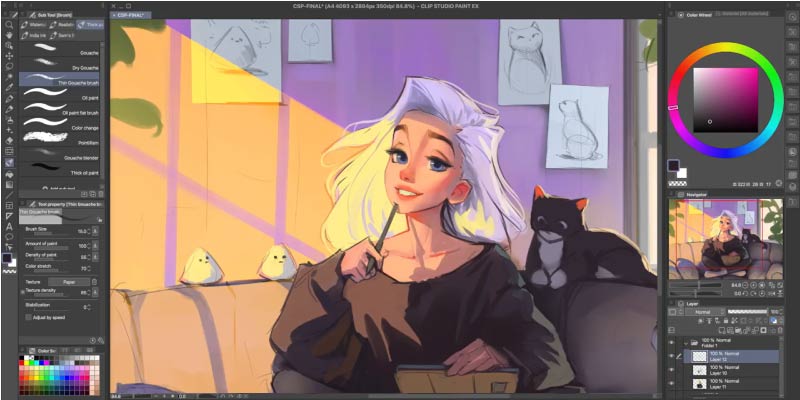 Clip Studio Paint is a powerful cross-platform software available on Windows, Mac, and Linux for either $219 per year or $22.99 per month.
Clip Studio offers all the same rigging and design features you'll find on most of these platforms. However, it also offers powerful sequencing tools so you can edit your animations on a frame-by-frame basis. That lets you get granular with your animations and create stunning full-length features.
Clip Studio Paint is slightly confusing to use at first, but it's easy to get the hang of quickly. It's a great option for professionals, but also beginners and hobbyists.
Animation can be a fun profession or hobby depending on your interests. It helps to have the right software so you can turn your dreams into reality. The right software can make editing and creating a breeze, which gives you more time to work on more projects.
If you're a beginner, it's important to start with software package that isn't too costly and is easy to learn. You want to focus your time more on learning animation techniques, not mastering software. Most of these software packages offer free trials. It may be worth it to try a few so you can see which best fits your needs.
Do your research and think about your budget. There are a wide range of animation software platforms available for every need. With a little research, you can find the right one for you and start creating your masterpiece.