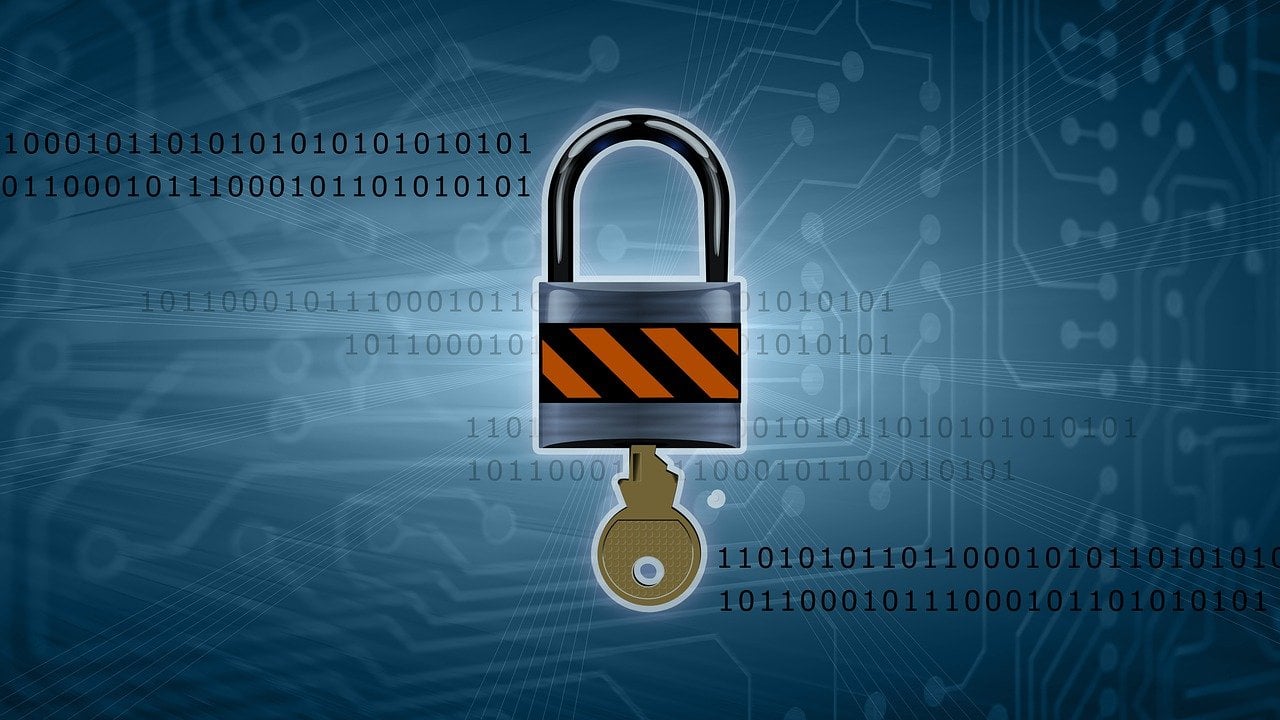 The Best Password Managers for 2023
It can become a challenge to remember the password of all your accounts, including those of social networks, emails and any web page that requires a session to use it. It is very tempting, therefore, to end up using the same one for all platforms. This makes it easy for hackers, who can easily get your password.
One of the solutions is found in password managers. Some applications will allow you to save all the passwords in a secure database. This type of program will also automatically fill in the username and password boxes for you when you access any password protected website, without you having to enter that information manually. Below are a few password managers, some of which are free, and others paid.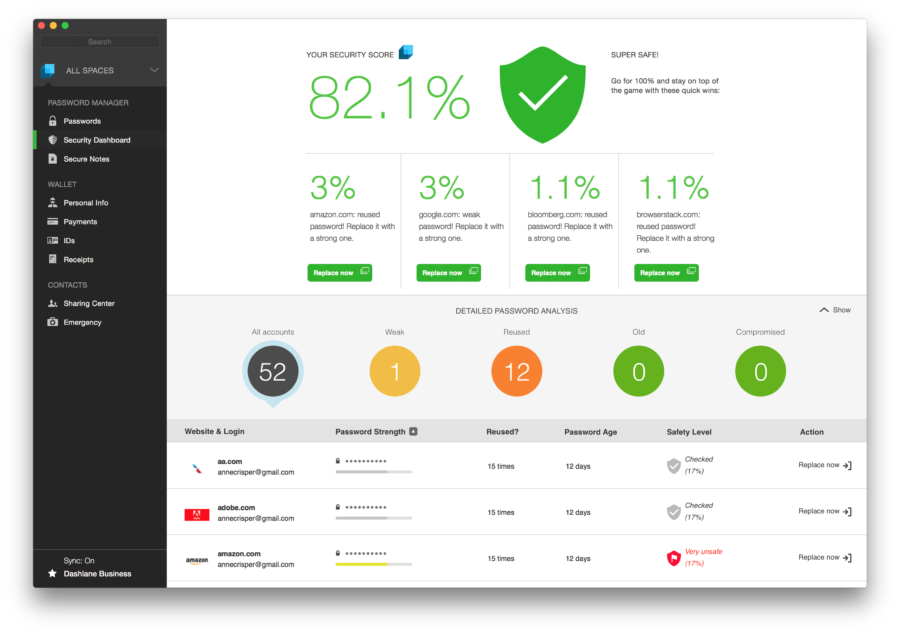 Dashlane – The Best Paid Password Manager
Dashlane is safe and can be compatible with macOS, Windows, iOS, and Android. In addition to managing your passwords, it also has digital wallet features to manage your payment services, as well as:
Import passwords from the browser
Two-step authentication
Autofill of forms in the browser
Audit passwords for correct length
As a negative point, it should be mentioned that it does not support application passwords.
Pros: All the features you want
Cons: Very limited free version
PVP: Free ($39.99 per year for premium)
Dashlane Manager allows you to sync your accounts across all the websites and devices you use. And best of all, it does it completely safely.
This service is capable of auto-generating strong usernames and passwords. It also constantly monitors your accounts to inform you immediately in the event of suspicious activity. This allows you to change your password right away.
Like other administrators on this list, Dashlane also helps you keep your various payment methods secure, so you no longer have to manually enter your bank details.
The functions available in the free version are a bit limited. Therefore, if you want to enjoy all its features, you should go for the paid version.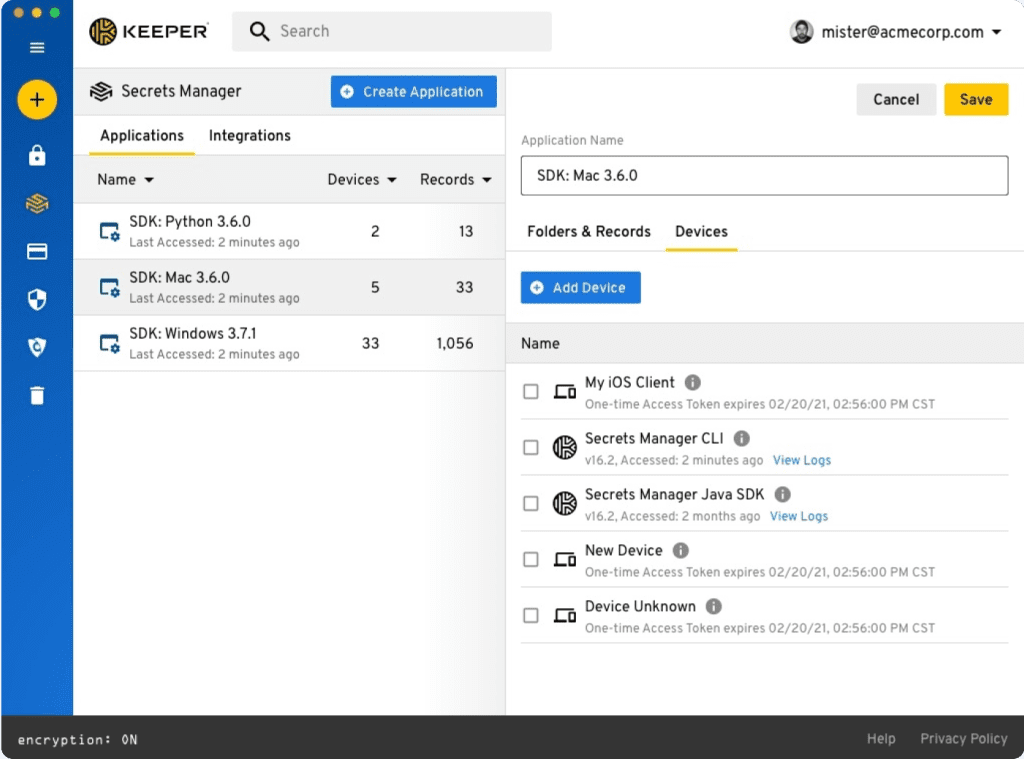 Keeper – The best password manager for businesses
Keeper is a good alternative to the above and also works on Windows, Linux and macOS. Along with Dashlane and LastPass, this one is probably the best you'll find. In addition, it is not one of the most expensive licenses, and for that small price you will have:
Import passwords from the browser
Two-step authentication
Autofill of forms in the browser
Audit passwords for correct length
Support for app passwords
1 min – 7 max signup process
Pros: Ideal for companies | 2FA support and key security
Cons: No free version
PVP: $34.99
Keeper stands out above all for being very versatile. It is intended primarily for the average user but also offers a solution for companies. This software generates very strong passwords for you and saves them on your device, so you don't have to learn them. In addition, it will fill in the login forms automatically on all your devices.
On the other hand, Keeper includes a cloud storage service in which you can share documents with others in a secure way. That security is reinforced with another function that allows you to block the apps on your mobile with your fingerprint.
Compatible with all types of operating systems, this manager can be installed for free. There are also several monthly premium plans: personal, family and business users for prices that may vary.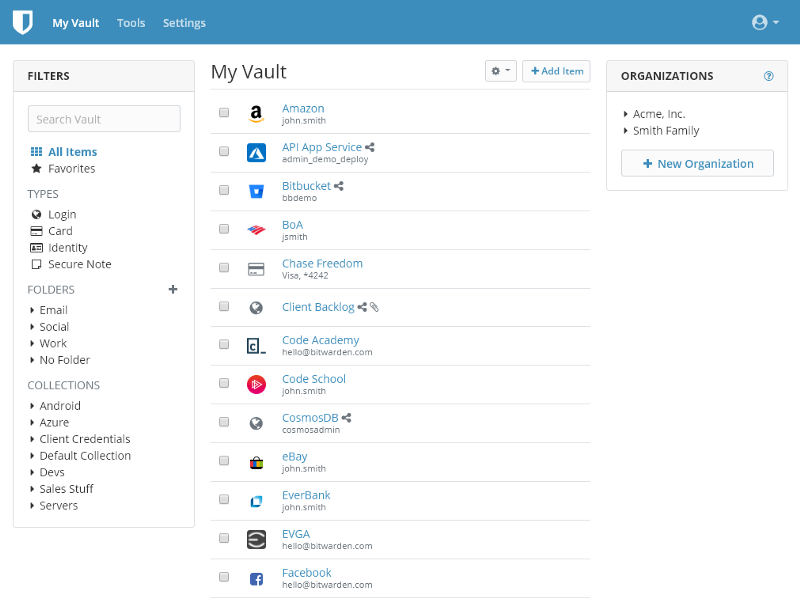 Bitwarden is not like any of its rivals, mainly because it has been created using open source. This means that everyone can know how it works, which ensures that it is safe to use. Moreover, it is completely free. It is true that some more advanced features can only be found in the premium plan, but all the main features are free (unlike LastPass).
This is the case of unlimited logins, synchronization with all your devices, a secure password generator and much more. Obviously, you will also be able to store your bank details, notes and identity documents safely.
Pros: Free | With good browser and device compatibility
Cons: Not the best of the best
PVP: Free ($10 per year for Premium)
It offers many possibilities in terms of platforms and compatibility. For example, you can install it on Linux, Windows, Mac, Android, iOS. It is also available as an add-on for browsers such as Firefox, Chrome, Opera, Safari, Edge, Tor Browser, Vivaldi, Brave. Additionally, if that doesn't seem like much to you, there are also tools for the console in text mode and a web client. That means you can install a client, acting as SaaS, or use self-hosting.
On the other hand, you will not be able to access them urgently or have the possibility of organizing your passwords by categories. However, you can easily import your passwords from another manager.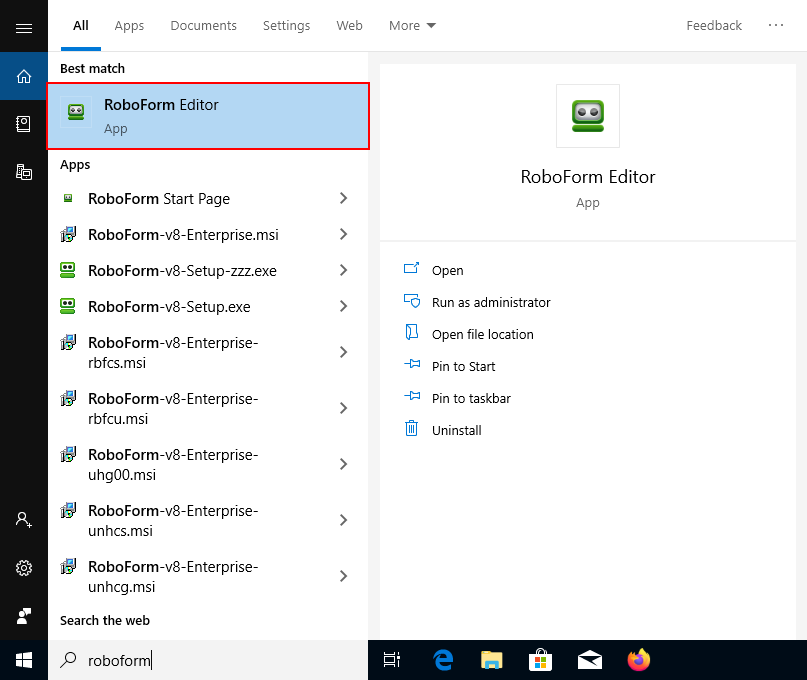 RoboForm, one of the best password managers that has been on the market for the longest time, could not be missing from this list. After years of experience in the sector, it has earned a good reputation and is worth recommending.
The main function it performs is saving the users time by storing personal keys, so they never have to fill in username and password boxes again. Another of its advantages is that it allows you to access your data without having to be connected to the Internet. This works on any of the platforms it is compatible with. In addition, you can synchronize all your devices quickly and easily.
Pros: Reasonable price | good automation
Cons: Not the fastest app | Limited 2FA support
PVP: Free ($16.40 for syncing)
If you opt for one of the paid versions offered by RoboForm, you will have to choose between 1- 3- or 5-year plans, as well as subscriptions designed for individual users, families or companies.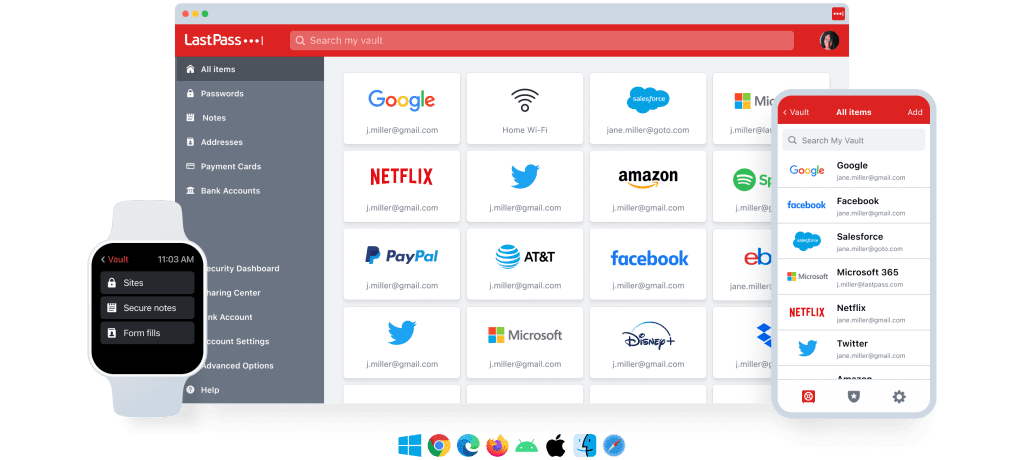 LastPass – The Best Free Desktop Password Manager
It is one of the easiest password managers to use. In addition to being safe, it is cross-platform and will work on Windows, Linux and macOS, as well as Chrome. Among its qualities are:
Import passwords from the browser
Two-step authentication
Autofill of forms in the browser (the one that works best of all the ones we have tested)
Audit passwords for correct length
Support for passwords also from apps
Pros: Well-designed | Free version available
Cons: Free version is limited to mobile or desktop use | more expensive than before
PVP: Free ($3 per month for Premium)
There are few programs on the market as easy to use as LastPass and there is no doubt why it is considered one of the best password managers today. You will only need to remember a single master key.
This application has a database in which you must enter all your passwords. The program will then automatically generate more complicated keys for all your accounts and sync them with them.
You can use this service from its website, with a very easy to navigate and intuitive interface. It has search tools so that you always find what you are looking for. You can also give the number of a family member or friend in case of an emergency.
You can enjoy the basic features of LastPass completely free of charge, but if you think you need more advanced features, you will have no choice but to pay for the Premium account per month.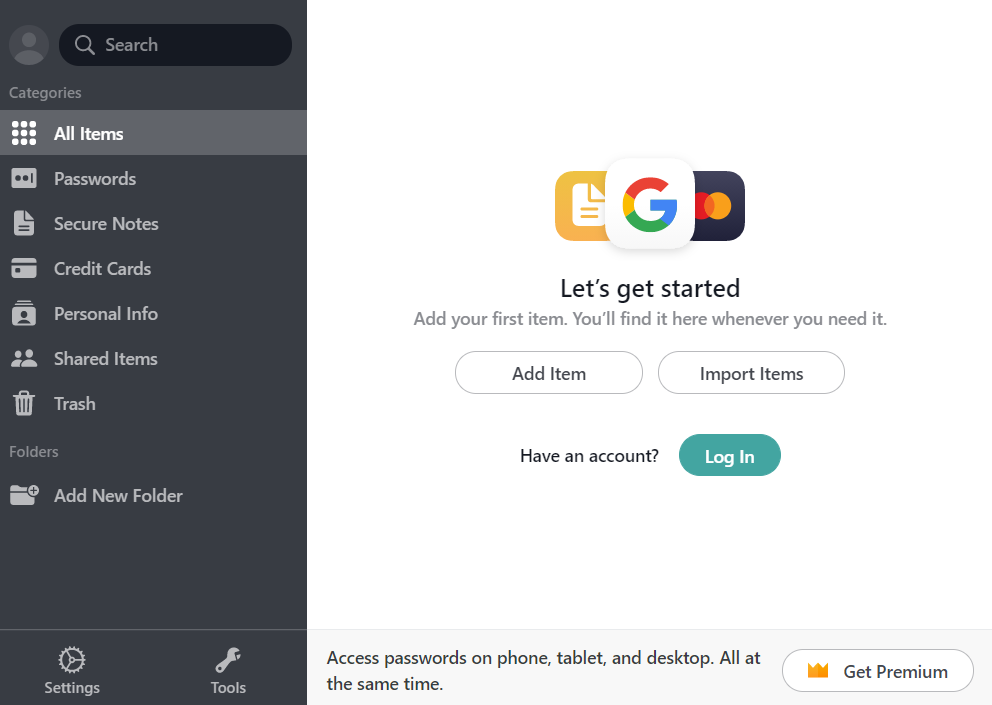 NordPass
NordVPN is one of the best VPN services currently available on the market. Now, the same company has introduced a password manager called NordPass, and it looks like it could  become one of your favorites as well.
NordPass has a browser extension available for Google Chrome, Firefox, Microsoft Edge, and Opera. For now, however, it is not compatible with Safari. On the other hand, there are also Android and iOS apps available.
PVP: Free ($29.88 per annum for Premium)
To add passwords to NordPass, simply export the .CSV document from your current password manager and import it into NordPass. NordPass will then automatically log you into the websites and apps you visit.
It's a fast service you can trust, even when generating complex passwords or evaluating how strong your current ones are. NordPass also allows you to save your bank details.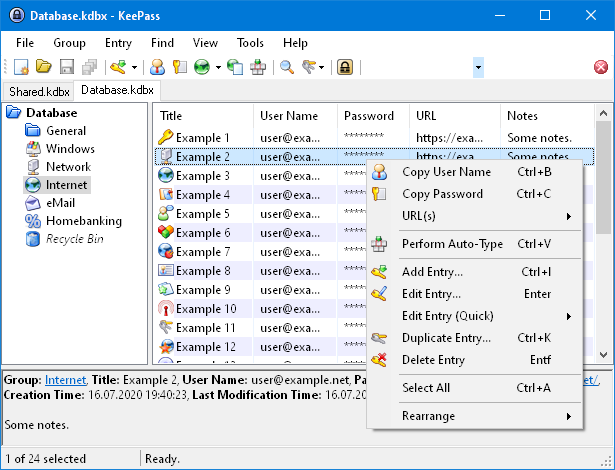 Keepass
It is one of the most famous and good, as well as being the most used of all the open-source ones available. It is also totally free, therefore, much more reliable. However, it is only officially available for Windows. In addition, there are unofficial ports for other platforms, such as Linux, Android, Mac, etc.
Pros: It is a very light manager. It can store passwords of various types, such as FTP services, SMTP, console, Firewall, websites, etc.
Cons: It is not as intuitive to use as its competitors, which is why it is not recommended for inexperienced users or those who are first-time users.
Your password database is stored encrypted for added protection, using AES and Twofish algorithms. If you want, you can get a portable version that you don't need to install and that you can carry on a flash drive or any other removable memory wherever you need it.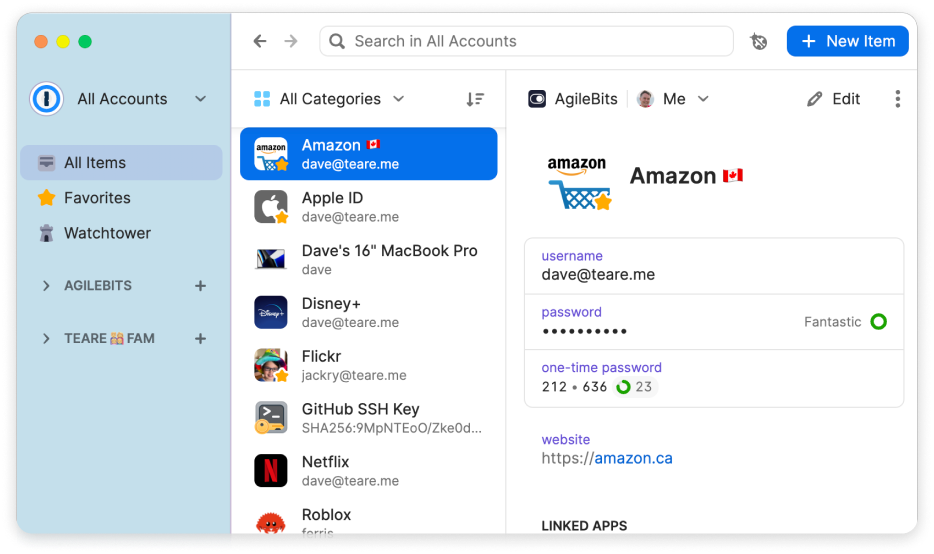 1Password
Another well-known, and one with the best reputation, is 1password, precisely because it is as safe as it is easy to use. It is probably one of the safest and simplest you will find. You can try it for free or pay for its license for full use. It works on macOS, iOS, Android, Linux, Windows, Chrome, and from the command line.
Pros: It's ultra-secure, highly intuitive, feature-rich, and offers low-cost plans for both individual users and families.
Cons: 1Password does not have a free version, but its plans for individual users, families, and companies.
PVP: They offer a lot of great features at a lower price than most managers on the market. 1Password starts at $2.99/month and offers a 14-day free trial to help you see if the manager suits your needs.
This password manager protects user data with unbreakable 256-bit AES encryption, which is the same type of encryption used by banks around the world. Furthermore, it adheres to a zero-knowledge policy. This means that no one apart from you will be able to access your password vault or your sensitive data.
Password Strengths
Passwords should be strong, that is, longer than 8 characters and combining lowercase letters, uppercase letters, symbols and numbers. They should not be words found in the dictionary. They should not be easier to figure out. This means you shouldn't use the dates of birthdays or notable anniversaries, names of pets, favorite teams, etc. Therefore, it becomes difficult to manage them all without help.
Examples of weak passwords:
1234
password
pepe
John
Madrid
abcd
HELLO
01-09-84
facebook4
hhhh
Examples of strong passwords:
aWzUtm_9#Y
I@7-wXy3
aA6_21MoR
Conclusion
You can choose the best password manager that caters specifically to your needs. The good news is that many of these options offer a free plan or a trial period, so you can try them out before deciding if you want to continue using them on your devices.