Keeping your computer clean and free from malware, Trojan horses, viruses, and unnecessary bulk files can require hours of manual labor. If you're searching for a way to automatically manage your computer's files while keeping them protected, consider software designed to do just that.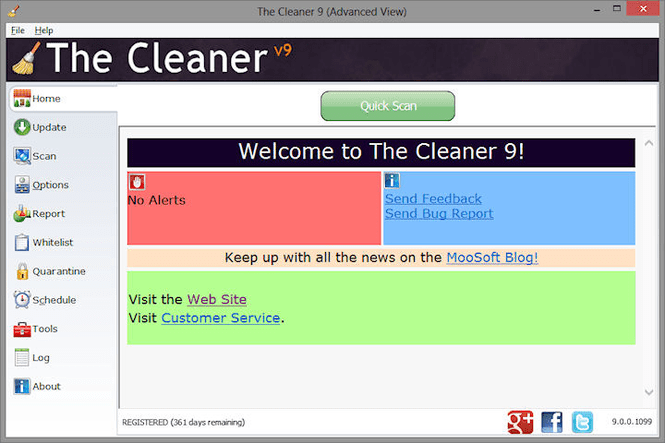 History
The Cleaner, also known as The Cleaner Portable, was a tool designed to provide automatic and manual scanning for potential malware files on PCs. Using The Cleaner Portable was extremely accessible and available to everyone, even those who are not tech-savvy. The software's interface was intuitive and did not require extensive training to learn how to use the functions of the software.
Using The Cleaner Portable was possible by choosing between two levels of available scanning. The first option of scanning involved the process of the program searching for malware in locations on the hard drive that are known to store malware files (often in hidden or invisible folders). The second scanning option available from The Cleaner Portable allowed users to scan the entire hard drive, which could take anywhere from a couple of minutes to over an hour. Any files that were flagged by the software were sent to a special "Report" area, which was also easily accessible with one click inside of the program itself.
Using The Cleaner also made it possible to search for individual files and specific folders on a hard drive for improved accuracy. If any "bad" or infected file is detected by the software the user is given the option to repair or eliminate the file entirely.
For those who were interested in using an added layer of protection, The Cleaner also included a tool deemed the "AutoRun Vaccine". This tool was designed to prevent potential malware and other viruses from attacking one's computer whenever a Windows user inserted a DVD, CD, or even a USB device, prompting the AutoRun system to launch. While this is not as relevant today due to the transition to The Cloud, the use of AutoRun viruses and malware infections peaked during the early to mid-2000s.
Portable
The Cleaner Portable became known as it supported numerous languages in addition to English, including: French, Spanish, Japanese, German, Italian, Russian, Korean, Swedish, Turkish, and Chinese, among others.
The Cleaner Portable was a convenient piece of software, as it did not require a major download or lengthy installation in order to begin using the software. Because of its portability, The Cleaner Portable was a star among many cleaners for Windows PCs in the 2000s. As of 2022, however, The Cleaner is not in service and is no longer receiving updates.
The Cleaner scans and removes any obsolete or corrupted entries resulting in a more streamlined registry and a faster system. Additionally, The Cleaner has the ability to identify and eliminate junk files that tend to accumulate on disks. These files may include files, download folders, logs and more. By removing these cluttering elements, significant disk space had freed up. Furthermore, The Cleaner takes care of clearing out browser caches, histories, cookies and other related data. This not improves browsing speed but also enhances privacy.
Additionally, it can wipe autocomplete form data for an added layer of privacy. Moreover, managing installed programs is another area where The Cleaner excels. It efficiently uninstalls unnecessary programs including background applications. It optimizes computing resources and keeps programs updated with their latest secure versions. Users have the flexibility to customize their cleaning preferences by selecting targets such, as the registry, disks, browsers or programs. Furthermore, convenient settings allow for scheduled automated cleanups. In summary, The Cleaner offers optimization for PCs through its customizable approach, to cleaning the registry files and installed programs. Its primary goal is to reclaim lost performance and disk space caused by clutter accumulation over time.
Cleanup Disk
One of the functions of The Cleaner is to help clean up disk space by removing files. It scans the drives. This includes deleting application files, system logs, cached data and old downloads. Additionally, The Cleaner specifically targets files from previous Windows installations or updates. It also takes care of deleting browser caches and other nonessential data. Users have the option to customize which folders will exclude from the cleaning process, for added protection. With a click, The Cleaner efficiently removes all the unnecessary clutter from your disks. As a result, you'll notice an increase in storage space. Importantly, its selective approach ensures that no important user files had affected or deleted. To summarize, The Cleaners disk cleaning capabilities effectively clear out unnecessary junk files that can clog up your systems storage. By reclaiming this space, you can expect improved performance and responsiveness, from your system.
Privacy protection
The Cleaner offers tools to safeguard your privacy and give you control, over your sensitive data. It provides cleaning for web browsers removing browsing histories, caches, autocomplete forms and cookies. This helps to erase any traces of activity and searches. Additionally, The Cleaner takes care of document metadata that might contain information. It can also delete system logs that may reveal events. Moreover, The Cleaner uninstalls background programs that could potentially collect data without your knowledge. It also removes unused apps reducing any risks to your privacy. Furthermore, The Cleaner includes a secure file shredding feature that ensures deletion beyond recovery. Users have the flexibility to customize their cleaning preferences by selecting targets, like browsers, metadata and programs. Overall, with privacy controls, The Cleaner effectively safeguards information by thoroughly eliminating various threats and risks to your PCs privacy.
File Shredder
The Cleaner includes a built-in file shredder that ensures deletion beyond recovery. When files had simply deleted, fragments of them can often still be recover from the disk. The shredder utilizes passes of overwriting to completely and irreversibly obliterate selected files or folders. You can choose government level deletion standards to maximize security. With the shredder, you can confidently wipe out documents, personal photos or any confidential data. Once the shredding process is complete, no scanning tools can retrieve those files again. The Cleaner offers permanent file deletion options to safeguard your privacy.
Alternatives
Because The Cleaner is no longer available, finding an alternative option is highly recommended. Using a cleaning program is a way to keep your computer from becoming too bogged down with unnecessary or potentially dangerous files.
CCleaner provides many features similar to Windows built-in options, with an easier and less cluttered user interface. It can scan for space hogging data on your system and delete it with one click, saving both space and time! Health Check tool of Defender performs a rapid search in seconds to identify trackers to delete, junk to clear away, and startup programs to update or disable – an invaluable feature!
CCleaner Features Include:
Registry scanner and cleaner
Unwanted file scanner and cleaner
Eliminate browsing history, cookies, memory dumps, log files, system caches, and more with the click of a button.
Uninstall programs
Delete Windows Restore points on demand
Advanced SystemCare is diagnostic software that is designed to optimize and accelerate your PC's overall performance. It provides a "kitchen sink" style solution, with numerous tools available at your fingertips. Not only is it easy to quickly scan your computer for junk files, but you can also access a variety of PC tweakers and tools such as program uninstallers.
Advanced SystemCare Features include: 
Software uninstaller
One-click registry repair
Defragmenter
Firewall manager
Privacy sweep
Spyware removal
Disk optimization
Disk check
Registry cleaner
Internet boost assistance
Currently, Advanced SystemCare is available for free for Windows 11, 10, 8, 7, Vista, and XP users.
Restoro is an innovative software program that optimizes your computer to stop it from slowing down or crashing, by scanning for hardware, security and stability issues. Additionally, it fixes various issues, such as Blue Screen of Deaths caused by hardware problems and also detects programs or files which leak your privacy data.
Restoro Features include:
Malware detector
Virus scan and removal
Virus damage repair assistance
Replacing and restoring DLL files
Junk file deletion
Registry optimizer
Restoro is available with 3 different license options, starting at $29.95 per year for 1 license and 1 computer.
EasyBCD is a bootloader-modification tool designed to allow Windows computers to coexist with Linux and other operating systems simultaneously. The program enables you to add entries into the BCD bootloader that controls UEFI firmware for seamless dual booting of both OSes simultaneously, with its intuitive graphical user interface working both ways across Windows and Linux computers (except Ubuntu's UEFI mode ).
This free app lets you manage the Windows boot loader using a graphical user interface rather than command-line access. With it, you can edit existing entries such as changing how many CPUs Windows boots on and setting different Safe Mode types; create new entries at will; restore them later if need be; as well as create and save new entries at will.
Another useful feature is its capability of chainloading the Mac OS X Darwin bootloader, making it simpler for users who install OS X separately on partitions or physical drives than where Windows is installed. This can help those installing both systems together use them seamlessly.
EasyBCD app comes in two editions; Community Edition is free for personal, noncommercial use while Commercial Edition requires one-time payment for priority technical support and early access to updates. Both can be downloaded from EasyBCD website; both require only 1.5MB of free space to install and run; it works from USB sticks as well as virtual drives on computers.
CleanMyPC is a PC cleaning and optimization software solution with seven main tools designed to keep your computer healthy. Its primary function is scanning for junk files to reclaim space; however, its advanced privacy feature enables users to tinker with startup items, tweak registry entries, manage extensions for browser optimization as well as track usage analytics for even further optimization.
CleanMyPC has proven popular with so many users due to its intuitive user interface – no lengthy tutorials or complicated menus necessary – making its use quick and effortless. It was quickly capable of finding files and objects for scanning quickly reclaiming space on our test computer without using too much CPU, RAM or HDD space.
CleanMyPC Features include: 
Registry scanner and cleaner
Multi-uninstaller for any program or software
Autorun startup items (increase startup time)
Pricing for CleanMyPC begins at $39.95 for once Windows license.
Top Anti-Virus Software
Along with using a standard cleaner for your Windows PC, it is also advisable to use trusted anti-virus software. Compare top anti-virus programs to determine which software solution is right for the protection you need.
McAfee is one of the oldest anti-virus software available today, originally founded and released in 1987. It is designed to provide protection from malware, ransomware, and even from a new form of attack, "cryptojacking". McAfee provides numerous features in its complete security suite along with a VPN and a user-friendly interface.
McAfee Antivirus Features:
Quick or Full scans with McAfee (which require between 5 and 10 minutes to complete, on average)
Firewall protection and management
Ransomware protection
QuickClean
File Shredder
McAfee's Password Manager: True Key
McAfee Speed Up Web Boost/App Boost
AVG Antivirus is another top-performing antivirus software solutions for Windows users. It offers both free and premium plans for those interested in antivirus protection along with protection from hacker attempts and phishing scams.
AVG AntiVirus Features:
Malware protection
Essential phishing protection
Ransomware protection
Full PC scan
Basic firewall
AVG secure web browser
Additional AVG SafePrice browser extension available for Firefox, Chrome, and Opera browsers.
Avira provides free antivirus protection with additional tools, including password managers, safe shopping extensions and VPN. Their malware scanner protects against ransomware, viruses and spyware files. Independent labs rate this program highly for protection, performance and usability. Its optimizer helps declutter devices while increasing battery life.
Avira Free Antivirus Features:
Antivirus scanner (with both full and quick scans along with custom scan options)
Real-time protection that can be enabled against malware
Web protection from hijackers, hackers, spam, and phishing attempts
Ransomware protection
Email protection from viruses that may be in attachments
File quarantine folders to manage suspicious or infected files
Software updater to ensure your software programs remain updated at all times
Firewall management and protection
Phantom VPN solutions are also available with the free version of Avira Free Security
Password manager
Browser extension (Avira Free Security) to help prevent scams and phishing attacks
Advanced privacy settings
File shredder
Aviro Crypto (for those interested in pursuing the cryptocurrency market)
For a completely free antivirus software that is a no-frills solution, 360 Total Security is an option. 360 Total Security is powered by BitDefender and Avira, providing reassurance to those who are skeptical about opting for a free antivirus software. With the backing of two major third-parties, 360 Total Security has amassed a solid following of loyal users. From scanning and managing potential malware files to cleaning and optimizing your PC, 360 Total Security has something for just about everyone.
360 Total Security Features:
Full and quick scan options
Patch-Up feature to scan for vulnerable software and outdated programs
Speedup controls and management platform
Startup service management (turn off unnecessary programs at startup and increase boot speed)
Data shredder to keep track of and eliminate files
Virtual vault access for storing passwords and/or sensitive information
Ransomware decryption tool that is updated regularly for potential vulnerabilities and dangerous files
Scheduled cleanups and scans to suit your own working schedule
It is another well-known online security suite that was first introduced in 1997, making it one of the oldest Antivirus providers on this list. Kaspersky today includes a full virus scan along with browser protection, parental controls, and the ability to rescue disks to repair hard drives with just a few clicks.
Kaspersky Internet Security Features:
Quick scan
Background/full scans
Selective folder/file scans
Application vulnerability scan
Basic password manager
Access to VPN services
For those who are seeking a free security software suite, Microsoft Security Essentials is one solution to consider. Microsoft Security Essentials provides real-time protection along with real-time virus and spyware definition updates to ensure your PC is never vulnerable. With free regular updates, it is no wonder Microsoft Security Essentials still remains a top pick for so many today.
Microsoft Security Essentials Features:
Simple interface
Small program file
Quick scan as well as a full scan available
Advanced scan and file management options
Option to enable/disable real-time protection
Exclude specific files, locations, and folders from scans
Quarantine files on-demand
ESET NOD32 Antivirus has long been considered one of the premier malware scanners available, boasting light system resource consumption while quickly detecting viruses, worms, trojans, rootkits and spyware. Furthermore, this strong firewall, spam filter and parental controls make for a complete package if upgraded with Internet Security suite; additionally password manager capabilities as well as additional network attack protection will also be added when upgrading.
ESET NOD32 Antivirus Features: 
Host Intrusion Prevention System
On-demand malware scan
On-access malware scan
Currently, ESET NOD32 Antivirus is available for $39.99 per year per license that is requested.
Using both cleaning and anti-virus software provides your computer with the necessary protection it needs. Whether you are browsing online or downloading a new file, the right anti-virus and cleaning software is essential for optimal safety.