Keeping your computer clean and free from malware, Trojan horses, viruses, and unnecessary bulk files can require hours of manual labor. If you're searching for a way to automatically manage your computer's files while keeping them protected, consider software designed to do just that.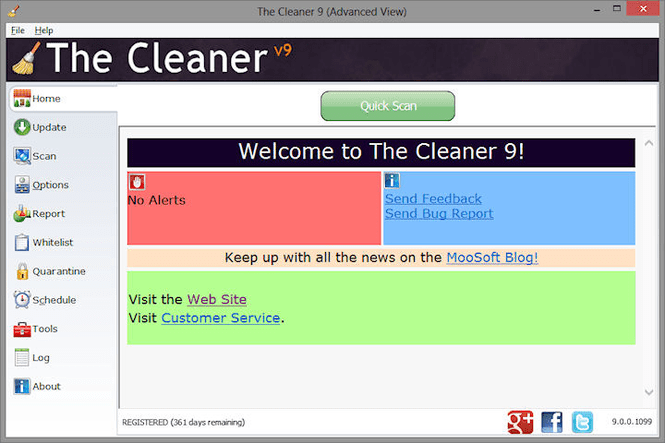 The Cleaner
The Cleaner, also known as The Cleaner Portable, was a tool designed to provide automatic and manual scanning for potential malware files on PCs. Using The Cleaner Portable was extremely accessible and available to everyone, even those who are not tech-savvy. The software's interface was intuitive and did not require extensive training to learn how to use the functions of the software.
Using The Cleaner Portable was possible by choosing between two levels of available scanning. The first option of scanning involved the process of the program searching for malware in locations on the hard drive that are known to store malware files (often in hidden or invisible folders). The second scanning option available from The Cleaner Portable allowed users to scan the entire hard drive, which could take anywhere from a couple of minutes to over an hour. Any files that were flagged by the software were sent to a special "Report" area, which was also easily accessible with one click inside of the program itself.
Using The Cleaner also made it possible to search for individual files and specific folders on a hard drive for improved accuracy. If any "bad" or infected file is detected by the software the user is given the option to repair or eliminate the file entirely.
For those who were interested in using an added layer of protection, The Cleaner also included a tool deemed the "AutoRun Vaccine". This tool was designed to prevent potential malware and other viruses from attacking one's computer whenever a Windows user inserted a DVD, CD, or even a USB device, prompting the AutoRun system to launch. While this is not as relevant today due to the transition to The Cloud, the use of AutoRun viruses and malware infections peaked during the early to mid-2000s.
The Cleaner Portable became known as it supported numerous languages in addition to English, including: French, Spanish, Japanese, German, Italian, Russian, Korean, Swedish, Turkish, and Chinese, among others.
The Cleaner Portable was a convenient piece of software, as it did not require a major download or lengthy installation in order to begin using the software. Because of its portability, The Cleaner Portable was a star among many cleaners for Windows PCs in the 2000s. As of 2022, however, The Cleaner is not in service and is no longer receiving updates.
The Cleaner Alternatives
Because The Cleaner is no longer available, finding an alternative option is highly recommended. Using a cleaning program is a way to keep your computer from becoming too bogged down with unnecessary or potentially dangerous files.
CCleaner is one of the most popular Windows PC cleaning programs available. With CCleaner, a free and paid version is avialable. CCleaer is designed to eliminate unnecessary and/or unwanted files from your computer's hard drive. It is also possible to clear up any invalid Windows registry files that have accumulated over time. Additionally, CCleaner can also be utilized as a registry cleaner to locate and assess issues that are detected.
CCleaner Features Include:
Registry scanner and cleaner
Unwanted file scanner and cleaner
Eliminate browsing history, cookies, memory dumps, log files, system caches, and more with the click of a button.
Uninstall programs
Delete Windows Restore points on demand
Advanced SystemCare is diagnostic software that is designed to optimize and accelerate your PC's overall performance. It provides a "kitchen sink" style solution, with numerous tools available at your fingertips. Not only is it easy to quickly scan your computer for junk files, but you can also access a variety of PC tweakers and tools such as program uninstallers.
Advanced SystemCare Features include: 
Software uninstaller
One-click registry repair
Defragmenter
Firewall manager
Privacy sweep
Spyware removal
Disk optimization
Disk check
Registry cleaner
Internet boost assistance
Currently, Advanced SystemCare is available for free for Windows 11, 10, 8, 7, Vista, and XP users.
Restoro is a premium diagnostic program for Windows PCs that is designed to scan and remove potential viruses. Detecting viruses, removing them, and assisting in the process of repairing virus damage can all be done with Restoro. Resotro also helps to identify potentially malicious files while detecting and deleting junk files automatically as well as manually.
Restoro Features include:
Malware detector
Virus scan and removal
Virus damage repair assistance
Replacing and restoring DLL files
Junk file deletion
Registry optimizer
Restoro is available with 3 different license options, starting at $29.95 per year for 1 license and 1 computer.
While the idea of a multiboot system is not as common today with The Cloud and with modern system advances, it once was extremely popular. EasyBCD was designed to help manage and repair multiboot computer systems, including those that may be running Windows XP in one partition and another operating system elsewhere. In addition to managing multiple operating systems with ease, EasyBCD also includes additional features and settings, making it extremely versatile.
EasyBCD Features include:
Multiboot support and assistance
Reinstallation of operating systems
Operating system repair
Antivirus and recovery tools include
Today, EasyBCD is essentially outdated and obsolete, except for computer fanatics of the past.
CleanMyPC is another software for cleaning and protecting one's computer that provides an array of features and controls. Not only is it possible to clean your computer with CleanMyPC, but you can also manage browser cache, history, cookies, and your user privacy from one central location. When cleaning your computer, manage your Windows registry files as well as all of your programs without using the official Windows program uninstaller.
CleanMyPC Features include: 
Registry scanner and cleaner
Multi-uninstaller for any program or software
Autorun startup items (increase startup time)
Pricing for CleanMyPC begins at $39.95 for once Windows license.
Glary Utilities is no stranger to the PC-cleaning industry. Glary Utilities has multiple versions and provides consistent updates for its users. With more than 30 scanning, cleaning, and security tools, Glary Utilities stands out among most of the cleaning tools available today. From disk cleanup and registry repair to increasing security and managing your privacy, Glary Utilities has it all.
Glary Utilities Features include:
Disk cleanup
Shortcut repair
Registry scanner and repair
Duplicate file finder
Privacy and security management
Uninstall manager
Empty folders finder
Context menu manager
Top Anti-Virus Software
Along with using a standard cleaner for your Windows PC, it is also advisable to use trusted anti-virus software. Compare top anti-virus programs to determine which software solution is right for the protection you need.
McAfee is one of the oldest anti-virus software available today, originally founded and released in 1987. McAfee is designed to provide protection from malware, ransomware, and even from a new form of attack, "cryptojacking". McAfee provides numerous features in its complete security suite along with a VPN and a user-friendly interface.
McAfee Antivirus Features:
Quick or Full scans with McAfee (which require between 5 and 10 minutes to complete, on average)
Firewall protection and management
Ransomware protection
QuickClean
File Shredder
McAfee's Password Manager: True Key
McAfee Speed Up Web Boost/App Boost
AVG Antivirus is another top-performing antivirus software solutions for Windows users. AVG offers both free and premium plans for those interested in antivirus protection along with protection from hacker attempts and phishing scams.
AVG AntiVirus Features:
Malware protection
Essential phishing protection
Ransomware protection
Full PC scan
Basic firewall
AVG secure web browser
Additional AVG SafePrice browser extension available for Firefox, Chrome, and Opera browsers.
Malwarebytes is a straightforward antivirus program that is designed to protect against malware along with other potentially intrusive and harmful attacks. Malwarebytes is a popular choice when it comes to antivirus and malware protection due to its ease of use. Additionally, tests run by Malwarebytes determine that it is extremely reliable when it comes to detecting and preventing malware attacks.
Malwarebytes Features:
Malware detection and protection
Browser Guard (free browser extension to help track phishing websites, trackers, and pop-up ads)
Includes a VPN with Malwarebytes Premium+ Privacy subscription
Firewall management
Data breach monitoring
Password manager
Device optimization suite
Parental control options
Custom scan, threat scan, single file/folder scan
Currently, there are three versions of Malwarebytes available: Free, Premium, and Premium + Privacy. The cost of Malwarebytes is free, $22.49 per year, and $49.99 per year, respectively.
If you are searching for another free antivirus solution, you may want to consider Avira Free Antivirus. Avira Antivirus has more than 500 million users worldwide and was originally founded and released in Germany. Not only does Avira Free Antivirus perform impressively well in antivirus scans, but it includes a myriad of features that cannot be overlooked.
From the ability to launch a quick scan to a full scan or quarantine individual files, you have plenty of control when using Avirus Free Antivirus.
Avira Free Antivirus Features:
Antivirus scanner (with both full and quick scans along with custom scan options)
Real-time protection that can be enabled against malware
Web protection from hijackers, hackers, spam, and phishing attempts
Ransomware protection
Email protection from viruses that may be in attachments
File quarantine folders to manage suspicious or infected files
Software updater to ensure your software programs remain updated at all times
Firewall management and protection
Phantom VPN solutions are also available with the free version of Avira Free Security
Password manager
Browser extension (Avira Free Security) to help prevent scams and phishing attacks
Advanced privacy settings
File shredder
Aviro Crypto (for those interested in pursuing the cryptocurrency market)
Avast is another excellent tool to protect against online threats, phishing attacks, and potential viruses. It is a top-rated choice for those who are searching for malware and scam protection, especially when online.
Avast Free Antivirus Features:
Malware protection
Real-time protection
App monitoring
Webcam protection
SecureLine VPN (with premium Avast subscriptions)
Firewall management
Bitdefender antivirus is a popular antivirus solution that includes so much more than multi-layer ransom protection. Along with full and custom scans, bitdefender antivirus also includes anti-tracking protection, Wi-Fi protection, and its very own password manager.
bitdefender antivirus Features: 
Multi-layer ransomware protection
Browser protection and monitoring
File shredder
VPN (for premium users up to 200 MB daily)
Wi-Fi protection
24/7 customer support
For a completely free antivirus software that is a no-frills solution, 360 Total Security is an option. 360 Total Security is powered by BitDefender and Avira, providing reassurance to those who are skeptical about opting for a free antivirus program. With the backing of two major third-parties, 360 Total Security has amassed a solid following of loyal users. From scanning and managing potential malware files to cleaning and optimizing your PC, 360 Total Security has something for just about everyone.
360 Total Security Features:
Full and quick scan options
Patch-Up feature to scan for vulnerable software and outdated programs
Speedup controls and management platform
Startup service management (turn off unnecessary programs at startup and increase boot speed)
Data shredder to keep track of and eliminate files
Virtual vault access for storing passwords and/or sensitive information
Ransomware decryption tool that is updated regularly for potential vulnerabilities and dangerous files
Scheduled cleanups and scans to suit your own working schedule
Kaspersky is another well-known online security suite that was first introduced in 1997, making it one of the oldest Antivirus providers on this list. Kaspersky today includes a full virus scan along with browser protection, parental controls, and the ability to rescue disks to repair hard drives with just a few clicks.
Kaspersky Internet Security Features:
Quick scan
Background/full scans
Selective folder/file scans
Application vulnerability scan
Basic password manager
Access to VPN services
For those who are seeking a free security software suite, Microsoft Security Essentials is one solution to consider. Microsoft Security Essentials provides real-time protection along with real-time virus and spyware definition updates to ensure your PC is never vulnerable. With free regular updates, it is no wonder Microsoft Security Essentials still remains a top pick for so many today.
Microsoft Security Essentials Features:
Simple interface
Small program file
Quick scan as well as a full scan available
Advanced scan and file management options
Option to enable/disable real-time protection
Exclude specific files, locations, and folders from scans
Quarantine files on-demand
ESET NOD32 Antivirus might not be a household name, but it is quite impressive in the realm of malware protection and battling infestations. In addition to providing scans and protection against potentially harmful files, ESET NOD32 goes above and beyond. ESET NOD32 Antivirus includes a comprehensive host intrusion system to prevent malware from ever entering your computer.
ESET NOD32 Antivirus Features: 
Host Intrusion Prevention System
On-demand malware scan
On-access malware scan
Currently, ESET NOD32 Antivirus is available for $39.99 per year per license that is requested.
Using both cleaning and anti-virus software provides your computer with the necessary protection it needs. Whether you are browsing online or downloading a new file, the right anti-virus and cleaning software is essential for optimal safety.